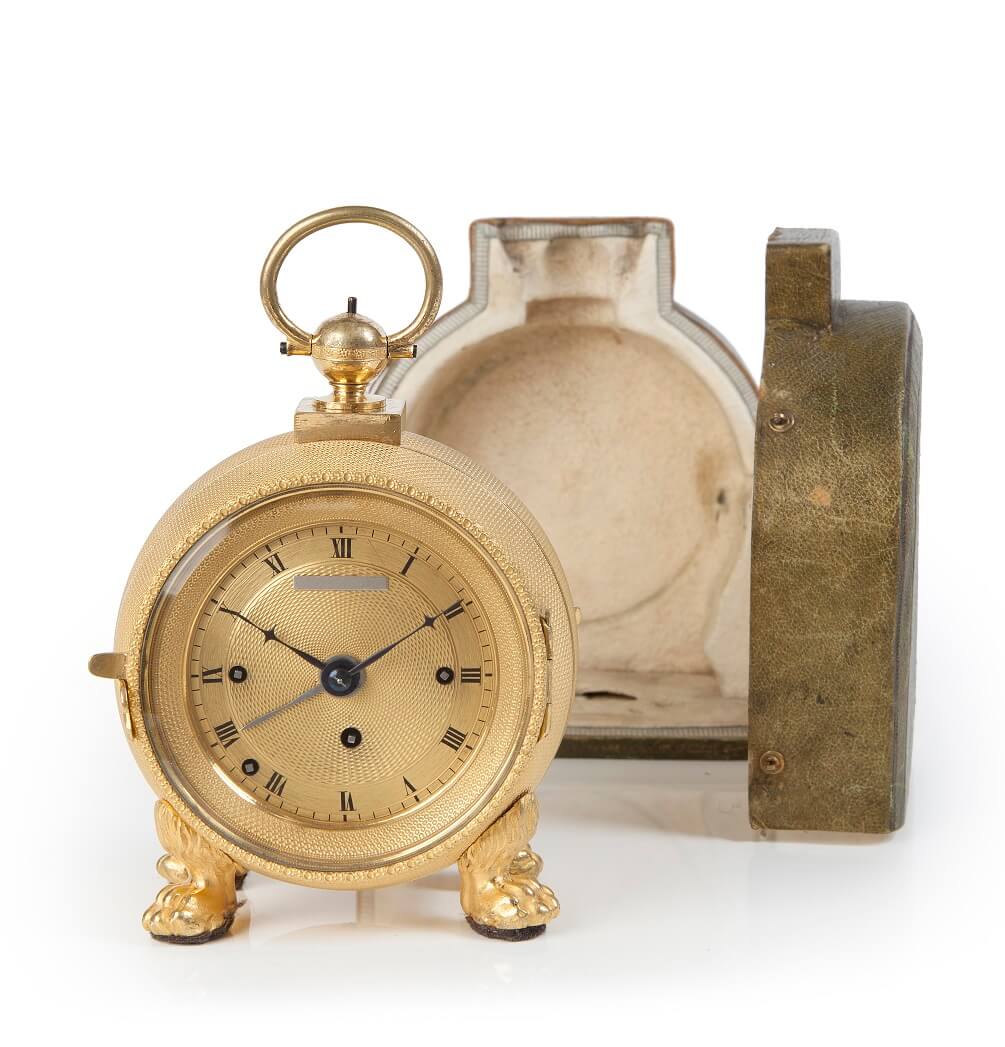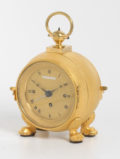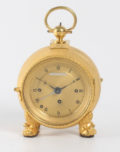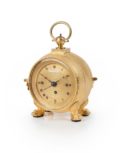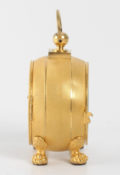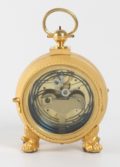 A fine Austrian ormolu travel clock, Happacher circa 1820
Description
30-hour movement with grande sonnerie striking and alarm, fine ormolu case and leather travel case.
6-cm ormolu dial with Roman numerals and engine turned centre, blued steel hands and silvered alarm pointer, 30-hour spring driven movement with cylinder escapement and balance, grande sonnerie rack striking on two gongs with repeat on demand, alarm on a single gong, signed on the stopwork Happacher in Wien, finely engine turned ormolu ball shaped case surmounted by a carrying handle, raised on claw feet, together with the original green leather travelling case.
See; Peter Fritsch, Wiener Reiseuhren, pp. 270 – 271 for three comparable travel clocks, one of the same maker.
The first generation of carriage clock were obviously made for travel. But after the first success the makers of these clocks looked to further sales by trying to open new markets. Instead of purely being practical they designed clocks that looked good in an interior. This lead to the development of different case types and decorative techniques just as cloisonné enamel or Sevres porcelain. This clock with its rare case and lovely colourful décor probably wasn't used for travel much but was a stunning piece in somebody's home as it still could be.
Sizes
(Height) 14.5 cm (Width) 9 cm (Depth) 6.5 cm
(Height) 5.7 in (Width) 3.5 in (Depth) 2.6 in
Price
sold
Signature
Happacher in Wien