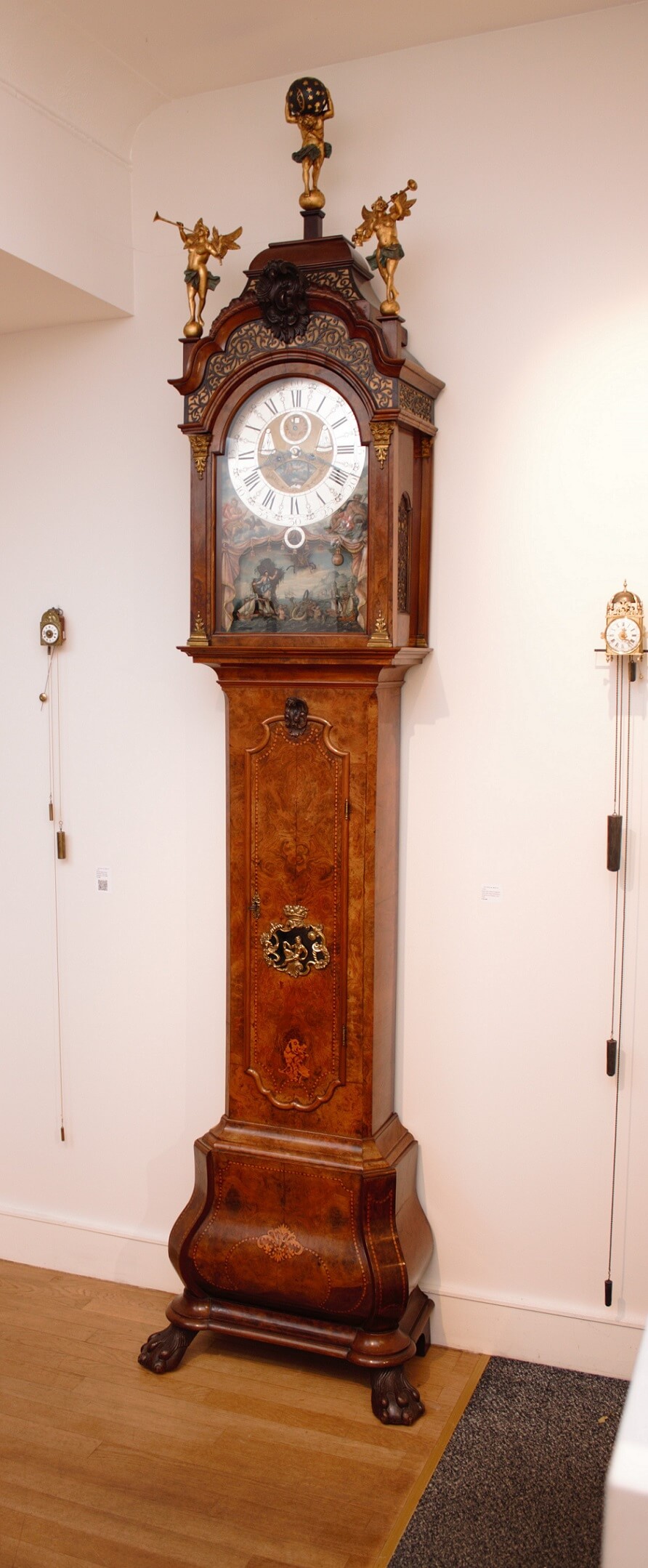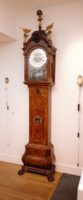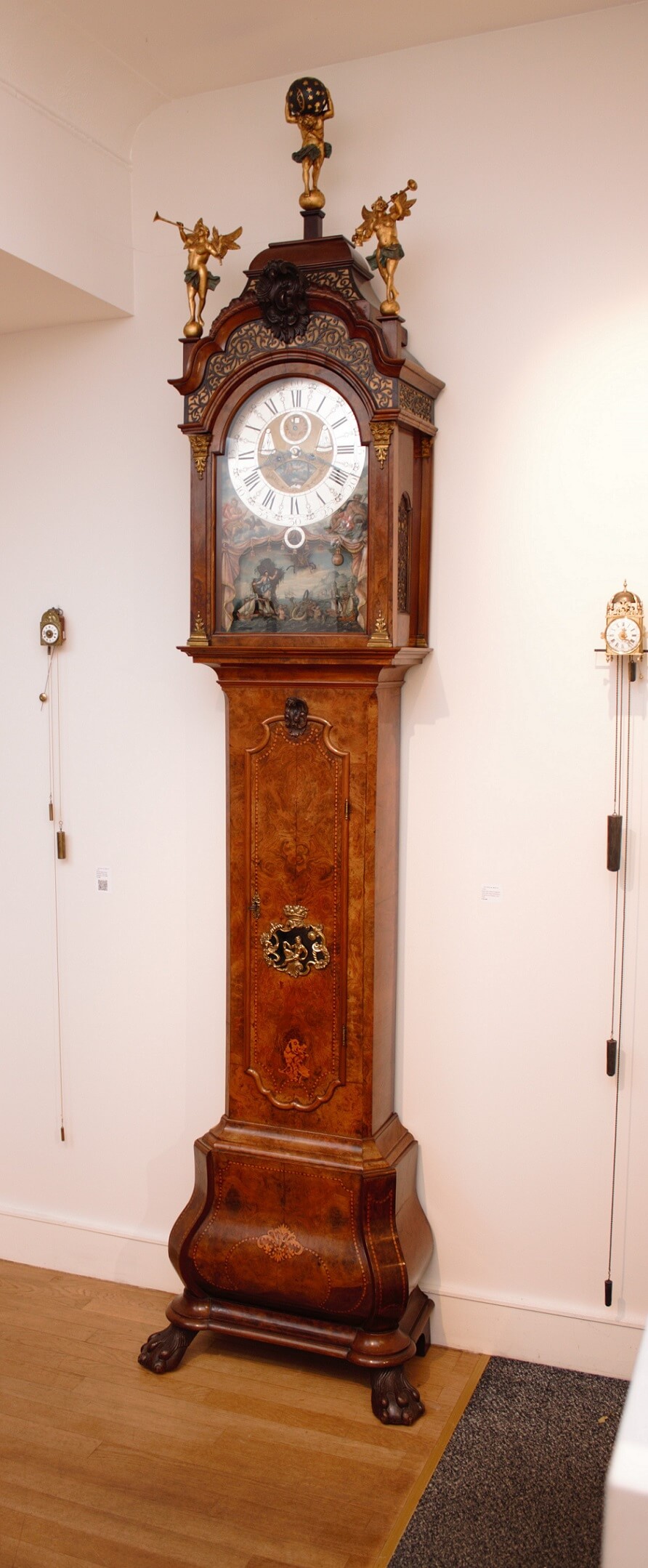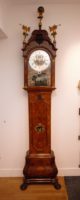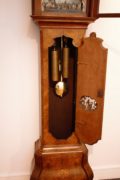 A fine Dutch burr walnut 'Amsterdam' longcase clock with ships automaton, du Chesne, circa 1760.
Description
The dial
The 36-cm brass arched dial has an applied silvered engraved chapter ring with Roman numerals signed Johannes du Chesne Amsteldam. The clock has finely foliate pierced blued steel hands and a silvered alarm disc. In the matted centre there is a subsidiary seconds and apertures for date, days of the week, months and even seasons. Below the chapter ring there is a polychrome painted depiction of Zeus and Neptune flanking a subsidiary for days of the moon cycle. Below there is a theatrical opening showing the ships automaton that rocks to and fro' with the connection to the going train of the movement. In the 'sky' there is a rolling moon indicating the phases of the moon.
The movement
The weight driven movement has a duration of eight days. It is regulated by anchor escapement in combination with a seconds pendulum. The clock Has Dutch quarter striking on two alternating bells. Dutch quarter striking has the following sequence; The first quarter is indicated by a single strike on the small bell. The second quarter sounds hour ahead on the small bell. (In Dutch one says half eight for seven thirty.) The third quarter has a single strike again but now on the large bell. And finally the fourth quarter or full hour strikes the number of hours on the large bell. This all by means of rack striking. The alarm sounds on the large bell.
The burr walnut case
The case is made of oak which is veneered with fine burr walnut. The shaped hood is surmounted by an Atlas and two Nike figures flanking a carved ornament. Below the corniche there are the foliate pierced frets over the glazed door flanked by brass capped pilasters. The trunk has canted corners. The long door with shaped top and bottom has a Chronos lenticle. The bombed base also has canted corners and is placed on claw feet. Both the door and base has inlaid banding and a marquetry inlaid ornament.
The subject of the automaton
The ships automaton depicts the liberation of Andromeda. In the back ground we see the gate of the ancient capital of Ethiopia with King Cepheus and queen Cassiopeia in front. Andromeda is chained to a rock ready to be sacrificed to the sea monster Cetus. Up in the air there is Perseus on Pegasus coming to her rescue. The scene is an allegory for the liberation of the Netherlands from Spain by Prince Frederik Hendrik. Cetus personifies Spain. Andromeda personifies the Netherlands and Perseus personifies Frederik Hendrik.
Sizes
(Height) 299 cm (Width) 70 cm (Depth) 34 cm
(Height) 117.7 in (Width) 27.6 in (Depth) 14.4 in
Price
sold
Signature
Johannes du Chesne Amsteldam