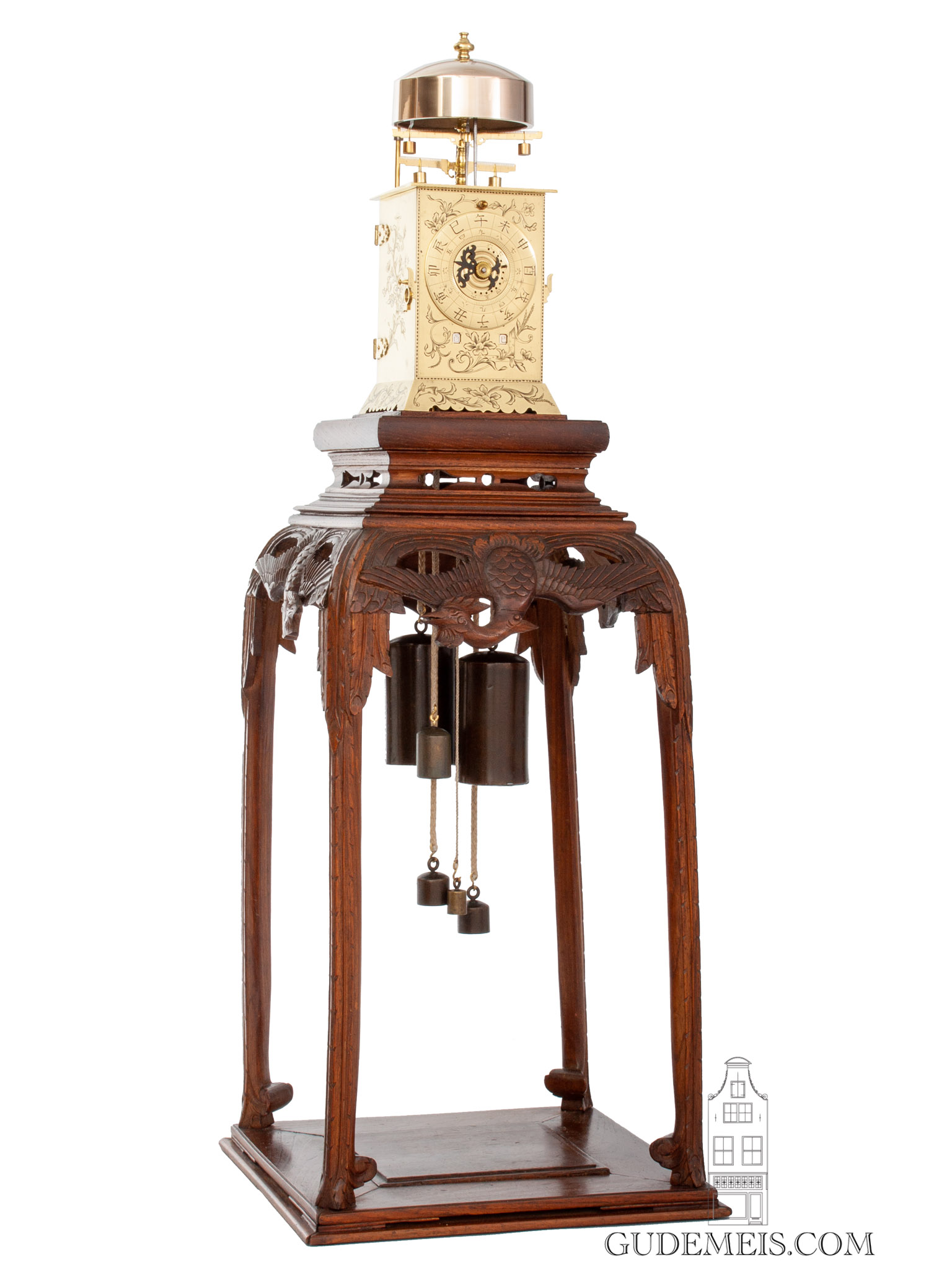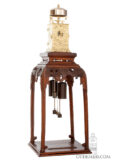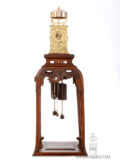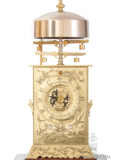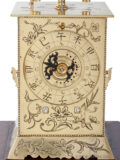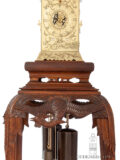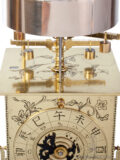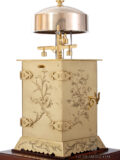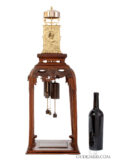 A fine Japanese brass 'Dai Dokei' striking lantern clock on stand, circa 1830.
Description
Dai Dokei
The Japanese word 'Dokei' means timekeeper or clock and refers to all kind of clocks, even sun dials. The addition refers to the type of clock. This is a sort of lantern clock often called 'Yagura Dokei'. But these are the lantern clocks which are placed on pyramid shaped supports concealing the weights. The lantern clocks on open four legged supports are called 'Dai Dokei'. These were used in the alcove of the Japanese living quarters. The height is at eye-level for seated people. There are larger versions known that were used in public spaces such as castles and corridors.
Calendar
The 7.3-cm applied dial is engraved with the twelve 'toki' and 'half toki'. There are small holes for setting the alarm at the 'night toki'. The single shaped and pierced hand revolves once per twenty-four hours. The dial is mounted on beautifully engraved plate adorned with chrysanthemums. Below the dial are two apertures for the calendar.
The movement
The iron movement is driven by two eights and has a duration of a day. The movement is regulated by two alternating foliots in combination with two verge crown wheels. Twice a day the clock changes from one foliot to the other and vice versa during the striking. In this way the clock changes from day-hours to night-hours and vice versa. The clock strikes the toki and half toki by means of a countwheel on a bell. The alarm functions with two small auxiliary weights.
engraved brass case
The rectangular engraved brass case is, even on the top plate, adorned with well engraved chrysanthemums. The whole is surmounted by a bell on a beautifully turned support. The doors have ornamental hinges and locking clips. The canted plinth is also engraved with chrysanthemums. The whole is placed on a carved wooden stand decorated with birds and leaves terminating in the supports on a square base.
Sizes
(Height) 74 cm (including stand) (Width) 27 cm (Depth) 27 cm
(Height) 29.1 in (including stand) (Width) 10.6 in (Depth) 10.6 in
Price
Sold