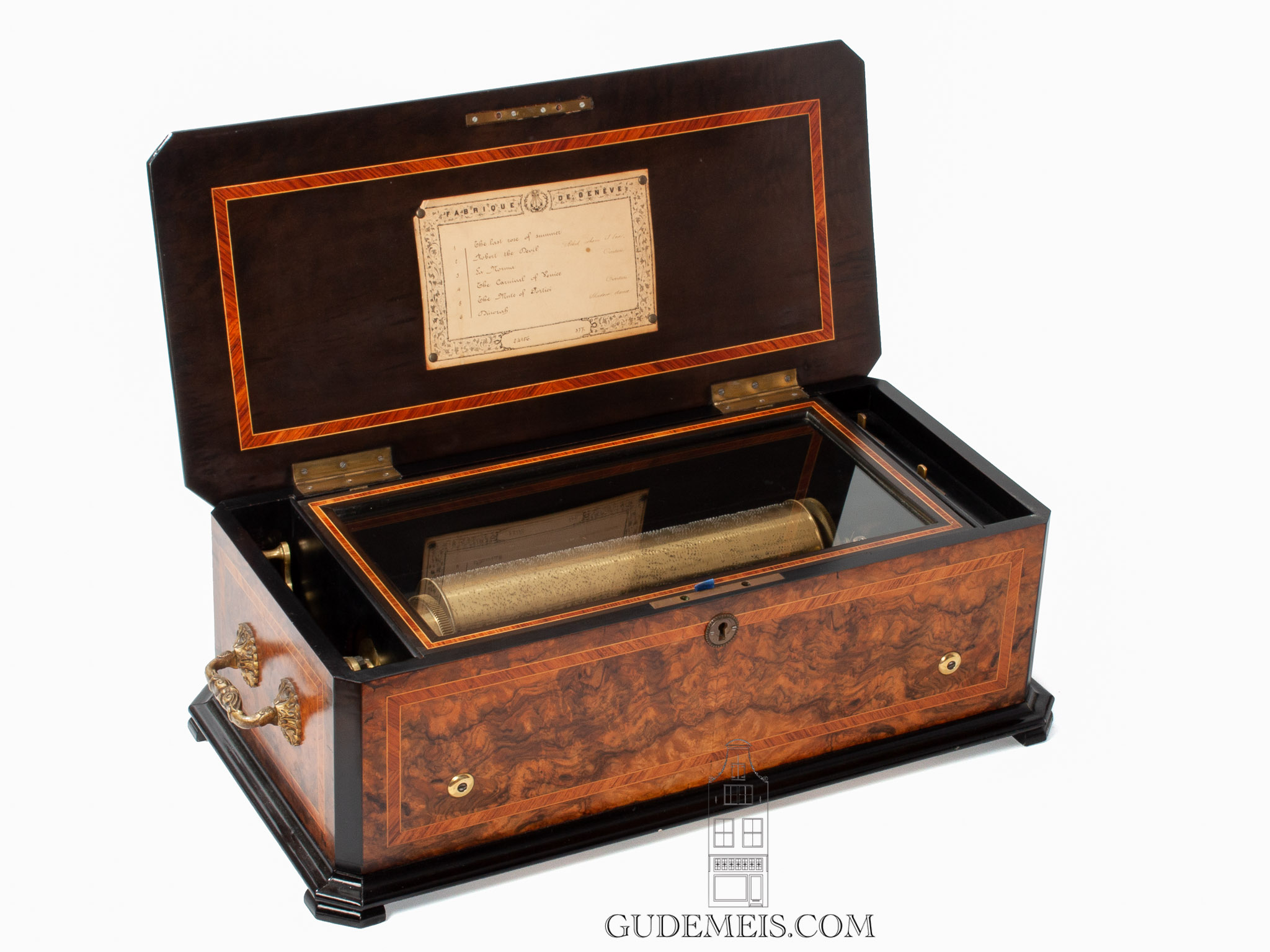 A fine Swiss burr walnut six air ouverture cylinder music box by Rivenc, circa 1870.
Description
The mechanism
The mechanism is driven by a large spring barrel with a fixed winding handle. It plays one of six melodies with an eight centimetre diameter and 33-cm long pinned cylinder on a comb with 124 teeth. There are two operating levers. The front one is for starting and stopping the mechanism. The hind one is for changing or repeating the melodies.
The case
The rectangular case has canted corners and is veneered on all sides and the lid with finely figured burr walnut. It has nice ebonised mouldings and feet. On the sides are well cast brass ornate handles.
The program
On the inside of the lid is a tune sheet. It lists the airs.
1. The Last Rose of Summer (from the opera Martha of Friedrich von Flotow)
2. Robert the Devil Robert whom I Love (Meyerbeer).
3. La Norma Ouverture (Bellini)
4. The Carnival of Venice (Andre Campa)
5. The Mute of Portici Ouverture (Auber)
6. Dinorah Shadow Dance (Meyerbeer)
Ouverture music box
The term 'ouverture music box' is preserved for a very small group of music boxes. The cylinder has an extra large diameter enabling the tune to last longer in comparison to a music box with a smaller cylinder. With the longer duration the maker can do much more with the melody or even combine several airs just like an ouverture of an opera or symphony. The comb has a very large number of teeth making it possible to play cords, tremolo or all kind of nuances. Music boxes were exclusive and expensive objects of which the ouverture boxes belong to the top segment.
Sizes
(Height) 22 cm (Width) 69 cm (Depth) 32 cm
(Height) 8.7 in (Width) 27.2 in (Depth) 12.6 in
Price
€ 19.000
Signature
Rivenc