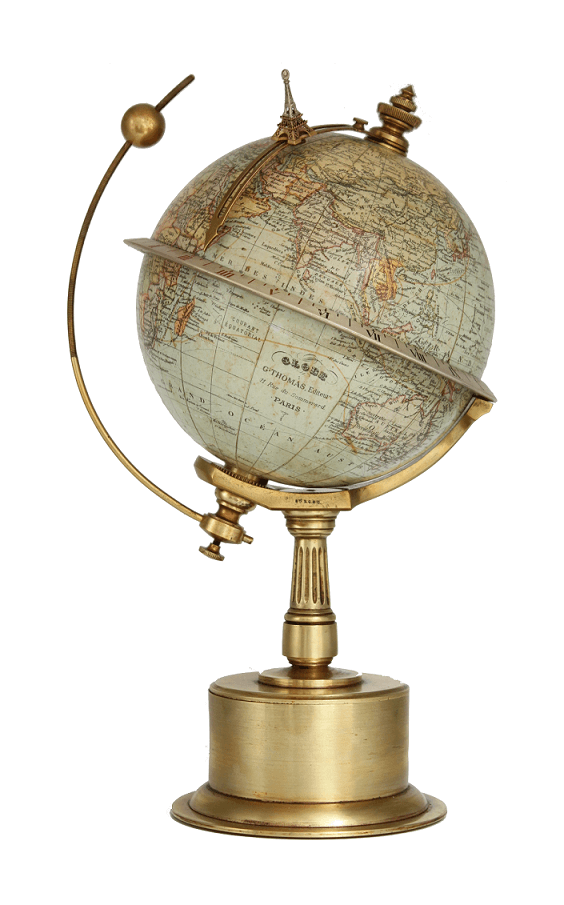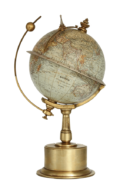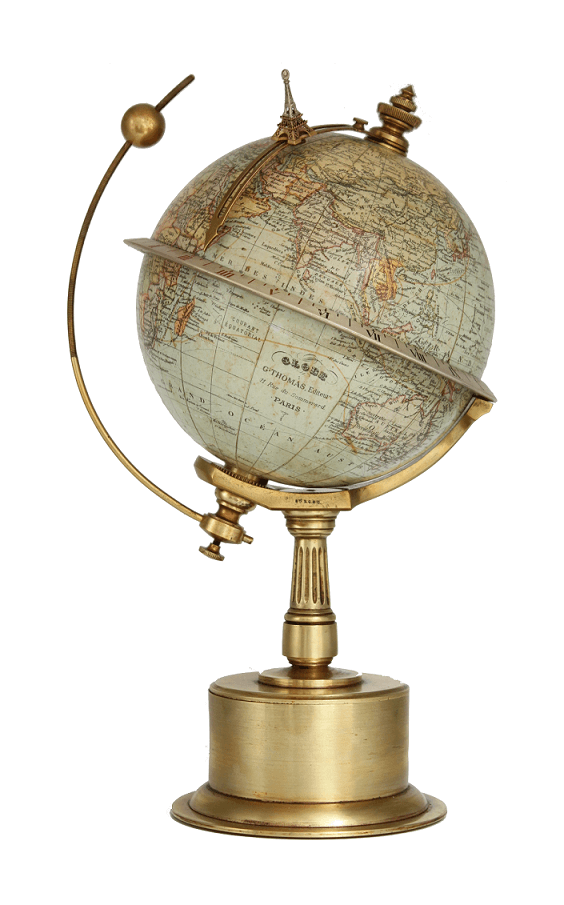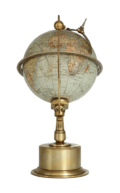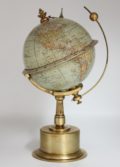 A French brass 'chronosphere' globe clock G. Thomas Paris, circa 1910
Description
The Chronosphere
At first sight it just seems to be a globe. But because of the movement in the base and chapter ring on the equator is proves to be a clock. The time can be read via the arched hand and the sun can be manually adjusted between the tropic circles. For us it is much easier to imagine how the earth turns relative to the sun because nowadays we have animations and other technical aids. But before these aids models and globes were used to explain this. Besides the educational use these objects were decorative and a topic for conversation. On this globe continents, courtries, important cities and even shipping routes are depicted. A nice detail showing some history is that China is still referred to as 'Empire Chinois' (Chinese Empire) as it was called before the Chinese Revolution.
There are several versions of this clock. Most were made for the British market having all the countries of the British Empire named in red. These are marked 'The Empire clock' or Richard's chronosphere'. The clock being offered here was made for the French home market and is executed with the Eiffel Tower. This type is more rare. Furthermore it is great that the Eiffel Tower is still there and that the globe was preserved in such a good condition.
The movement
The movement is being driven by a spring barrel and has a duration of eight days. It is being regulated by a balance in combination with a lever escapement. Both winding and setting the time has to be done on the bottom of the base.
The globe
The globe is made of twelve lithograph strips glued to a metal ball. The colours are still vibrand and the condition of the whole is exceptionally good. The globe is signed G. Thomas Editeur 11 Rue du Sommerard Paris. On the equator is an engraved silvered chapter ring with Red Roman numerals for day and black numerals for night. The time is indicated by the bent hand with the Eiffel Tower. It is also to possible to see what time it is in other parts of the world. The brass base is inscribed 'patent' and 's.g.d.g.' and on the base 'made in France'.
Sizes
(Height) 29 cm (Diameter) total 18 cm
(Height) 11.4 in (Diameter) total 7.1 in
Price
sold
Signature
G. Thomas