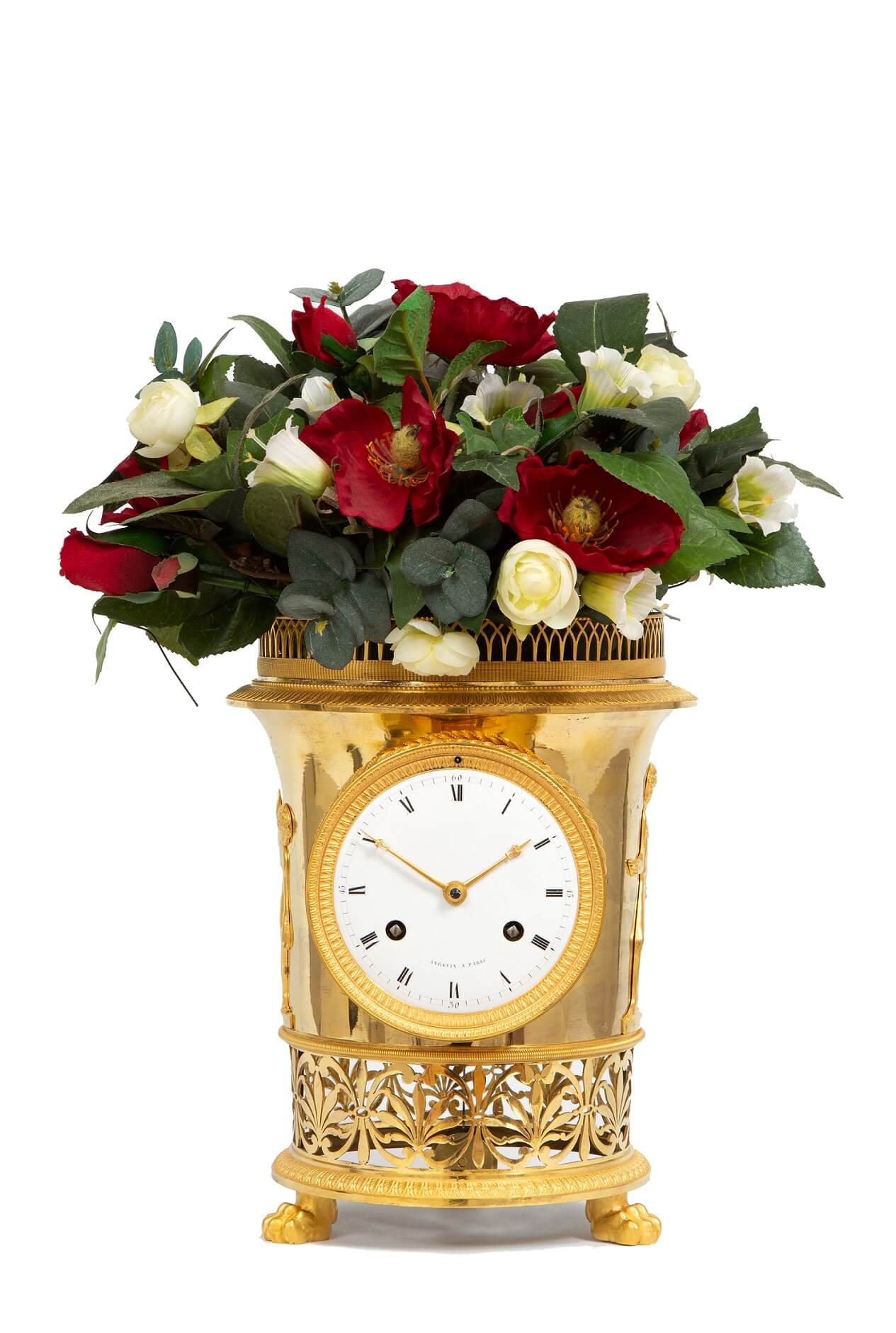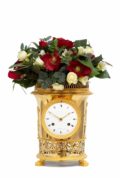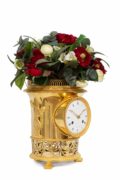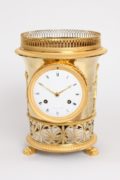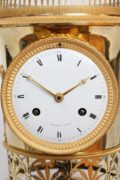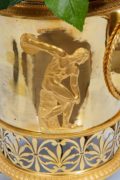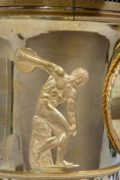 A French Empire ormolu urn mantel clock Angevin A Paris, circa 1810
Description
The story
This unusual model has a number of qualities that make it stand out from others. First there is the obvious quality of the bronze work and gilding which shows the craftsmanship of the men that worked on it. But there is more that makes this clock attractive. Although Empire clocks are made in the full round as it is said, the design is mostly made to be viewed from
the front. This is not very strange since most of these clocks were made to be placed on a mantel piece with a view point from the front. But this clock with its ornaments on all sides and its annular shape seems to be made to be viewed from all sides. It makes it easier to find a good spot for this fine object. Just imagine this lovely antique piece on a modern table in the centre of a room. A beautiful highlight with history and class
The dial
The 9.5-cm enamel dial has Roman numerals and is signed in the center Angevin A Paris. The pierced and engraved hands are made of gilt brass.
The movement
The movement is driven by two spring barrels and has a duration of eight days. It is being regulated by anchor escapement in combination with a silk suspended pendulum. It strikes the hours and half hours by means of countwheel on a bell.
The case
The finely cast and chiseled gilt bronze case is shaped as an urn which is surmounted by a gallery of arches on a stiff leaf border. The drum case is adorned with cable mounts and the sides with high reliefs of discus throwers. At the back there is a caduceus (staff of Mercury) mount. The base is adorned by a fine pierced leaf ornament over a finely engraved rim, the whole surmounted on claw feet.
Sizes
(Height) 26 cm without flowers (Diameter) 21.5 cm
(Height) 10.2 in without flowers, (Diameter) 8.5 in
Price
€ 12.500
Signature
Angevin A Paris