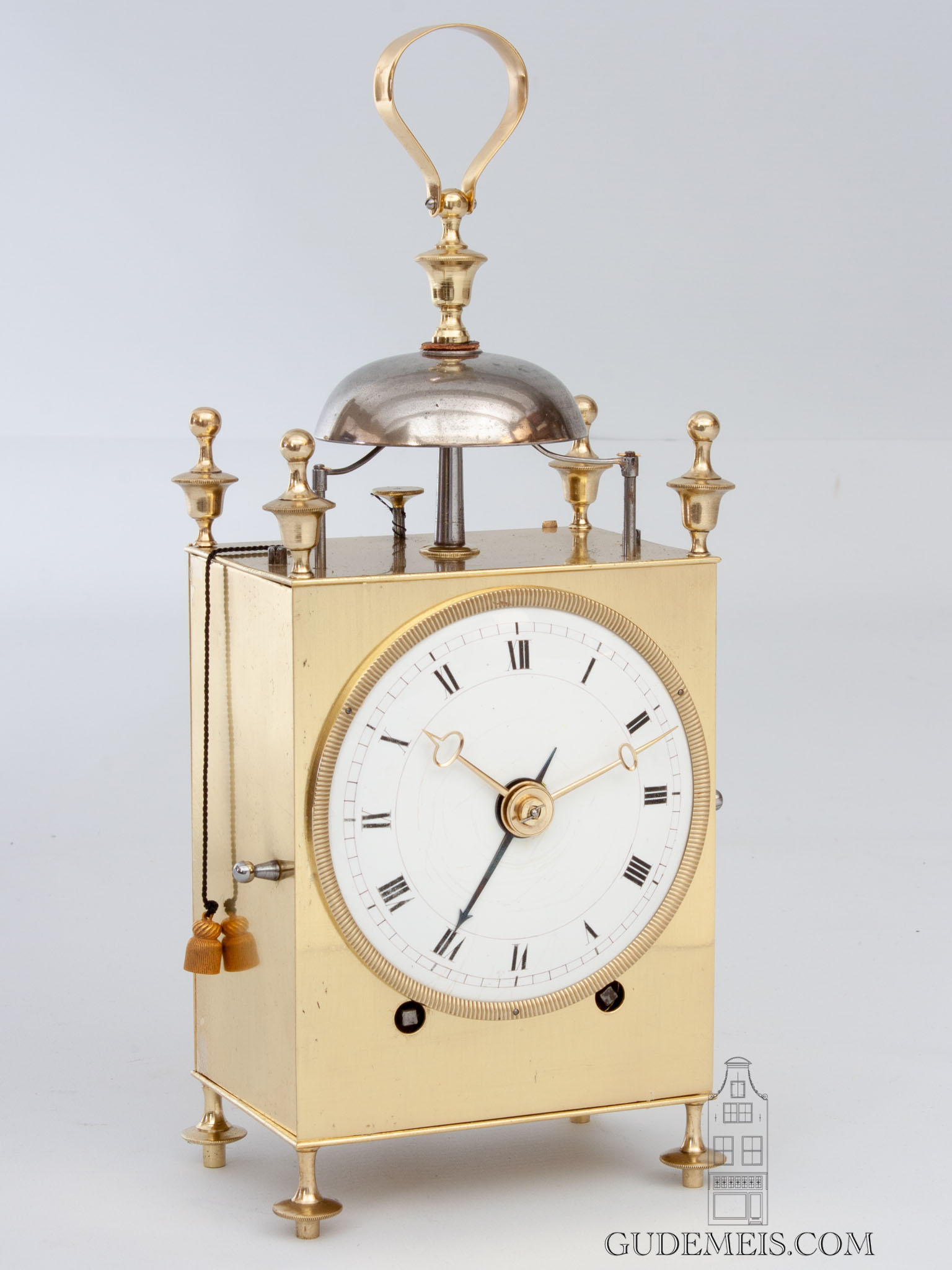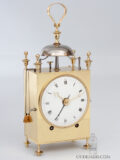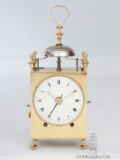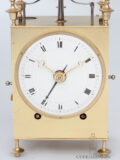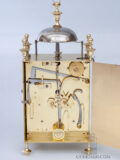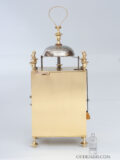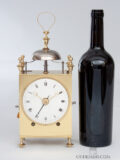 A French Swiss brass striking and alarm Capucine travel clock, circa 1800.
Description
Capucine
Besides the luxury clocks that are called 'Pendule d'officier' with their cases made of gilt bronze or luxurious woods, there were travel clocks made with less expensive cases. This group of clocks we call 'Capucine' like the monks of the Capucine Order. There are two explanations for the use of this term. The first states that the bell which often surmounts these clocks would have resemblance with the hoods of the cowls of the Capucine order. The second explanation which seems more logical to me, seeks the comparison of the austere way of living of this order, with the more austere execution of these clocks. As stated earlier in the part on Pendules d'officier, the distinctive feature of the Capucine is their relative simple cases.
Thin bezel
The 9.5-cm diameter enamel dial has Roman numerals and is set in a thin bezel which is characteristic for early Capucines. The attractive brass hands are of the Breguet type. The alarm setting hand is made of blued steel.
Morbier striking
The movement is driven by two spring barrels and has a duration of at least eight days. It is regulated by anchor escapement in combination with a silk suspended pendulum with rate adjusting at the top. The clock strikes the full hours and half hours by means of rack striking. At the full hours, the clock repeats the strikes after a minute or so. This 'Morbier striking' is useful because when a clock starts striking, one often realizes this too late to start counting. But being alerted by the first time the clock struck, one can start counting when it strikes for the second time. Most Morbier or Comtoise clocks have this type of striking also. By tripping a lever on the side of the case, the clock will repeat the number of past hour. This repeating function was very useful in a time when just turning on the light wasn't possible. By having the last hour repeated one 'heard' what time it was. The clock also has a alarm mechanism that is activated by pull winding.
brass case
The movement is fitted in a rectangular case which is surmounted by a handle on an urn finial. There are four further finials at the corners. At the back and sides there are doors giving access to the movement. The whole is placed on four turned toupee feet.
Sizes
(Height) 29 cm ( handle up ) (Width) 12.5 cm (Depth) 9.5 cm
(Height) 11.4 in (handle up) (Width) 4.9 in (Depth) 3.7 in
Price
not available