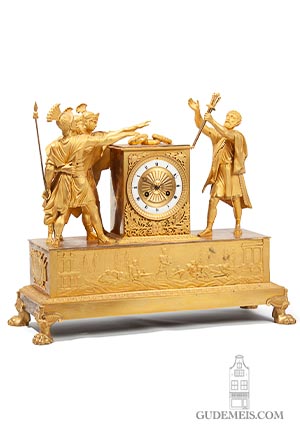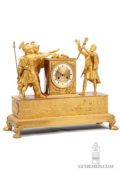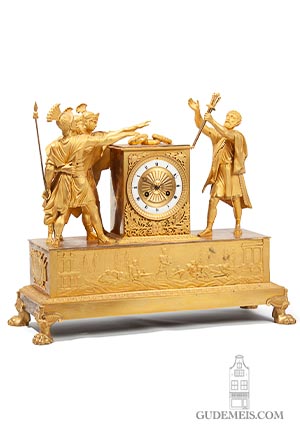 A large French Empire ormolu sculptural mantel clock, Oath of the Horatii, circa 1810
Description
The story
The composition of the group which surmounts this fine clock is directly based on the famous painting 'The Oath of the Horatii' by Jacques-Louis David painted in 1784. It is displayed in the Louvre and measures 330 cm by 425 cm! The subject is based on story of Roman mythology in which three brothers of the Horatii had to defend the city of Rome. They take on the three Curatii brother of the city of Alba in one-against-one battles. In the end only the oldest of the Horatii survives. This scene in which the three brothers vow to their father to either win or perish. The theme stands for civil duty and sacrifice for the nation.
The chapter ring
The enamel chapter ring has Roman numerals and is placed around a guilloche engraved ormolu centre. Around it there is a finely chiselled bezel with Acanthus moulding. The blued steel hands are of the Breguet type.
The movement
The movement is driven by two springbarrels and is of eight day duration. It is being regulated by anchor escapement in combination with a silk suspended pendulum. The clock strikes the hours and half hours by means of countwheel on a bell.
The case
The movement is fitted in a rectangular ormolu case with fine moulded cornices and surmounted by three wreaths. On the front there are two reliefs of classical helmets with foliage. Below the chapter ring is a central rosette in between abundant foliage. To the left are three Roman warriors (the Horatii) and to the right their father holding up three swords. The group is placed on a rectangular base which has low relief scene depicting the battle in between buildings. The base has a beautiful heavy acanthus relief plinth which is raised on claw feet.
Sizes
(Height) 47 cm (Width) 55 cm (Depth) 21 cm
(Height) 10.6 in (Width) 7 in (Depth) 5.5 in
Price
€ 14.500