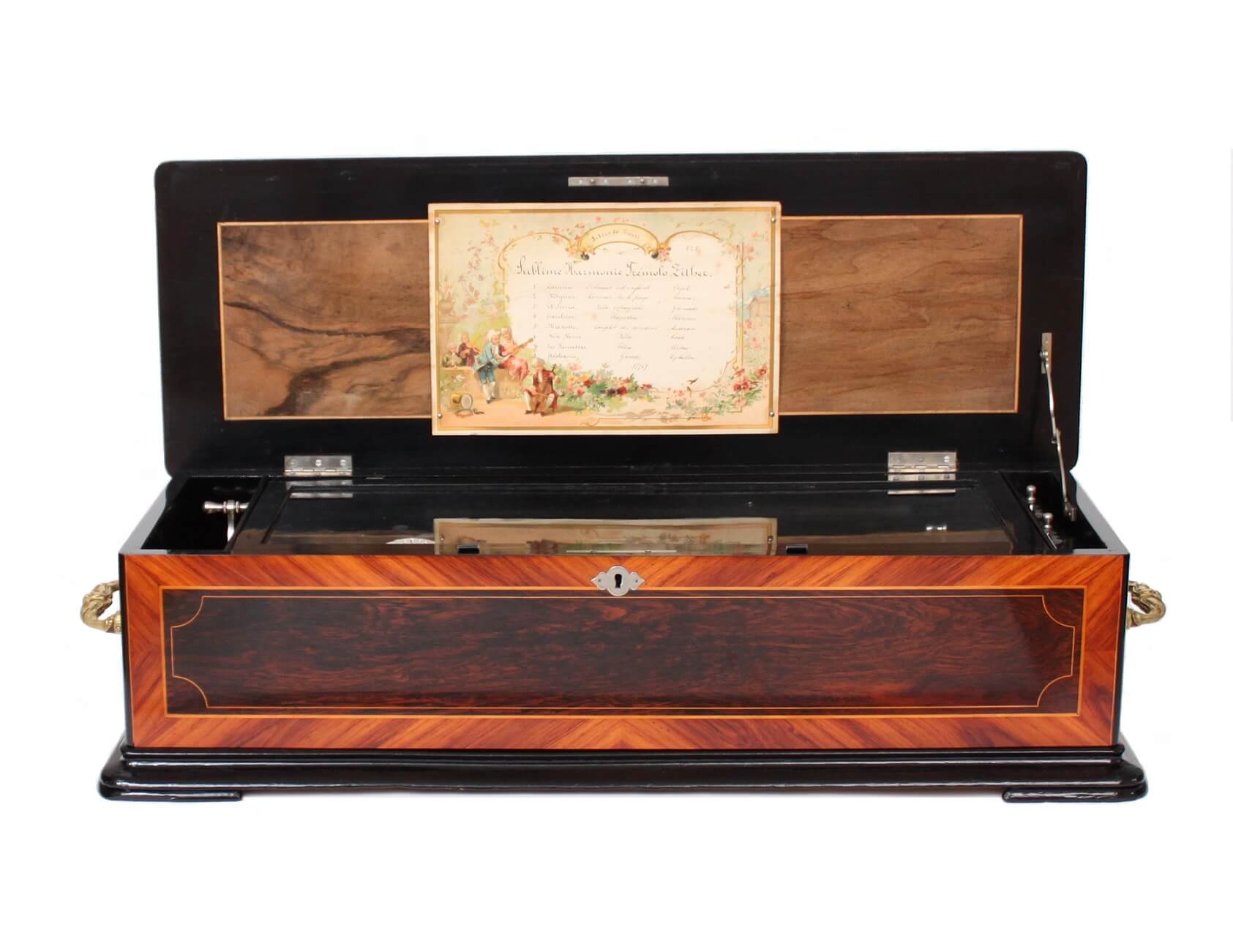 A large Swiss Paillard rosewood 'sublime harmony' cylinder music box, circa 1890.
Description
The Mechanism
The substantial mechanism is driven by a double motor (two connected spring barrels) with fixed winding handle enabling the box to play longer than usual. It plays one of eight melodies with a 44-cm wide pinned cylinder on three steel combs with zither. With their combination these three combs can produce a very diverse and strong sound. This combining of combs playing together is called 'sublime harmony'. A numbered sector with an indicator shows which melody is being played as listed on the tune sheet. There is also a fairly unusual lever which can be used to select one of the tunes when not playing. The emchanism is also equipped with an installation preventing the box getting a run in case the govenor is damaged. On the right side there are the two usual levers for start/stop and change/repeat (the melody).
The Case
The rectangular case is veneered at the front and sides with rosewood in a cross banded walnut surround. The lid is similarly veneered with a central marquetry ornament of flowers and scrolls. On the inside of the lid is the tunesheet listing all the melodies. The case is raised on flat feet.
The Melodies
1. Carmen — L'Amour est enfant — Bizet
2. Mignon — Connais tu le pays –Thomas
3. El Turia — Valse Espagnole — Granado
4. Excelsior — Mazurka — Marenco
5. Mascotte — Couplet des dindons — Audran
6. Ma Reine — Valse — Coote
7. Les Fauvettes — Polka — Metna
8. Stéphanie — Gavotte — Czibulka
Sizes
(Height) 22 cm (Width) 90 cm (Depth) 32 cm
(Height) 8.7 in (Width) 35 in (Depth) 12.6 in
Price
sold
Signature
Paillard