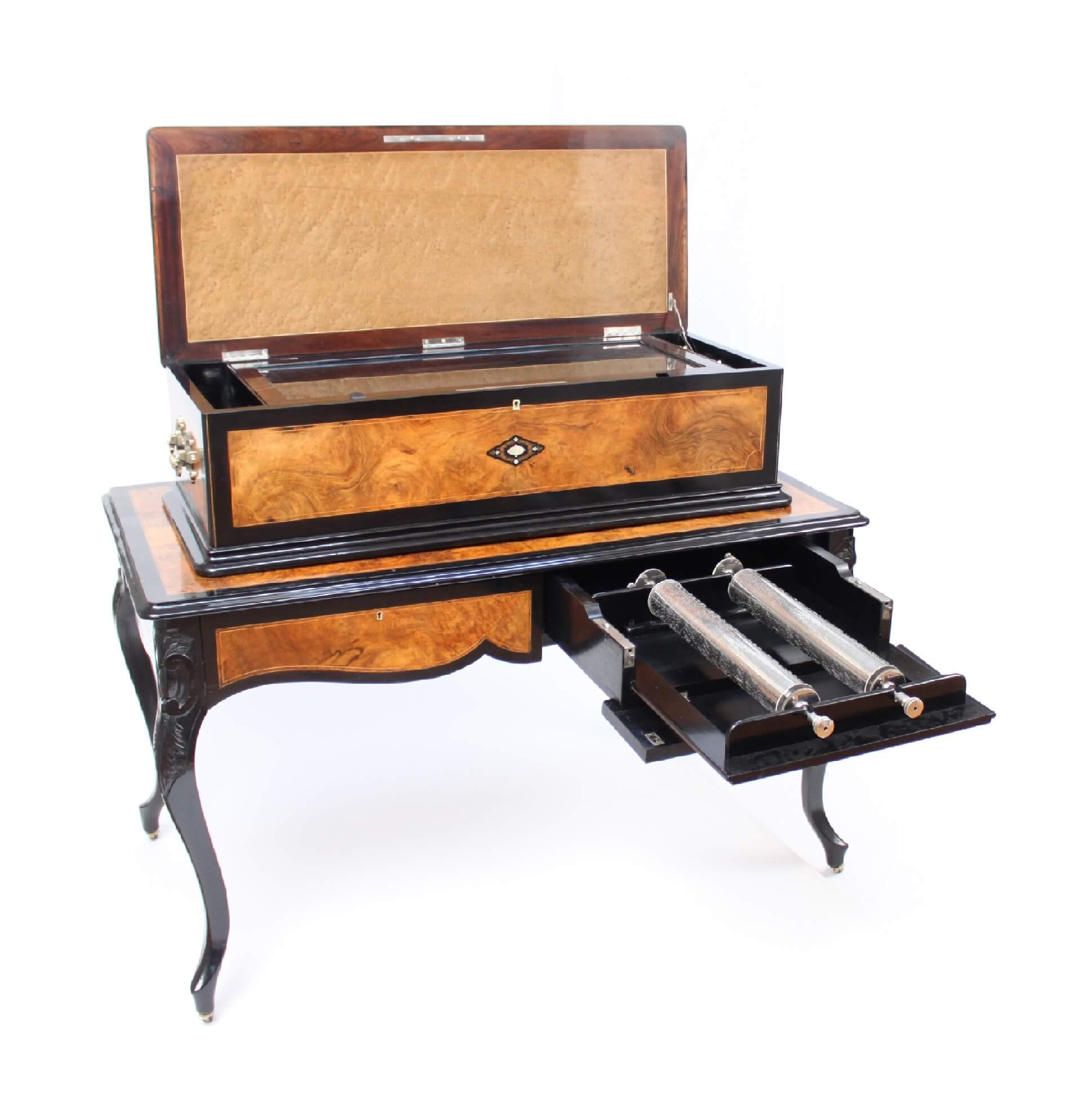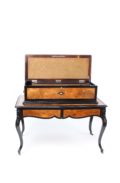 A large Swiss walnut Allard & Co interchangeable cylinder music box on table, circa 1890
Description
The musical mechanism
The substantial mechanism is driven by two connected spring barrels (so-called double motor) with fixed winding handle making it possible that the music box plays longer than usual. The music box plays with 41-cm long pinned interchangeable cylinders on a double comb. There are four cylinders with six melodies each. Except for one blocked melody. The double comb system is called 'sublime harmony'. The two combs make it possible to play 'a quatre mains' but also for instance a faster picking of notes. One tooth of one comb can still vibrate when the same note is being played on the other comb. Within the sublime harmony systems there are variations. This variety is called 'Organocleid'. By means of longer sounding bass notes a sound is created resembling an organ.
Besides the double motor and the organocleid system there a several other technical features to this fine mechanism. There are the Zithers which can be lowered on the combs to produce a plucking sound. There is also the fairly rare feature that with a knob the music box can be made playing either faster or slower. Furthermore there is a dial with pointer indicating which melody of the cylinder is played. This dial is signed D. Allard & Co MANUF-rars Genèva. To the right there is a handle which can be used to select tune which one wants to hear in between play. Finally there are the usual levers for start/stop and change/repeat.
The case and table
The rectangular case is veneered with well figured burr walnut with a small marquetry ornament in the middle with brass and mother of pearl. It is further embellished with ebonised borders and mouldings. To the sides of the case there are finely cast and gilt handles. The inside of the lid has bird's eye maple veneer and the borders on the inside are veneered with rosewood. The case is placed on a matching table with drawers to store the extra cylinders. These drawers have extra sliding platforms to ensure an easier access to the cylinders.
D. Allard & Co
The firm of D. Allard & Co was registered in Geneva and is known for their larger musical boxes with intricate musical mechanisms notably the organocleid. Lit; Jaco van Witteloostuijn en Ruud Maas, Muziek uit stekels en gaten. pp. 228.
Sizes
(Height) 104 cm (total) (Height) 76 cm (table) (Width) 127 cm (Depth) 68 cm
(Height) 40.9 in (total) (Height) 29.9 in (table) (Width) 50 in (Depth) 26.8 in
Price
sold
Signature
D. Allard & Co