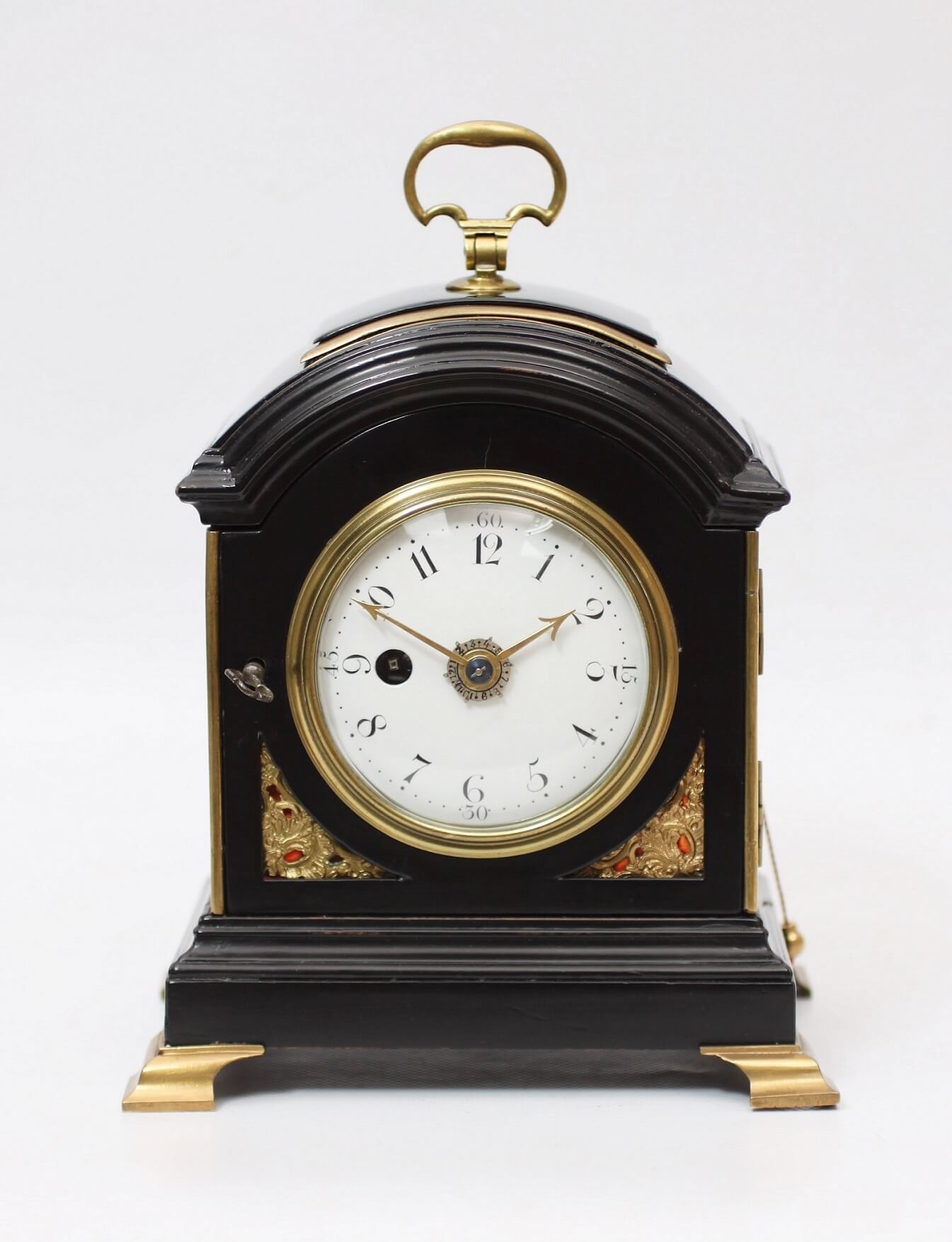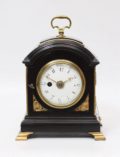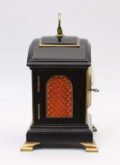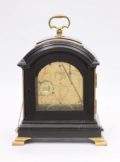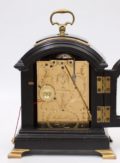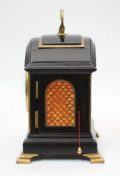 A miniature English table clock with silent escapement, Holliwell & Son, circa 1800
Description
8-day movement with rare silent escapement and alarm, ebonised case.
7.5-cm true enamel dial with Arabic numerals, brass arrow hands and silvered alarm disc, 8-day fusee movement with rare silent escapement comprising of a verge in combination with thin steel pallets, alarm with pull wind on a bell, finely engraved back plate with classical decor of an urn, flowers and a cartouche with the signature Holliwell & Son Derby, break arch moulded ebonised case with single pad top surmounted by a brass handle, front door with brass spandrels, brass scale frets to the sides, mouded plinth raised on brass bracket feet.
Due to the 'silent escapement' one doesn't hear the clock ticking. And because the clock only has an alarm we can say with high probability that this clock was used in the bedroom.
The signature refers to William Holliwell I who was born in Liverpool but worked from 1773 in Derby until 1812. And his son William Holliwell II who worked as a clockmaker from circa 1800 until 1828. Because of these dates we can say that this clock was made between circa 1800 and 1812. (Brian Loomes, Watchmakers and Clockmakers of the World, Complete 21st Century Edition, pp. 385.)
Usually English table- or bracket clocks look very similar and have the same proportions. Many collectors are therefore on the look out for small versions. But one doesn't have to be a collector to appreciate the small and attractive dimensions of this clock. It has actually an interesting and rare feature. Because of a special escapement one doesn't hear it tick when it is running! Besides this it also has an alarm. It is therefore obvious that this clock was made for the bedroom. The beautifully engraved movement made by Holliwell and son shows the attention to detail with which this clock was made. Fitting to any interior because of its size and design. Fitting for any collection because of its rarity.
Sizes
(Height) 22.5 cm (Width) 17 cm (Depth) 13 cm
(Height) 8.9 in (Width) 6.7 in (Depth) 5.1 in
Price
sold
Signature
Holliwell & Son Derby