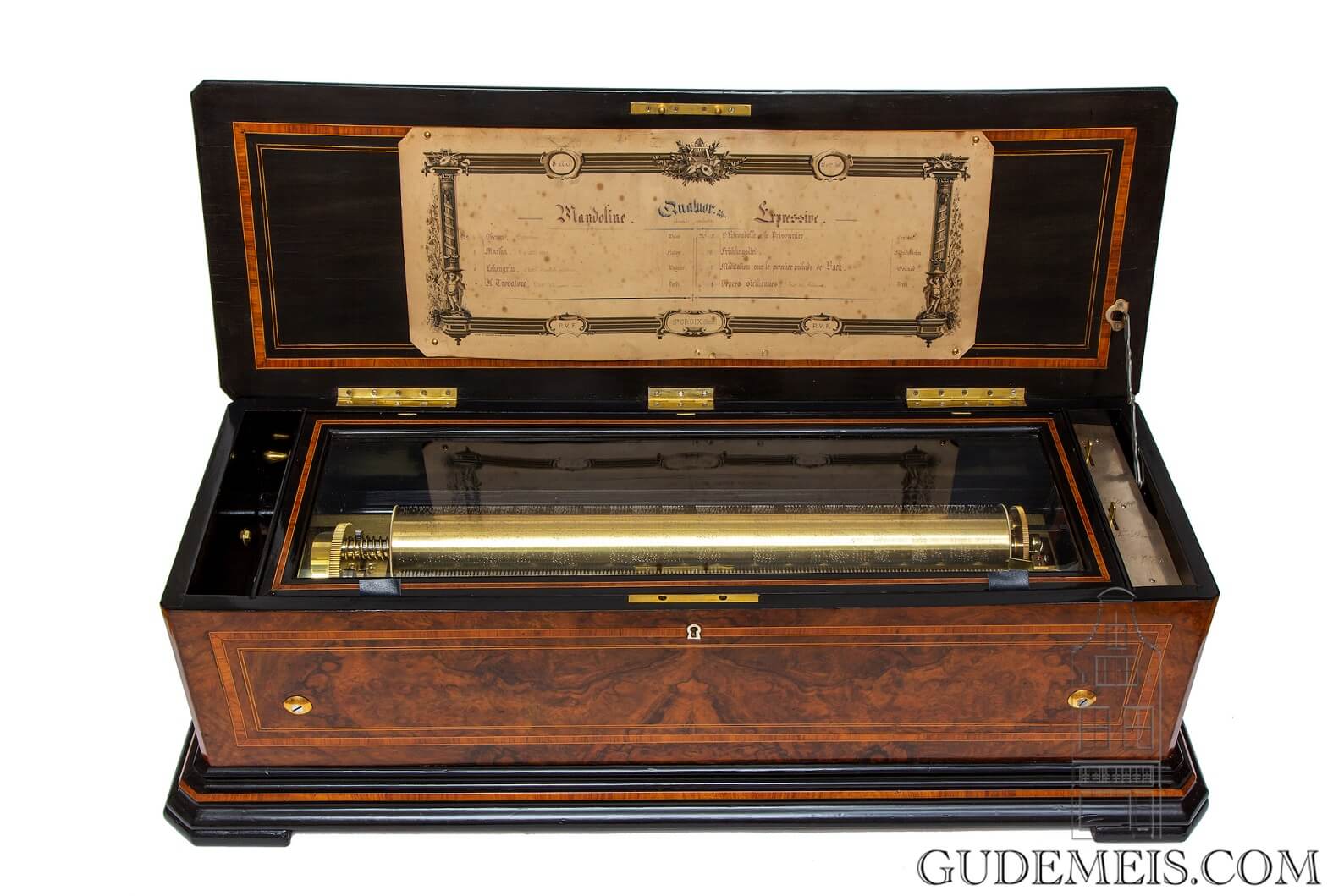 A rare and impressive Swiss Mandoline Quatuor cylinder music box, PVF, circa 1870
Description
The mechanism
The brass mechanism is driven by a spring barrel with fixed winding lever. The impressive 30-cm long and over 8-cm across pinned cylinder plays one of eight airs on a double steel comb. An ingenious system with long sounding bass notes combined with many double notes creates a orchestral sound with a very wide and rich sound. There are two operating levers with a silvered brass plate. The front lever is for starting and stopping the mechanism. The back lever is for either repeating a melody or playing the melodies in sequence. After having played the last air, the cylinder will jump back to the first position.
The case
The rectangular case with canted corners is fully veneered with fine burr walnut. Most of the panels have string inlaid banding and a rectangular cross banded walnut veneer rim. At the sides there are gilt brass rococo handles. The heavy moulded ebonised plinth is raised on flat feet.
The program
The beautiful tune sheet is marked P.V.F. St. Croix Suisse. P.V.F. is the abbreviation for Pailard Vaucher Fils. The music box plays eight different famous melodies.
1. Oberon ouverture Weber
2. Martha Die Letzte Rose Flotow
3. Lohengrin Erenlich gefühn Wagner (wedding march)
4. Il Trovatore Duo; Ai nostri monti Verdi
5. L'Hirondelle et le Prisonier Croisez
6. Frühlingslied Mendelsohn
7. Méditation sur le premier prélude de Bach Gounod
8. Vespers Siciliennes ei voi Palerme Verdi
Sizes
(Height) 30.5 cm (Width) 100 cm (Depth) 39 cm
(Height) 12 in (Width) 39.5 in (Depth) 15.5 in
Price
sold
Signature
P.V.F. Paillard Vaucher Fils