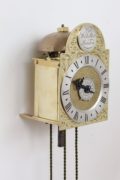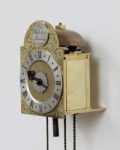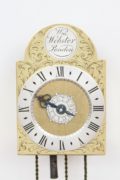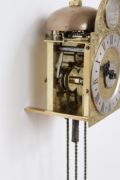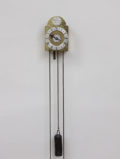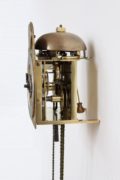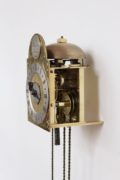 A rare and small English brass travel wall clock, William Webster London, circa 1730
Description
The dial
The 9-cm arched brass dial is adorned with beautifully engraved scrolls. The applied engraved and silvered chapter ring has Roman numerals and the single hour hand is made of blued steel. In matted centre is the silvered alarm disc and in the arch is a signature plaque signed Wm Webster London.
The movement
The plated movement is driven by a weight and has a duration of thirty hours. It is being regulated by a verge escapement in combination with a short pendulum which can be fixed behind a hook for travel. The clock has an alarm that strikes on a surmounted bell.
The case
The case is made of brass and has removable panels at the sides which are locked by brass clips. The clock can be hung on the wall by a hole in the protruding top plate. Brass strips at the bottom are used as 'spurs'.
William Webster
William Webster is recorded becoming master clockmaker in 1710. He was apprenticed to and later journeyman with Thomas Tompion. He died in 1734.
Sizes
(Height) 13 cm (Width) 9 cm (Depth) 8.5 cm
(Height) 5.1 in (Width) 3.5 in (Depth) 3.3 in
Price
sold
Signature
William Webster London