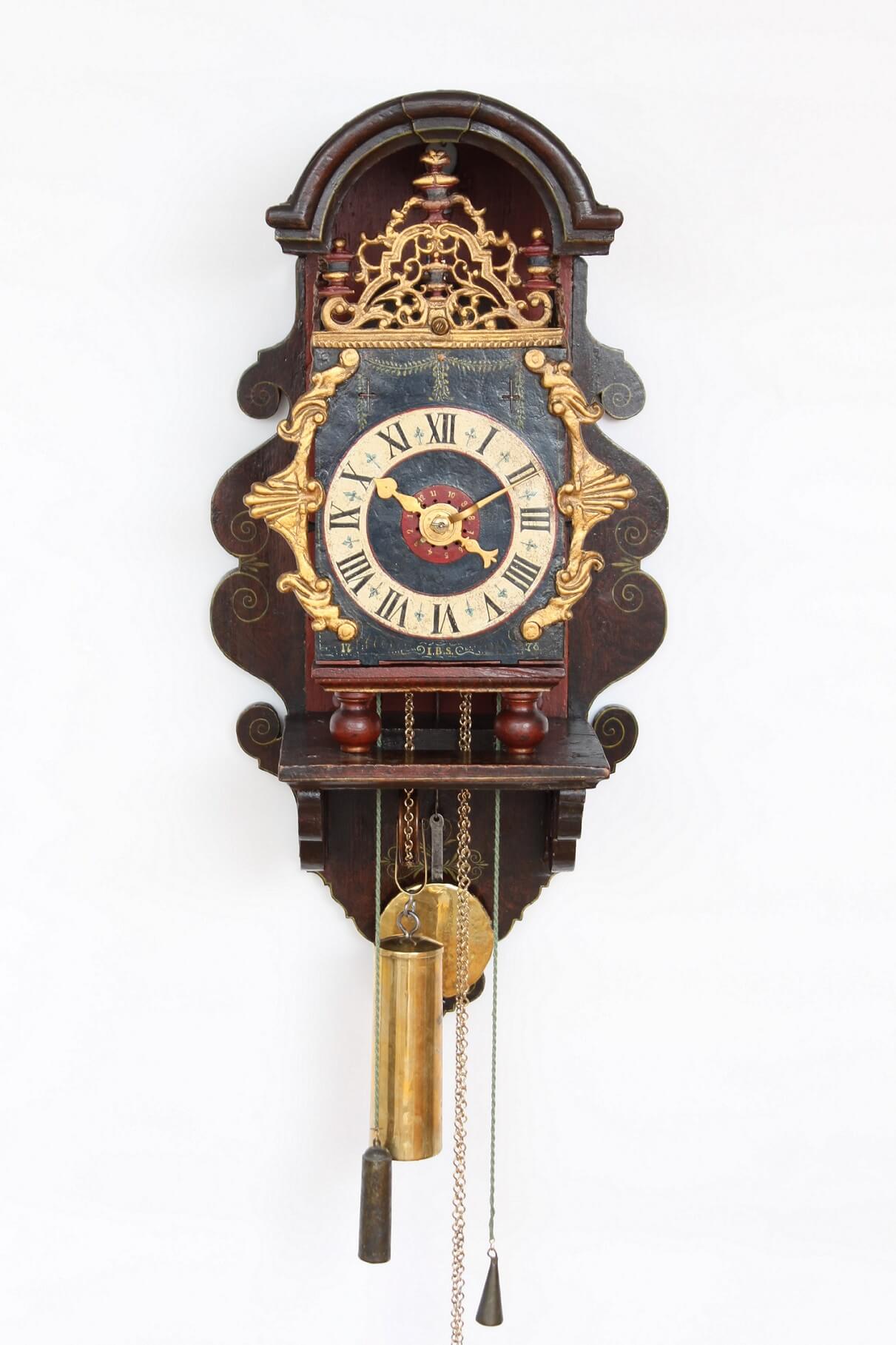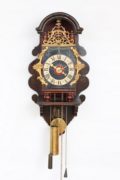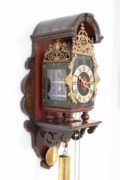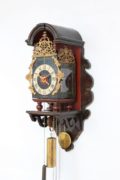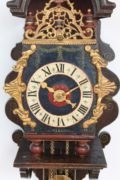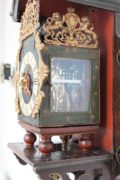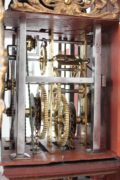 A rare Dutch provincial 'Twente' polychrome painted stoelklok, Spraekel, circa 1770.
Description
The dial
The polychrome painted iron dial has Roman numerals and the monogram I.B.S. below. Above we see a stylized garland. The top and sides of the dial are adorned with gilt lead ornaments. Especially the unusually shaped side ornaments are typical for this maker. The gilt lacquered hands have a nice rustic form. And the minute hand has an arch to let the peg setting the alarm pass. This feature is often seen with makers from this region like the famous Goslink and Hendrick Ruempol.
The movement
The movement consists of rectangular iron pillars and of top- and bottom plate made of iron strips riveted together. It is driven by a weight on an endless chain and has a day's duration. The clock strikes the hours fully and gives a single strike for the half hours on a bell by means of a countwheel. Furthermore the movement has anchor escapement in combination of a relative long two-piece pendulum.
The case
The case of the movement also consists of iron strips riveted together. The whole is on ball feet placed on a poly chrome painted wood bracket with a shaped back board and arched cresting.
Jan Benjamin Spraekel (1715-1794)
Jan Benjamin Spraekel was a member of the famous clockmaker family started by Jurriaan Spraekel. This family was very important as founders of clock making in Geldern. Besides clockmaker Jan Benjamin was also major.
Both the shaped back board as the arched cresting of the bracket are very similar to makers as Anthonie ter Swaek and Carol Willem Bakker.
The combination of the anchor escapement in combination with a long pendulum is something we see with these makers. Friesland stoel clocks are always made with verge escapement. The iron posts and heavy execution of the movement are often seen with clocks from this region. The riveted iron strips found in the both top and bottom plate and the doors are a typical individual characteristic of this maker. It is not exactly known why he did this but the shortage of material later in the 18th Century might have something to do with it.
Lit; MNU, tentoonstellingscatalogus 'Wijzers uit het oosten' 2006.
Sizes
(Height) 78 cm (Width) 38.5 cm (Depth) 26 cm
(Height) 30.7 in (Width) 15.2 in (Depth) 10.2 in
Price
sold
Signature
Jan Benjamin Spraekel Goor