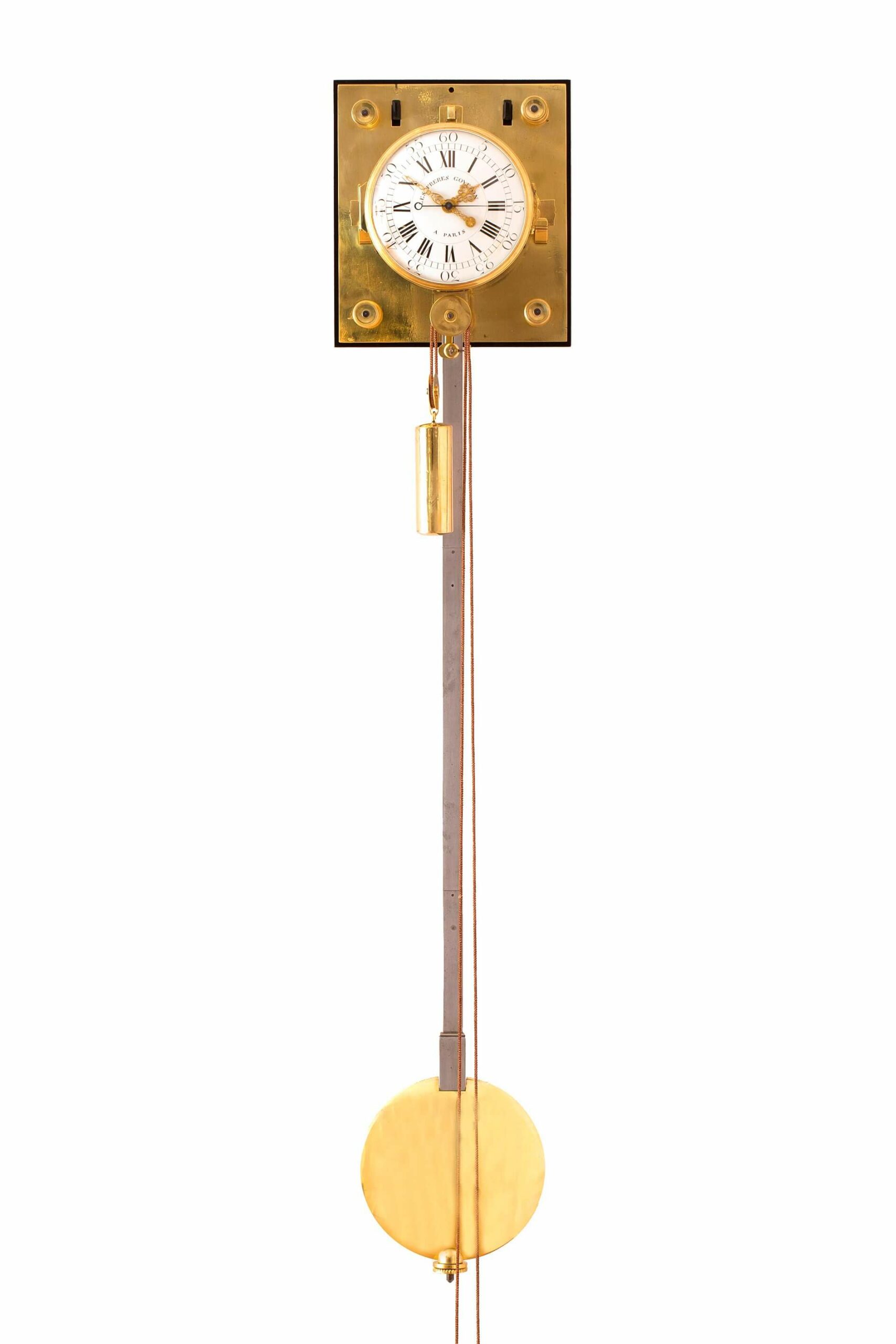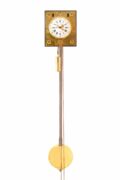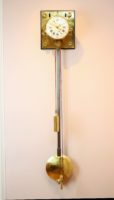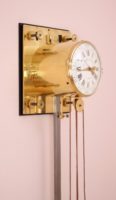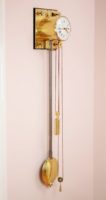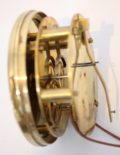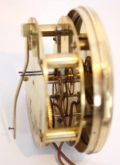 A rare French Louis XVI wall regulator, Goyffon Freres, circa 1770
Description
8-day precision movement, brass case.
15-cm enamel dial with Roman numerals signed Les Freres Goyffon A Paris, very finely foliate pierced and engraved gilt hands, blued sweep seconds, 8-day weight driven movement with heavy pillars and Huygens endless rope signed Joseph Buzot A Paris, Graham anchor escapement, brass drum case suspended with three hooks to the heavy wall plate, heavy pendulum with cardanic knife-edge suspension, steel rod in two parts (possible to dissemble for transport) and heavy brass bob, backplate with four adjustment screws.
Many people who see this rare piece are astonished about the lack of ornamentation which gives it an almost modern look. The finely pierced and engraved hands and the style of the numerals give away the age and period when it was made. But there is a logical explanation for this lack of ornament. When looking more closely one can see that the pendulum rod consists out of three pieces well joined by screws. The position of the plate on which the movement is mounted and that is hung on the wall can be adjusted by large screws. And the movement is mounted and protected by a drum case. These features indicate that this regulator was made to be easily transported and set up anywhere one needed a timepiece for reference. For instance when there was an expedition to the Southern hemisphere to record a solar eclipse, a good timekeeper was needed to record the observations. Since it was not practical to bring a regulator in a longcase very rare pieces like this were produced for this special purpose. Because of its undecorated modern look, this interesting rare piece fits into any interior.
Sizes
(Height) 120 cm (Width) 24 cm (Depth) 17.5 cm
(Height) 47.2 in (Width) 9.5 in (Depth) 6.9 in
Price
sold
Signature
Les Freres Goyffon A Paris