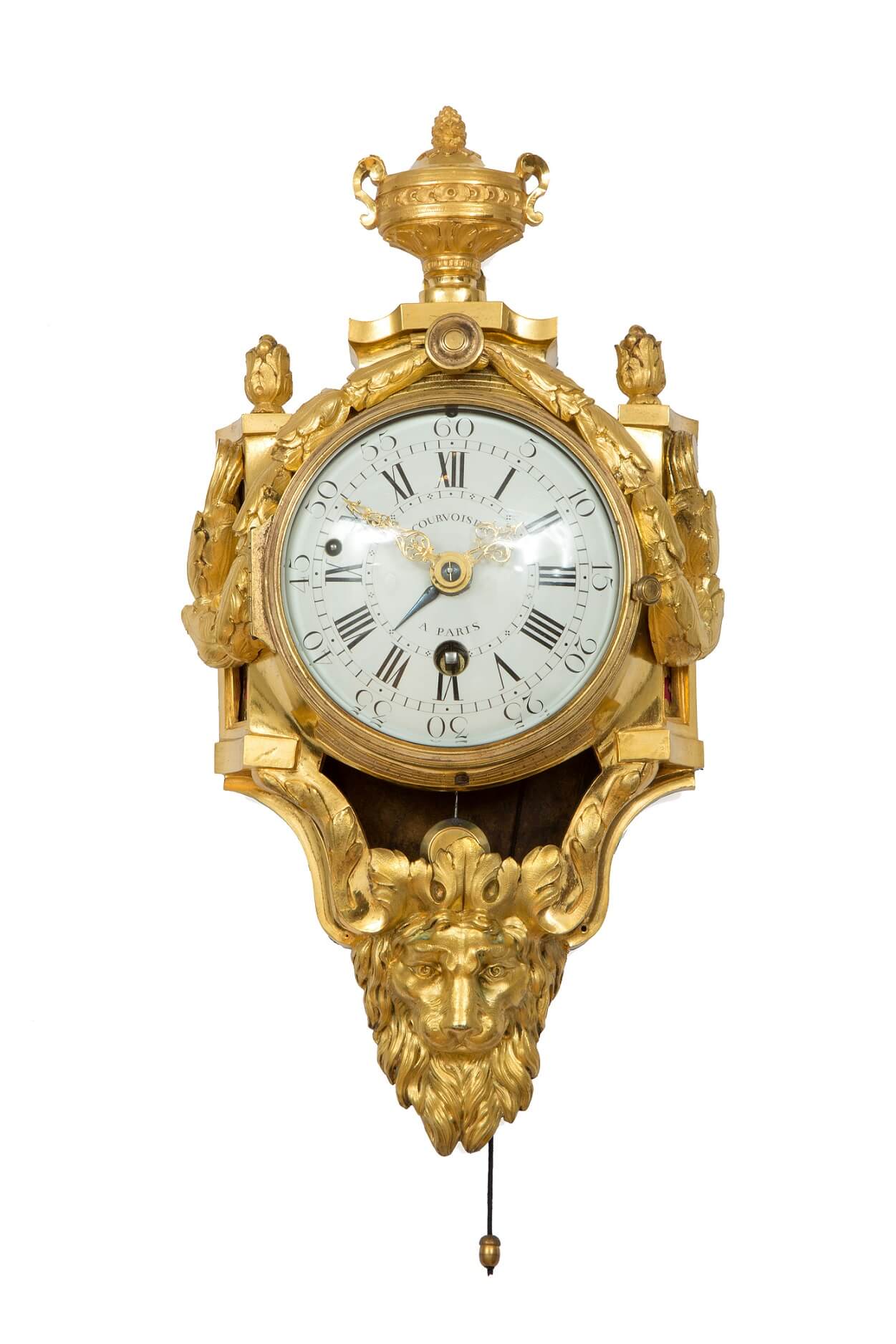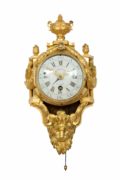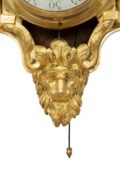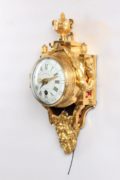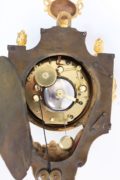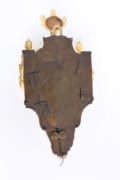 A rare small French Louis XVI ormolu 'cartel d'alcove' Courvoisier, circa 1770
Description
10- enamel dial with Roman numerals signed Courvoisier A Paris, finely foliate pierced gilt hands and blued steel alarm pointer, 8-day spring driven movement with anchor escapement and silk suspended pendulum, pull quarter repeating on two bells, alarm, finely cast and chiseled ormolu case surmounted by a classical urn and two berry finials, a garland surrounding the dial, lenticle below above a beautiful lion mask.
We can conclude that this very small clock was made for the bedroom because of the lacking of striking work and the existence of an alarm. The pull quarter repeating could indicate the time in the dark. The pendulum can be fixed for travel with a special clip. This indicates that this clock was even used when travelling.
The signature probably refers to David Louis who became master clockmaker in 1765 and who had his workshop at the Quai Conti. (Tardy, Dictionnaire des Horlogers pp. 145.
'Cartel d'alcove' freely translates to 'cartel of the bedroom'. Since a cartel is a decorative French wall clock there must be something that sets this clock out from 'normal' cartel clocks. First there is the small size compared to the usual cartel that are a lot larger which were designed to decorate a large room in stead of the smaller bedroom. But most of all it are the technical details that place this clock in a bedroom. For instance there is no automatic hour and half hour striking so the clock remains silent. The clock does have a quarter repetition function which causes the clock to strike the hours and quarters that have passed when a cord is pulled. In this way one could hear what time it is in the dark. One shouldn't forget that turning on the light wasn't an option and making fire not that easy. And lastly this clock even has an alarm which certainly places this piece close to a bed. There is another remarkable feature to the movement. There is a clip which can fix the pendulum for transport. This would suggest that this piece could have been used by the owner to install it anywhere he or she lodged. It is amazing what kind of objects were taken along on a trip by the nobility of the 18th Century. Therefore not only a beautiful but also very interesting little clock.
Sizes
(Height) 33.5 cm (Width) 17.5 cm (Depth) 10 cm
(Height) 13.2 in (Width) 6.9 in (Depth) 3.9 in
Price
sold
Signature
Courvoisier A Paris