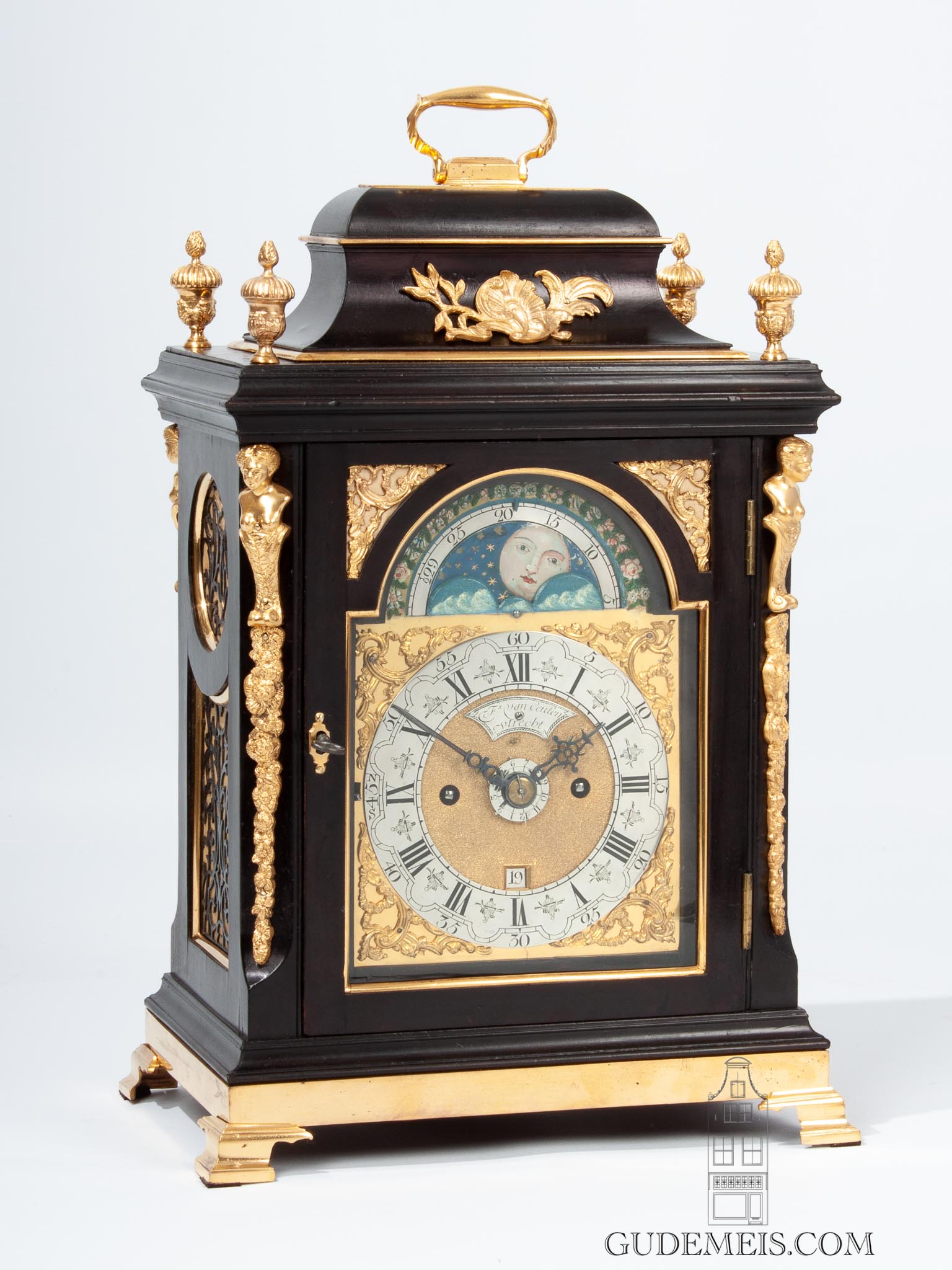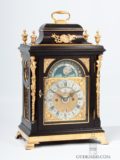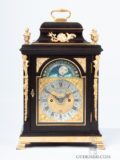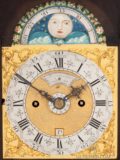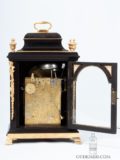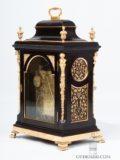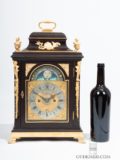 A small Dutch ebonized table clock with date and moon phase, F. Van Ceulen Utrecht, circa 1770.
Description
The dial
The 14.5-cm arched brass dial has a matted centre with an aperture for date indication and a silvered signature plaque inscribed Fr.s Van Ceulen Vtrecht. The applied engraved and silvered brass chapter ring has Roman numerals and five minute arches. The beautifully foliate pierced hands are made of blued steel and the alarm disc of silvered brass. There is a small lever for Strike/silent left of IX. In the corners are Rococo spandrels. the arch is decorated with polychrome flowers around the aperture for moon phase with indication of the days of the moon cycle.
The movement
The movement is driven by spring barrels with fusees and has a duration of eight days. It is being regulated by verge escapement in combination with a short fixed pendulum. It has Dutch half hour striking by means of rack striking on two alternating bells with repeating on demand. The clock also has an alarm with pull wind.
The case
The ebonised moulded case has a true bell top with ornament and is surmounted by a brass handle and four urn finials on the corners. The arched door has foliate pierced brass spandrels in the top corners. The canted corners have brass ornaments of herms with trailing flowers. The sides have foliate pierced wood frets. The brass bound moulded plinth is raised on brass moulded bracket feet.
The maker
Franciskus Le Jeune was born in The Hague in 1722 as the son of Johannes van Ceulen Le Jeune. Initially he worked in The Hague but from 1752 he was settled in Utrecht. He is last mentioned in 1774. J. Zeeman, De Nederlandse Staande Klok, pp. 462.
Sizes
(Height) 45 cm (handle up) (Width) 29 cm (Depth) 19 cm
(Height) 17.7 in (handle up) (Width) 11.4 in (Depth) 7.5 in
Price
Sold
Signature
Franciskus van Ceulen Utrecht