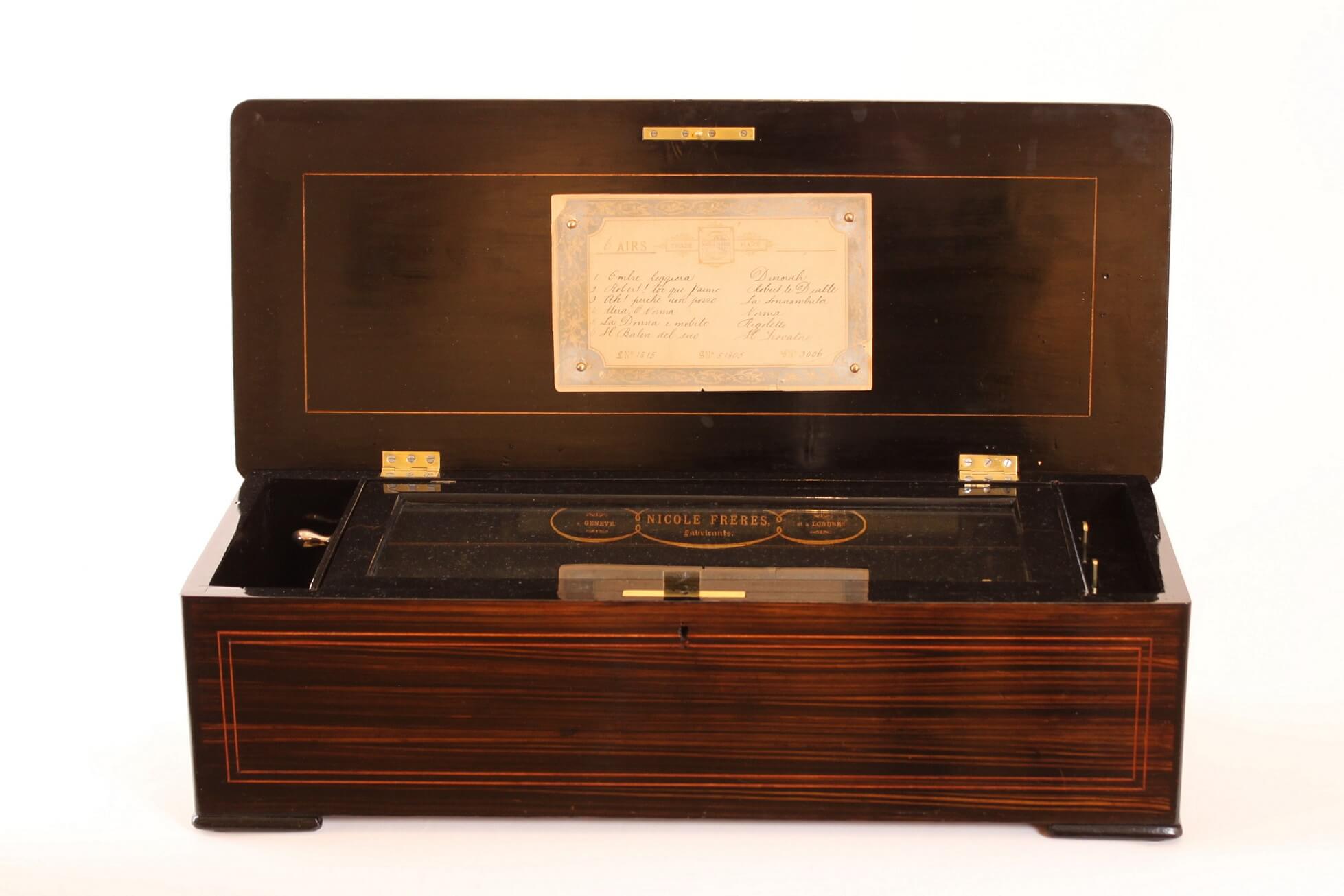 A Swiss Nicole Frères burr walnut operatic cylinder music box, circa 1880.
Description
The mechanism
The brass mechanism is being driven by two connected spring barrels which is called a double motor. This construction enables the music box to play longer and on a more constant rate. The music box plays one of six melodies with a pinned cylinder on a steel comb signed NICOLE FRERES. At the right side of the mechanism is a knob with a scale which can adjust the speed of playing. Both the double motor as this adjustment knob are fairly rare features. Of course there are the two normal levers to the extreme right. One for start/stop and one for change/repeat of the melody.
The case
The rectangular case has a lid veneered with well figured burr walnut of rich colour. It is further adorned with ebonised moulded borders. It is raised on flat feet.
The program
On the inside of the lid there is the tune sheet listing the melodies.
1. Ombra leggiera — Dinorah — (Giacomo Meyerbeer)
2. Robert! toi que j'aime — Robert Le Diable — (Giacomo Meyerbeer)
3. Ah! perche non posso — La Sonnambula — (Vincenzo Bellini)
4. Una, O Norma — Norma — (Vincenzo Bellini)
5. La Donna e mobile — Rigoletto — (Giuseppe Verdi)
6. Il Balen del suo — Il Trovatore — (Giuseppe Verdi)
Sizes
(Height) 16.5 cm (Width) 57.5 cm (Depth) 23.5 cm
(Height) 6.5 in (Width) 22.6 in (Depth) 9.3 in
Price
sold
Signature
Nicole Frères Geneve & London