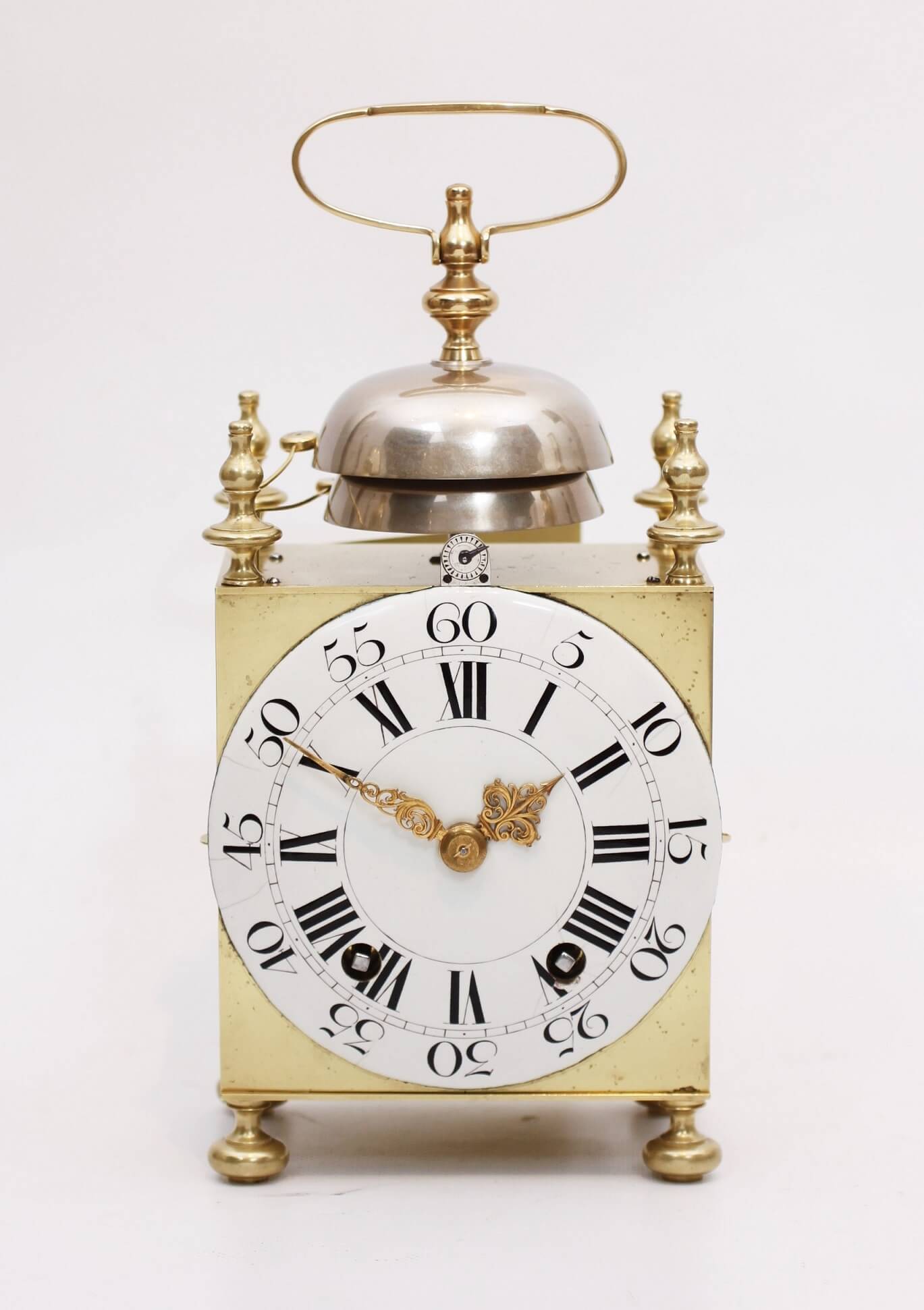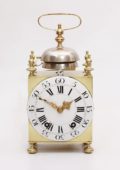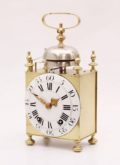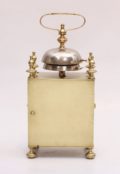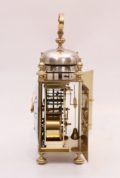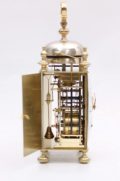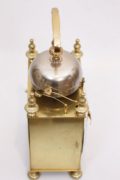 An early and large French brass Capucine travel clock by Bechet A Lyon, circa 1770
Description
13.5-cm enamel dial with Roman numerals and fine foliate pierced and engraved brass hands, up/down above 60, 8-day spring driven movement with pinwheel escapement signed on the back plate Bechet A Lyon, rack qarter striking on two bells with handle surmounting the brass case with corner finials, doors to the back and sides, the whole raised on pear-shaped feet.
This clock is special because of it's size and the fact that it is quarter striking. Among other things, the dial and hands point to a date in the Louis XVI period. The workmanship that is shown in the execution of the finals, feet and handle is a joy for the eye. Bechet is recorded working in the Rue Saint-Pierre in Lyon in 1788. (Tardy, Dictionnaire des Horlogers Français, pp. 37.)
In the France of the third quarter of the 18th Century, travel clocks were rare and differed per clock maker. Although it might look a little plain, the workmanship is evident when looking at the hands, movement and small details in the finishing. In its design, it has a lot in common with lantern clocks. Just like lantern clocks these clocks fit well into a modern or classic interior a like. The plain appearance was the reason that they were called 'pendule à la Capucine', referring to the austere life style of the Capucine monks.The tow-tone quarter striking on bells will give a lovely liveliness to your home.
Sizes
(Height) 28.5 cm (Width) 13.5 cm (Depth) 10.5 cm
(Height) 11.2 in (Width) 5.3 in (Depth) 4.1 in
Price
sold
Signature
Bechet A Lyon