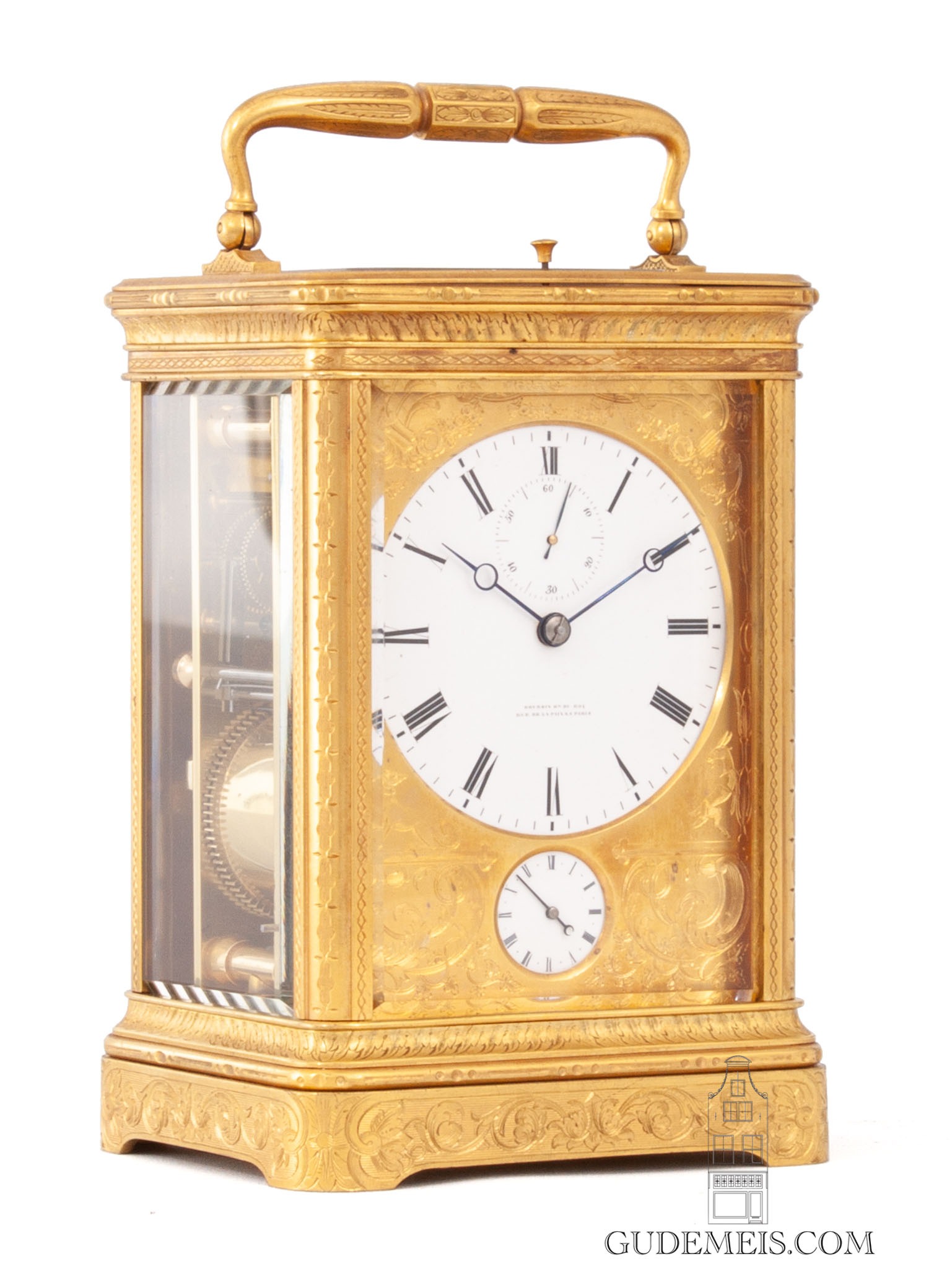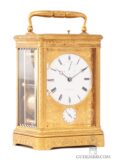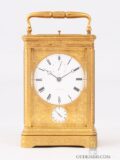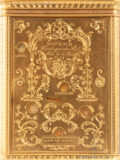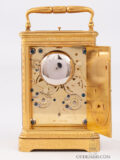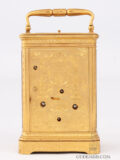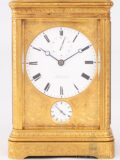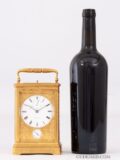 An early French engraved gilt brass striking and alarm carriage clock, Bourdin, circa 1840.
Description
Bourdin
There are several clock makers that focused on carriage clocks in the second quarter of the 19th Century. The type had been introduced to the large public by Paul Garnier from about 1830. In this early period A.E. Bourdin was a maker that stood out from the rest of the clock makers. His travel clocks stand out not only in the quality of the cases which is clearly visible with the fine engraving of this clock. But his movements are also made in the highest quality. This clock has a duplex escapement and a subsidiary seconds which is not often seen with carriage clocks. Both the dial and back door are signed Bourdin horloger du Roi. Since king Louis Philippe had to stand stand down in 1848, this clock must have been made before this event.
Subsidiary seconds
The 6.5-cm enamel dial has Roman numerals en blued steel Breguet hands. There is a subsidiary seconds below XII. Above VI there is the signature Bourding Hr du Roi, Rue de la Paix 24 Paris. The dial is fitted in a beautifully foliate engraved gilt brass mask with the alarm subsidiary below.
Duplex escapement
The beautifully made movement is numbered 3699 and driven by two spring barrels. It has a duration of eight days which means you need to wind it once a week. The movement is regulated by a well made platform duplex escapement with a bi-metallic balance with large regulation weights. The clock strikes the hours and half hours on a bell by means of rack striking. The last hour struck will repeated when pressing the repetition button on top of the case. There is a alarm mechanism which is activated by winding a small auxiliary spring barrel. The back plate is pierced for two wheel which are mounted with cocks which is an early feature for carriage clocks just as is bell striking.
shutters
The gilt brass Corniche case is throughout embellished with beautiful detailed engraving of foliate scrolls and leaves. It is surmounted by a handle and there is a glass panel revealing the well made escapement. There are further beveled glass panels to the front and sides. The back door is also beautifully engraved and similarly signed in a cartouche. The holes for operating the clock have shutters.
Sizes
(Height) 17.5 cm (handle up) (Width) 9.6 cm (Depth) 8.2 cm
(Height) 6.9 in (handle up) (Width) 3.8 in (Depth) 3.2 in
Price
€ 12.500
Signature
Bourdin Horloger du Roi