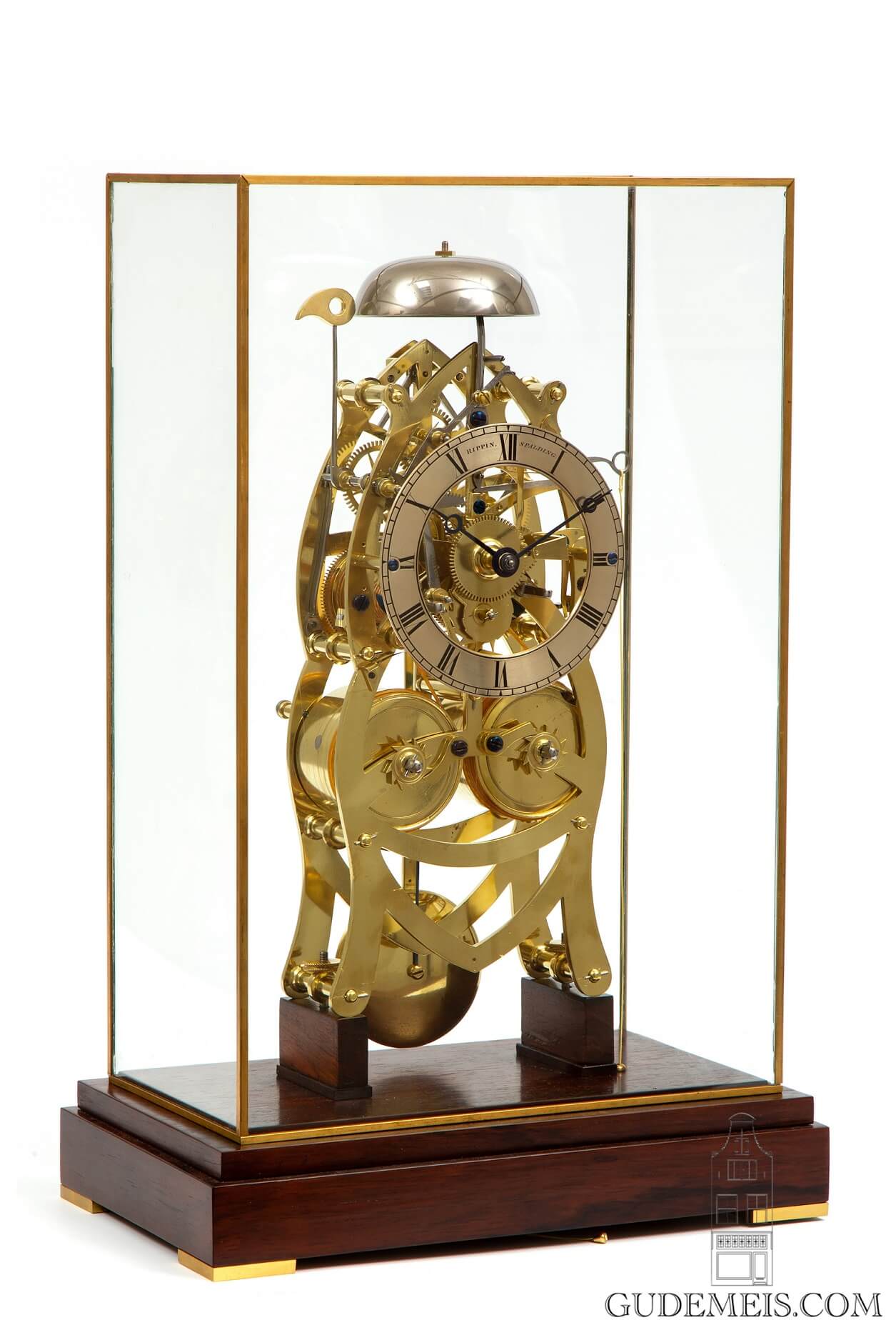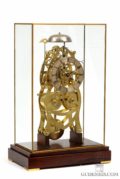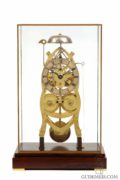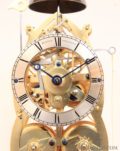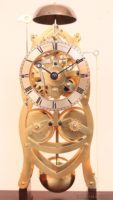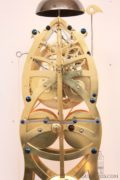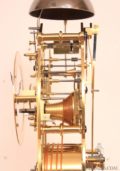 watch the clock run and strike
An English brass striking skeleton clock, Rippin Spalding, circa 1830
Description
The story
At the end of the first quarter of the nineteenth century the English started making skeleton clocks. The beautiful lines of the cut-out plates make them a joy to look at. This is amplified by the intricacy of the exposed wheel train, which is mesmerizing for many that look at it. Besides being attractive to look at, this clock has some technical qualities that make it even more interesting. As with most English spring-driven clocks, the movement has fusees. These conical shaped axes in combination with a gut even out the differences in the power of the first wound up spring and later unwound spring. Thus delivering a constant drive for the movement and making the clock run better. The movement is regulated by a Graham deadbeat escapement, which was used in many English precision clocks at the time. There is even Harrison's method of maintaining power installed. This mechanism activates an auxiliary spring which drives the clock while the mainspring is being wound, thus preventing the clock from losing time or even stopping while being wound. Most English skeleton clocks lack striking work, probably because it is harder to design a two-train clock with symmetric ornamental cut-out plates. But the lower cost of production might also have been a factor. It must not have been easy to design an intricate technical and beautiful clock like this with an extra wheel train for the striking work. This fine clock, with its smart curvilinear lines, technical merits and fascinating visible movement, will be a conversation piece and a joy to look at for a long time.
The chapter ring
The engraved and silvered chapter ring has Roman numerals and is signed Rippin Spalding. The blued steel hands are of the Breguet type.
The movement
The movement is driven by two spring barrels with fusees and has a duration of eight days. It is regulated by a Graham deadbeat escapement beautifully mounted on the back. The clock has rack hour striking on a bell. It repeats the last hour that struck by pulling the string.
The frame
The unusual brass frame consists of intersecting ovals and is surmounted by the bell. It is raised on wooden blocks placed on a stepped mahogany base.
The maker
The signature refers to James Rippin who was registered working in Spalding (Lancs) from 1828 until 1835.
Sizes
(Height) 43.5 cm (clock) 47 cm (with dome) (Width) 30.5 cm (Depth) 18 cm
(Height) 17.2 in (clock) 18.5 in (dome) (Width) 12 in (Depth) 7.1 in
Price
sold
Signature
Rippin Spalding