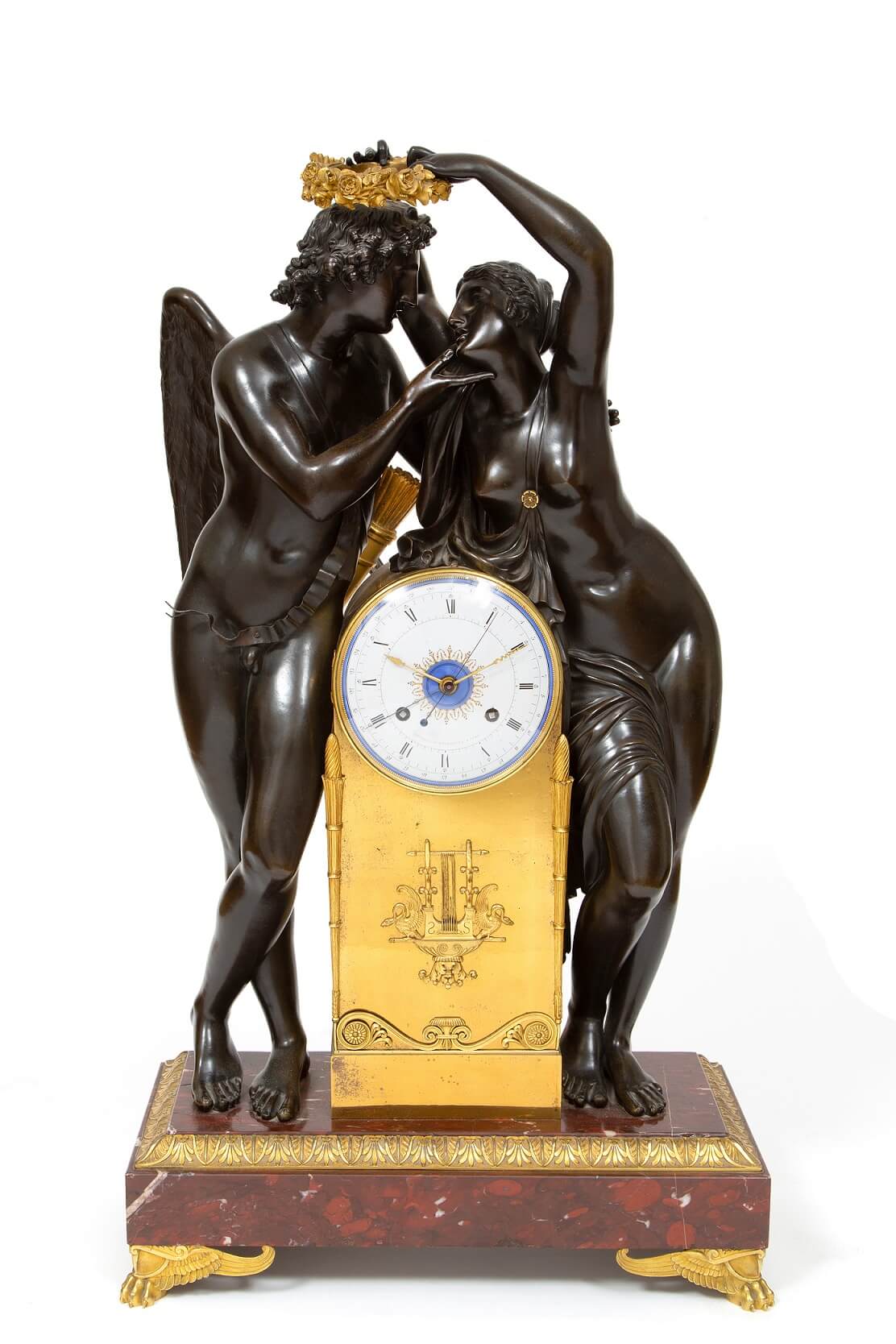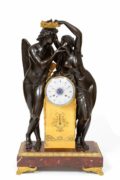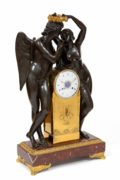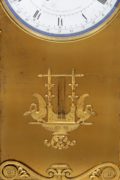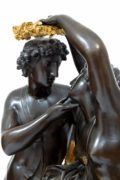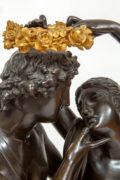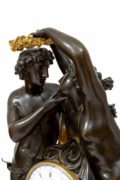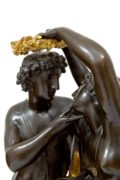 An important French 'Amor and Psyche' mantel clock, design by Claude Michallon, circa 1800
Description
The bronze and marble case
The case is surmounted by two finely cast and chiseled figures. A nude male with wings representing Amor standing next to a female nude. She represents Psyche and holds a gilt bronze wreath above Amor's head. They flank an ormolu case with a lyre shaped mount with swans to the sides. The whole placed on a red marble (griotte rouge) base lined with an ormolu acanthus moulding. This base is raised on beautifully made winged claw feet. The design of the group was made by the sculptor Claude Michallon 1752 – 1799. He first studied in Paris and later went six years to Rome. After his return in 1791 he received commissions for large public sculptures. His work was well received and he won several prizes. He also designed several clock cases of which this one is the most celebrated.
The dial
The 15-cm dial is a work of art in itself and is signed at the bottom by the enameler Dubuisson. Inside the outer blue rim there are numerals calibrated 1-30 for the date and indicated by a plain blued steel pointer. Further inside there is the minute rim with five minute markings. Inside the minute rim there are the Roman numerals for the hours. Both minute and hour hand are finely engraved and gilt, and of unusual shape. Finally on the inside here is a ring callibrated for the seconds which are indicated by a blued steel sweep seconds hand. In the center is a blue circle adourned with gilt garlands and flowers and translucent enamel dots. The dial is signed DUCREST Hr MECANICIEN A PARIS for the clockmaker.
The movement
The spring driven movement has a duration of 14 days. It has pinwheel escapement mounted on the backplate and a knife-edge suspended pendulum. It strikes the hours and half hours by means of a countwheel.
Sizes
(Height) 81 cm (Width) 46 cm (Depth) 22 cm
(Height) 31.9 in (Width) 18.1 in (Depth) 8.7 in
Price
price on request
Signature
Ducrest, Claude Michallon