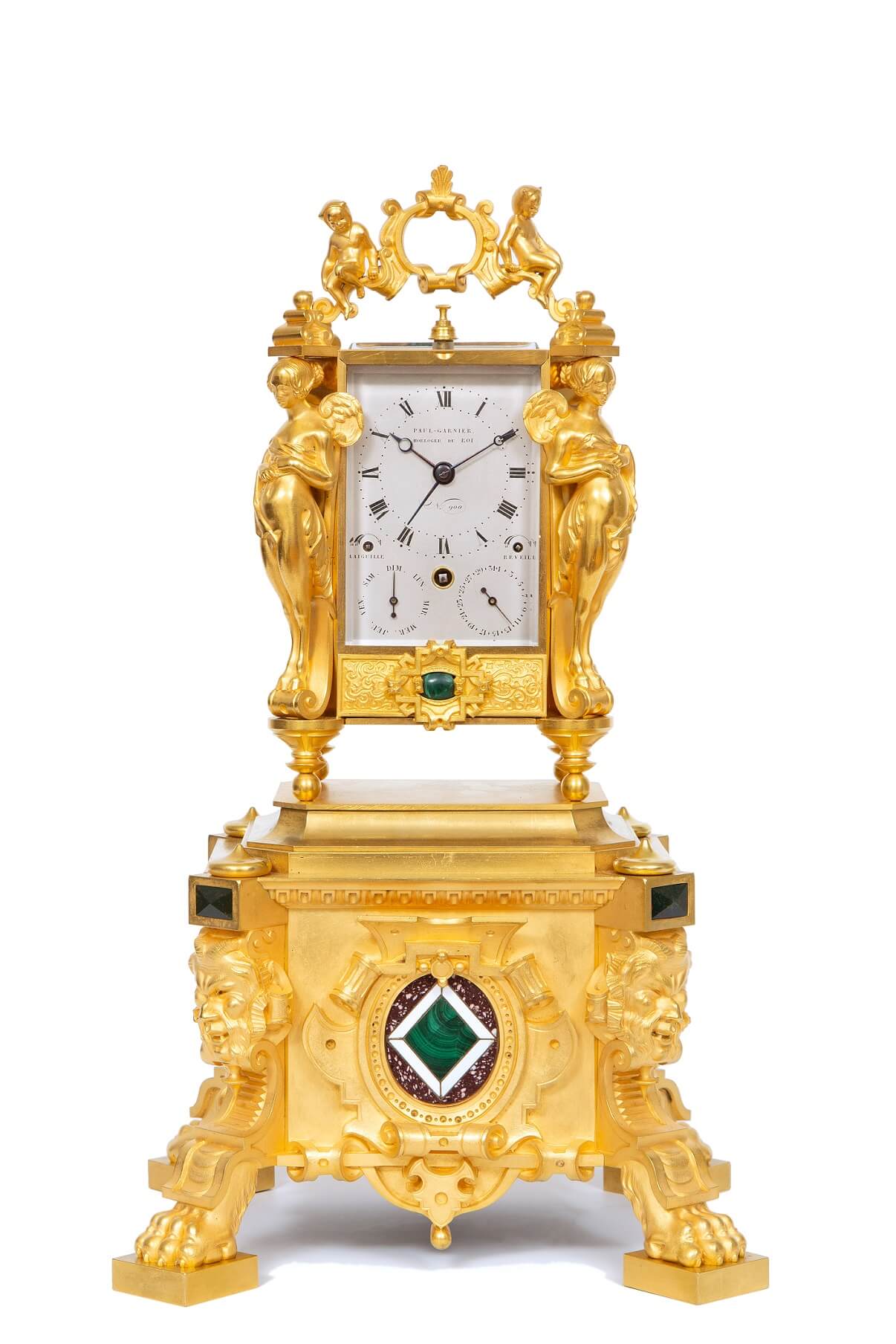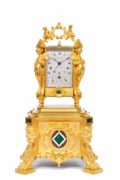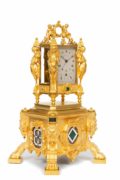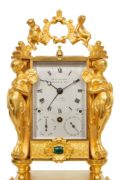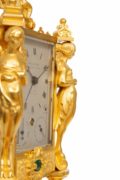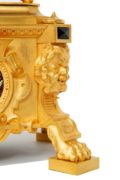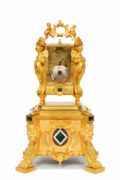 An important French malachite mounted exhibition travel clock by Paul Garnier, circa 1845
Description
The dial
The silvered dial of this carriage clock has Roman numerals and is signed Paul Garnier Horloger Du Roi No. 900. Below there are two subsidiaries for date and day of the week. The blued steel hands are of the 'Breguet' type and there is a plain alarm pointer. There are winding holes for the movement and alarm, and there is a hole to set the hands by means of a key.
The movement
The spring driven movement has a duration of a 8 days and is regulated by a fine bi-metallic balance and lever escapement. The back plate is similarly signed as the dial. By pushing the button on top, a small auxiliary spring is wound which then is used for the quarter repeating on a bell. The alarm can be wound from the front and also strikes on the bell.
The case
The whole is housed in a very ornate gilt brass case. It is surmounted by a shaped handle with two seated putti. On the canted corners there are winged caryatids raised on scrolls. The top and sides are inset with beveled glass panels. The front and back have slide-up panels with beveled glass. A relief border below has malachite mounted cartouches to the front and back and red stone mounted rosettes to the the sides. The whole is raised on toupee moulded feet. The clock is placed on a presentation stand with cartouches on all sides with stone mosaic. On the canted corners there are finely cast and chiseled satyr masks above scroll feet terminating in claw feet.
exhibition piece
Paul Garnier revolutionized carriage clock making around 1830 by standardizing the process. His clocks were elegant but much cheaper than the individually made pendules d'officier of before. These clocks sold very well and more makers started making 'carriage clocks'. Many good French makers exhibited their work at the grand Exhibitions and so did Paul Garnier. For these exhibitions special pieces were made to show off their skill and their importance. Because of the use of special stones, the base which elevates the clock and the special case it seems very likely that this clock was made as an exhibition piece.
Sizes
(Height) 35.5 cm (Width) 21 cm (Depth) 18.5 cm
(Height) 14 in (Width) 8.3 in (Depth) 7.3 in
Price
sold
Signature
Paul Garnier Paris