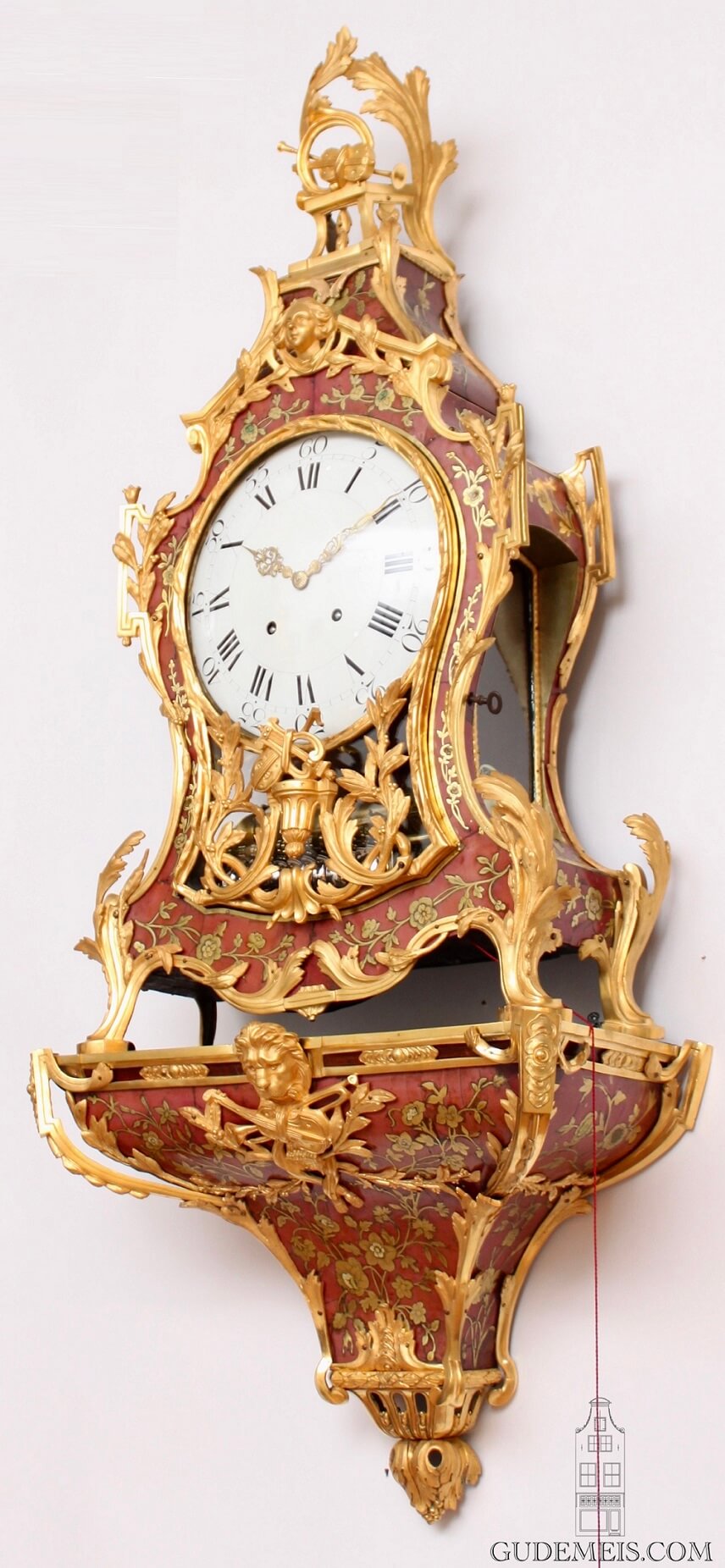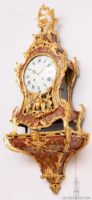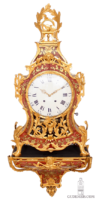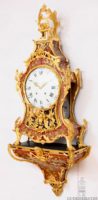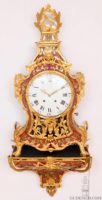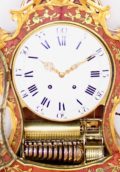 An imposing Swiss Louis XVI corne rose musical bracket clock, attr. Jaquet Droz, circa 1770
Description
The dial
The 28.5-cm enamel dial has Roman chapters and Arabic numerals for the five minute indication. The beautifully engraved and pierced hands are made of gilt brass.
The movement
The movement is driven by two spring barrels and has a duration of eight days. It is being regulated by a anchor escapement in combination with a silk suspended pendulum. The clock has Dutch half hour striking on two alternating bells by means of rack striking. The back plate is numbered 2371. The movement trips the musical mechanism every hour.
The musical mechanism
The musical mechanism is driven by a spring barrel in combination with a fusee and chain. It plays one of nine melodies with twenty-two hammers on twelve bells. The melodies changing automatically. There is a lever for play/not play. And a second lever for muffling the sound of the bells.
The case
The waisted case is throughout veneered with rare 'corne rose' (pink horn) with engraved brass marquetry inlay of flowers and foliage with lacquer accents. The clock has a gilt bronze cresting of scolling flowers around musical instruments. There are further gilt bronze mounts incorporating floral motifs, a mask, and more musical instruments. There are glass panels to the front door and sides of the case. The clock is placed on an ogee shaped matching wall bracket. It has beautiful protruding corner mounts and a central mount incorporating a lion mask and more musical instruments. It terminates in a acanthus leaf finial.
Jaquet Droz
Pierre Jaquet-Droz (1721 – 1790) was the founder of a firm specializing in automatons and clocks and watches with musical mechanisms, automatons and other complications. Together with his son Henry-Louis (1752 – 1791) and their partner Jean-Frédéric Leschot (1746 – 1824) he built a firm with branches in La Chaux-de-Fonds, Geneva and London. They supplied rich customers in throughout Europe but also to the Near and Far East. Many objects of their making are in museums. Their fame rose very quickly after the exposition of three famous automatons. As there was an automated figure actually writing a letter, another making an actual drawing and finally a figure actually playing an organ. After a very succesful and prosperous period of several decades the firm declines fast after the death of both Pierre (1790) and Henri-Louis (1791). Leschot is able to continue the firm until 1810. See for an elaborate account of the affairs and history of the firm; Derek Roberts, Mystery, Novelty & Fantasy Clocks, pp. 191-202.
The attirbution to Jaquet-Droz
At Koller Auction house in 2017 a clock was offered with the same case and mounts, also musical, which was signed on the backplate ; 'JAQUET DROZ ET LESCHOT A LA CHAUXDEFONDS.'
A very similar clock in the collection of the Royal Palace 'Het Loo' in Apeldoorn The Netherlands. This clock was in the exhibition 'Royal Music Machines- vijf eeuwen vorstelijk vermaak' held in 'Musuem Speelklok' (back then named Nationaal Museum van Speelwerk tot Pierement) in Utrecht in 2006.
Exh. cat. Dr. J.J.L. Haspels, Royal Music Machines, Vijf eeuwen vorstelijk vermaak, pp.128/129 No. 13.
Sizes
(Height) 139 cm (Width) 56,5 cm (Depth) 25 cm
(Height) 54.7 in (Width) 22.2 in (Depth) 25 in
Price
sold
Signature
Jaquez Droz & Leschot