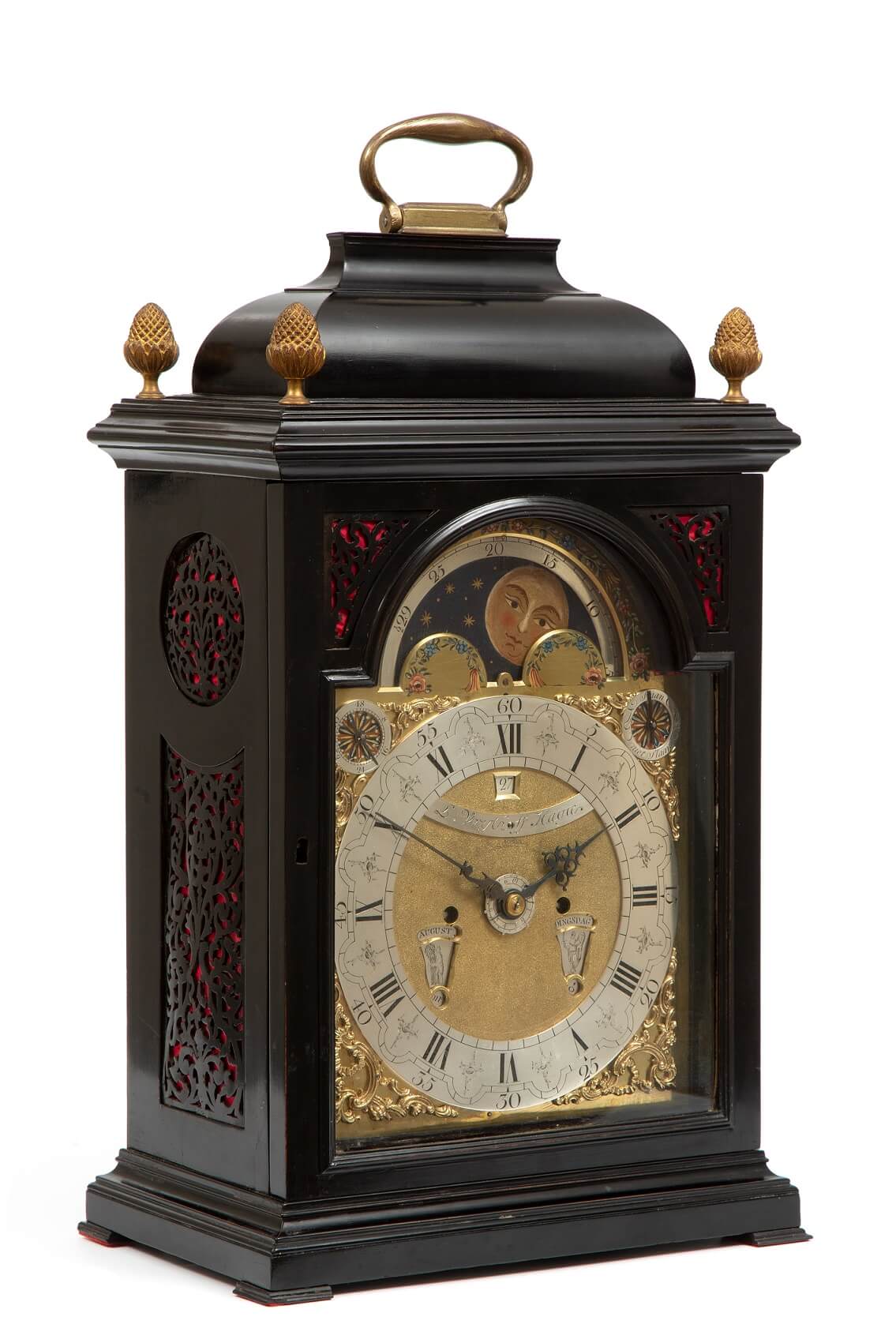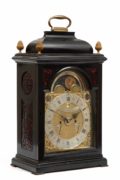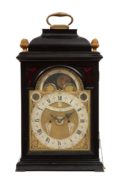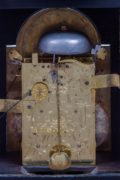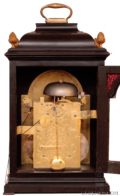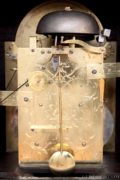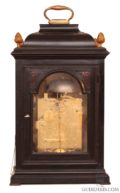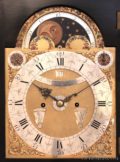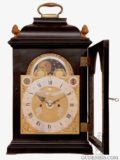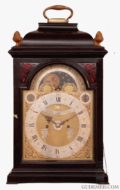 A Dutch bracket clock with moonphase and full calendar, L. Vrijthoff Haga, Circa 1740
Description
The dial
The 19-cm arched brass dial has a silvered and engraved chapter ring with Roman numerals and five-minute arches, on the left and right above the numeral ring are two small engraved and silvered subsidiary dials of which the left is for regulation and the right is for strike/silent . In the matted brass center you'll find the windows for the date, month and day and the silver-plated and engraved signature plate L. Vrijthoff Haga . Around the chapter ring there are pierced brass rococo spandrels. The moonphase with date of the moon is located in the arch decorated with flowers. The pierced hands are made of blued steel, the alarm disc of silvered brass.
The movement
The movement is driven by two spring barrels with fusees and has a duration of eight days. It is being regulated by verge escapement in combination with a pendulum. The length of the pendulum spring can be changed by adjusting the pointer on the subsidiary dial. Adjusting the length makes the clock run faster or slower. The timepiece has a Dutch half-hour rack striking on two alternating bells. The timepiece has repeating on demand. It has a pull wind alarm on the large bell. The back plate has fine foliate engraving.
The ebonised case
De gezwart houten kast heeft een "inverted bell top" bekroond met een messing handvat. Op de hoeken staan eikelvormige messing sierknoppen. In de beglaasde deur en aan de zijkanten zitten er ajour gezaagde houten fretten. De geprofileerde voet is geplaatst op houten pootjes.
The ebonised wooden case has an "inverted bell top" surmounted by a brass handle. There are four acorn-shaped brass finials. In the glazed door and on the sides there are peirced wooden frets.
Lambertus Vrijthoff
Lambertus Vrijthoff is known to have been born around 1690 in Valkenburg aan de Geul. He worked in The Hague since 1724. His business was located in the Lange Poten and later in the Hoogstraat. From 1750 he was a watchmaker at the Court of the Prince of Orange. In 1762 he was also headman and in 1764 dean of the guild.
Interestingly Lambertus Vrijthoff marketed his business well. An advertisement of him is known in the 's-Gravenhaegse Courant, no. 127 of 23 October 1754.
Sizes
(Height) 52 cm (Width) 28 cm (Depth) 19 cm
(Height) 20.3 in (Width) 10.9 in (Depth) 7.4 in
Price
Sold
Signature
L. Vrijthoff Haga