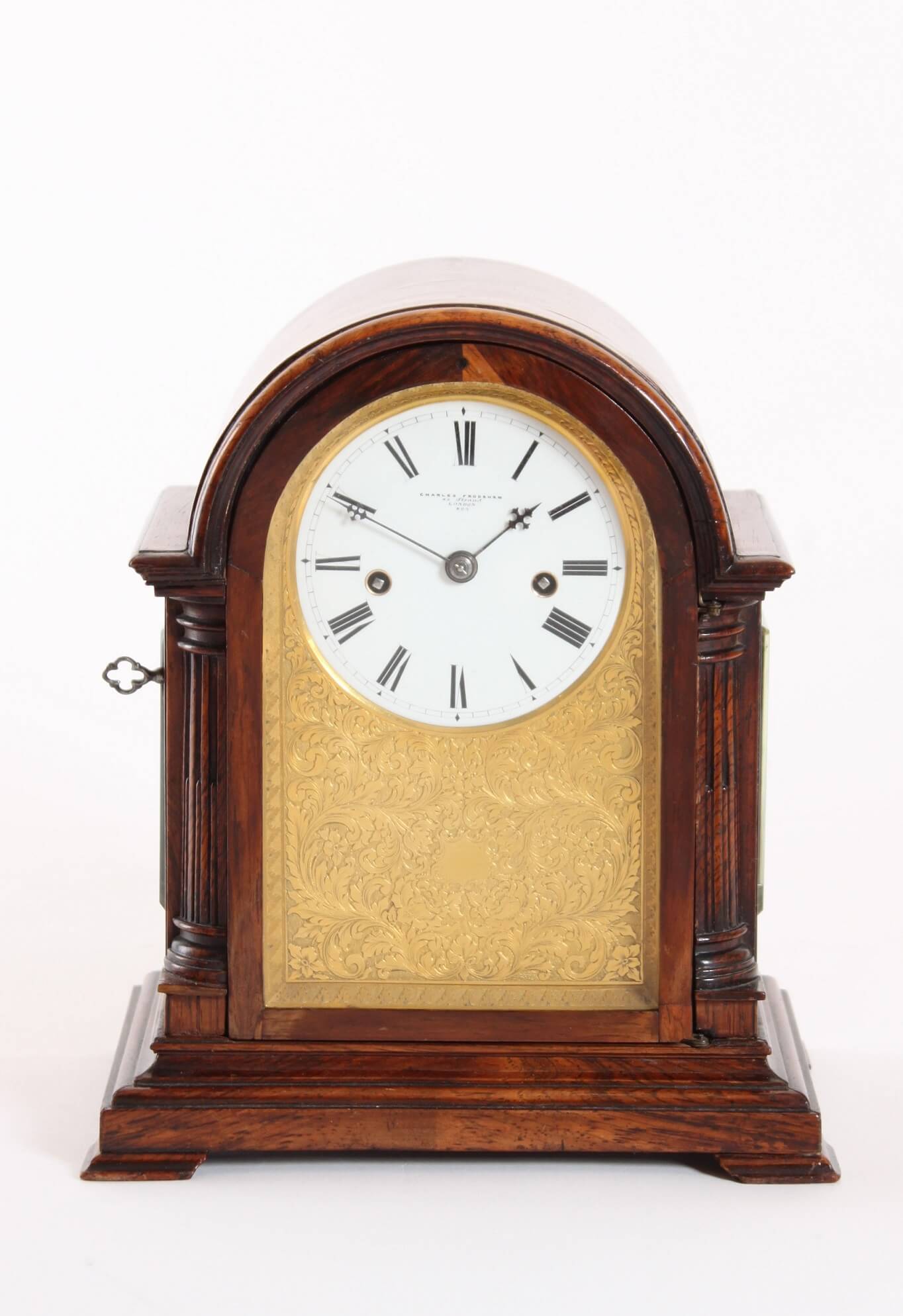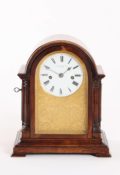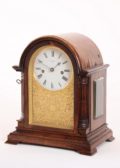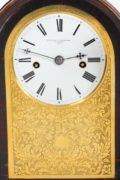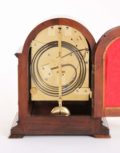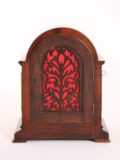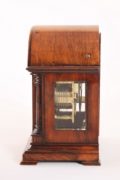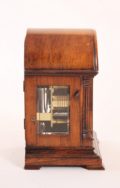 A fine and small English rosewood striking table clock, Charles Frodsham, circa 1850.
Description
The dial
This has a true enamel dial which is fairly rare for English clocks. The dial has Roman numerals and is signed Charles Frodsham 84 Strand London (#) 865. The beautiful blued steel hands have a stylized crosses at the points. The dial is fitted in finely foliate engraved gilt brass mask which is a pleasure to look at.
The movement
The eight day movement has substantial arched plates connected with well turned baluster pillars. The backplate is identically signed as the dial. It is being driven by two spring barrel with fusees and chains. It is regulated by anchor escapement in combination with a pendulum. The clock strikes the full and half hours by means of rack striking on a gong with pull repeat. The pendulum can be fixed for transport with a special nut that can be stored in a hole at the left lower corner of the back plate.
The case
The arched case is made of rosewood and adorned with fine mouldings. The hinged front door has an engraved gilt rim adorned with a leaf motif. The back door has a foliate pierced wood back panel. The sides have beveled glass panels and on the front corners there are fluted quarter columns. The moulded plinth is raised on flat feet.
Charles Frodsham (1810 – 1871)
Charles Frodsham born in a clockmaker's family. His father was William James Frodsham a chronometer maker who worked together with William Parkinson. Charles was the third of six sons all becoming clockmakers. He was apprenticed to his father and already on an early age showed that he had a lot of talent. When he already submitted two chronometers at the Greenwich trials when he was about 20 years old and won the second prize. Four of his brother joined their father but Charles set up his own firmin London. Without a doubt he became the best chronometer maker of the family. He did a lot of research covering balances and balance springs, his firm even competed with that of Dent in the middle of the 19th Century. He became president of the Clockmaker Company in 1855 and 1862. He acquired the trade and stock of a number of famous other makers like John Roger in Arnold in 1843 and B.L. Vulliamy in 1854. The firm Frodsham & Co. still exists today and with it being the longest trading chronometer maker in the world. A clock by Frodsham numbered 981 is being dated around 1850 by Derek Roberts.
Lit.; Derek Roberts, Carriage and other travelling clocks pp. 281- 288. Brian Loomes, Watchmakers and clockmakers of the world pp. 284.
Sizes
(Height) 22.7 cm (Width) 18 cm (Depth) 12.5 cm
(Height) 8.9 in (Width) 7.1 in (Depth) 4.9 in
Price
€ 7.000
Signature
Charles Frodsham London