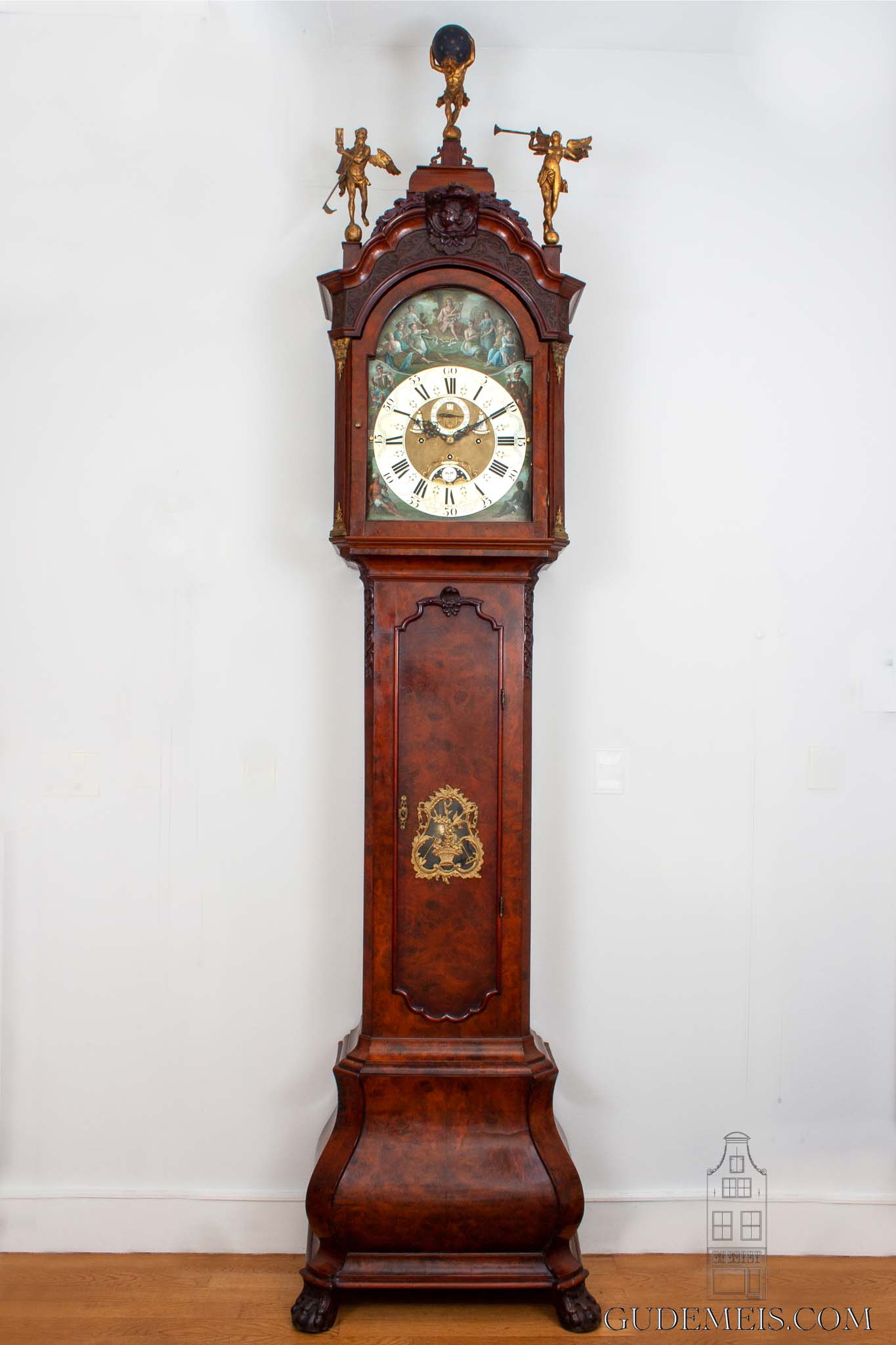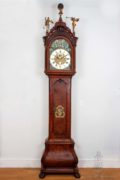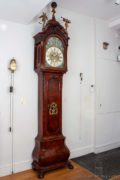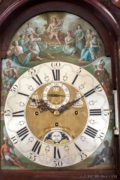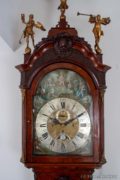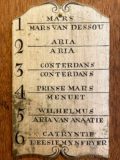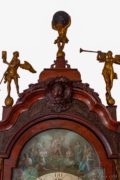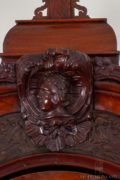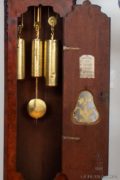 A fine Dutch Amsterdam burr walnut musical longcase clock by Paulus Bramer en Soon, circa 1770
Description
The dial
The 37-cm wide dial is a work of art by itself. The applied engraved silvered brass chapter ring with Roman numerals is signed Paulus Bramer en Soon Amsterdam. There are apertures in the matted brass centre for date, day of the week, month and moonphase with high water indication. Below the XII is the subsidiary for seconds. The fine foliate pierced hands are made of blued steel. On the left side outside IX is a lever for strike/silent, and on the right outside III is a lever for play/not play. On the right there is also a slide lever for melody selection. The spandrels are adorned with nicely painted personifications of the four continents. In the arch we see Apollo surrounded by Muses playing music.
The movement
The substantial plated movement is driven by three weights and has a duration of eight days. It is regulated by anchor escapement in combination with a pendulum. The clock has Dutch quarter striking on two alternating bells by means of rack striking with pull repeat. The musical mechanism consists of six pairs of melodies alternating each half hour. The melodies are played with nineteen hammers of ten bells. The melody can be repeated by pull repeat.
The case
The burr walnut veneered case is surmounted by an Atlas flanked by Chronos and Nike. Below the shaped corniche is foliate pierced fretwork. The arched door is flaked by canted pilasters with brass bases and capitals. On both sides of the hood are doors with fretwork giving access to the movement. The canted trunk has a long door with brass flower basket ornament and a silvered melody list on the inside. The beautifully bombed base is raised on claw feet.
Sizes
(Height) 303 cm (including Atlas) (Width) 69 cm (Depth) 37 cm
(Height) 119.3 in (including Atlas) (Width) 27.2 in (Depth) 14.6 in
Price
Sold
Signature
Paulus Bramer en Soon Amsterdam