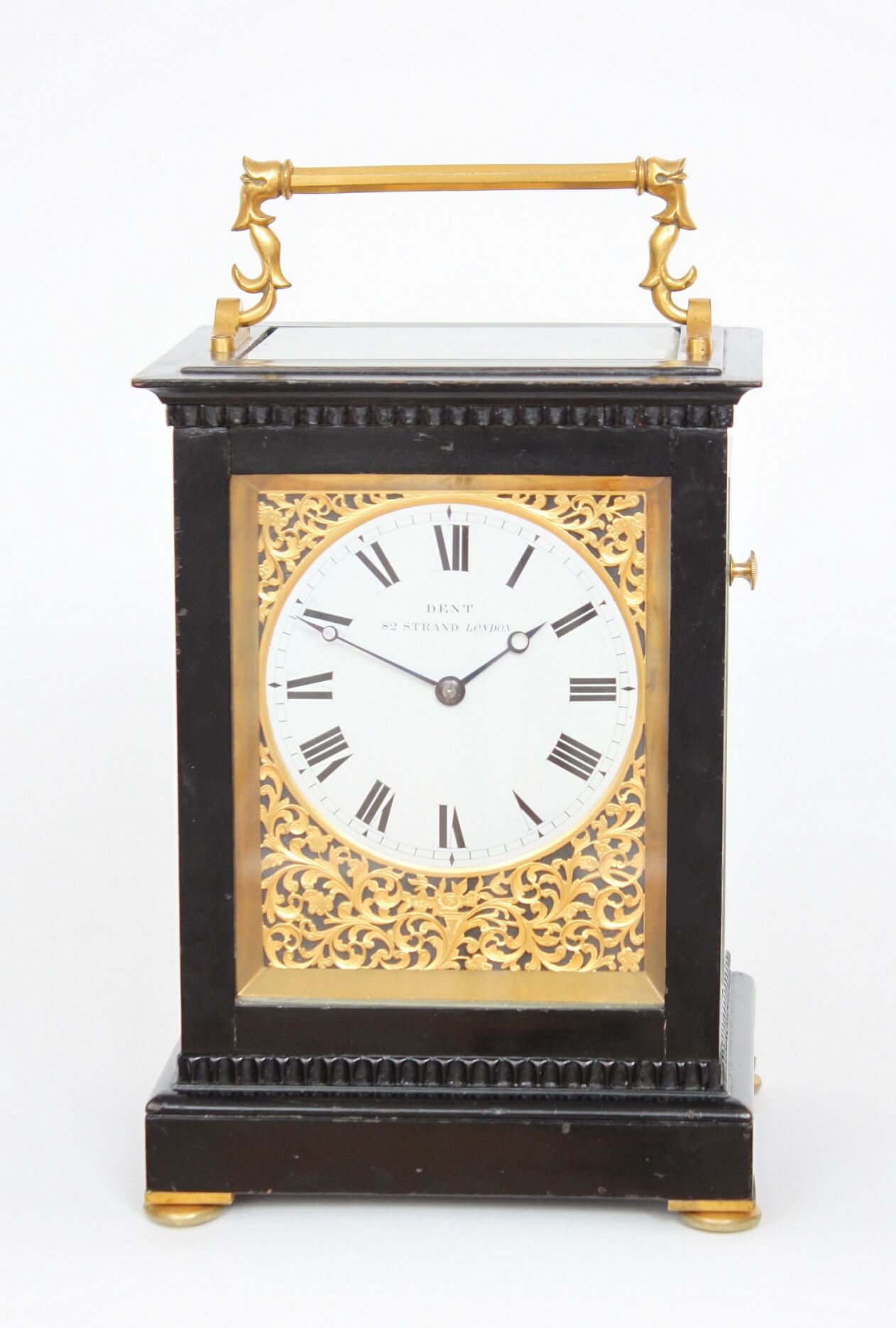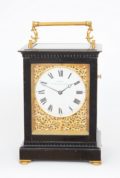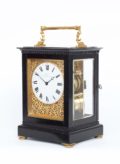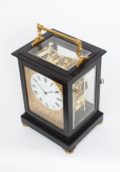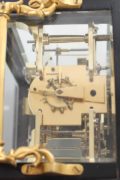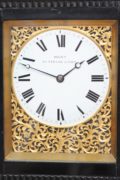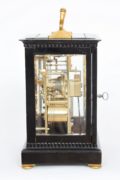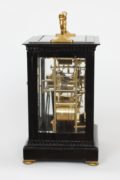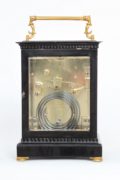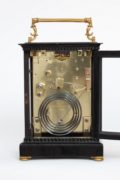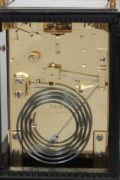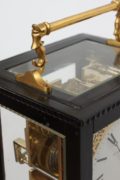 watch the clock run and strike
A fine English giant ebonized carriage clock, Edward John Dent #598, circa 1844.
Description
The dial
The 8.7-cm true enamel dial has Roman numerals and is signed DENT 82 STRAND LONDON. The blued steel hands are of the Breguet type. The dial is fitted in a finely pierced and engraved gilt mask with scrolls and foliage.
The movement
The substantial plated double fusee and chain movement has a duration of eight days. The going train is fitted with 'Harrison's maintaining power'. With this mechanism an auxiliary spring powers the clock while being wound up. The movement is regulated by an English lever escapement in combination with a bi-metallic balance on a large platform. The clock strikes the hours on a gong by means of rack striking. The hours can be repeated by pushing the repeating button at the side of the case. The back plate is signed and numbered DENT 82 STRAND LONDON 589 and has a strike/silent lever and a knob to turn the hands.
The case
The rectangular ebonized case has beveled glass panels to all sides revealing the movement. There is a glass panel to the top also showing the fine platform escapement. The top is surmounted by a finely cast brass gilt handle. Further the case is adorned with gadrooned borders and fine mouldings. The whole is placed on flat gilt brass feet.
Edward John Dent
Edward John Dent was born in 1790 in London. Through his cousin Richard Rippon a watchmaker he came into contact with clock making. He was apprenticed to Edward Gaudin en proved to be a very talented student. He became a chronometer maker working for makers as Vulliamy, Barraud, McCabe and Murray. In 1826 he competes in the annual trials at Greenwich with two chronometers. In 1829 he would win the competition establishing his name even further. He was granted a position to check and repair chronometers for the Royal Observatory. In 1830 he went into a partnership with Roger John Arnold the son of John Arnold the pioneer in the field of chronometer making. He was one of the leading figures in the development of the chronometers. From 1840 on he works under his name alone. E.J. Dent is regarded as one of the most prominent English clockmakers of the 19th Century. After his death in 1853 he left the company to his two stepsons on the condition that they would change their last name into Dent. Read for more information on Dent and his role in the turret clock in the houses parliament known as Big Ben in the article published on this site.
Lit; Derek Roberts Carriage and Other Travelling clocks pp. 303- 324. For an illustration of a very similar clock numbered #477 see pp. 304.
Sizes
(Height) 25 cm (handle up) (Width) 15 cm (Depth) 13cm
(Height) 9.8 in (handle up) (Width) 5.9 in (Depth) 5.1 in
Price
sold
Signature
Edward John Dent