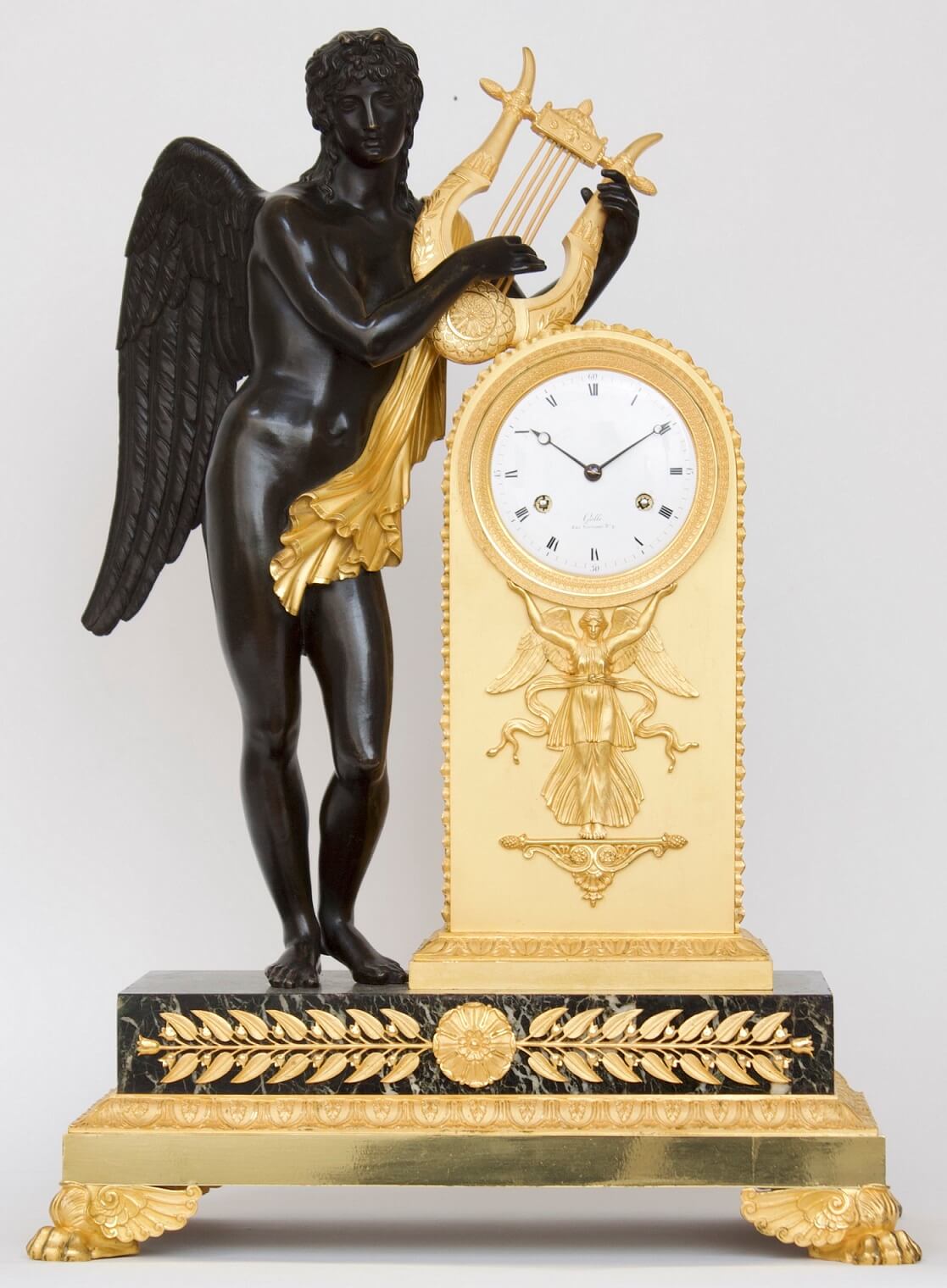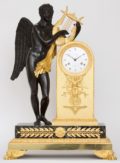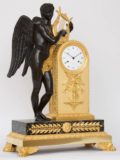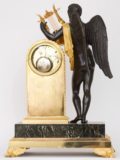 A fine French Empire ormolu and bronze mantel clock by bronzier Claude Galle, circa 1810
Description
The dial
The 10.5-cm enamel dial has Roman numerals and is signed for the bronzier Galle Rue Vivienne No. 9. The blued steel hands are of the Breguet type.
The movement
The movement i driven by two spring barrels and has a duration of eight days. It is being regulated by anchor escapement in combination with a silk suspended pendulum. The clock strikes the hours and half hours on a bell by means of a countwheel.
The finely cast and chiseled case
The movement is fitted in an arched ormolu case with a Nike relief to the front below the dial. The sides are adorned by high relief stylized acanthus leaves. Flanking the case is the finely cast and chiseled patinated bronze figure of Apollo with wings holding a lyre. Both placed on the rectangular 'verde antico' base with leafs and branches mounts flanking a rosette. The finely cast and chiseled ormolu plinth has acanthus relief and is raised on claw and wing feet.
Claude Galle
Claude Galle was born in 1759 in Villepreux near Versailles. He was the apprentice of Pierre Foyin Paris whose daughter he married in 1784. He became master bronze caster in 1786 and after the death of his father in law he took over his workshop in 1788. He soon turned it into one of the best bronze workshops in Paris, employing around four hundred workmen. Claude Galle is regarded as one of the best bronziers of the late 18th and early 19th Century. He obtained many commissions of the Royal family (garde meuble) 1786-1788. And he also worked together with masters like Pierre-Philippe Thomire. During the Empire he received many commissions among which for the palace of Fontainebleau. But also the palaces of Saint-Cloud, The Trianons, The Tuileries, Compiègne and Rambouillet were supplied with ormolu bronzework like urns, lighting and clock cases by him.
Many famous museums have work of him in their collections i.e. ; Musée National du Château de Malmaison, Musée Marmottan in Paris, the 'museo de Reloges' at Jerez de la Frontera, The Residenz in Munich, and the Victoria and Albert Museum in London. Claude Galle died in 1815 after which his son Gérard-Jean Galle (1788-1846) continued the business.
Sizes
(Height) 62 cm (Width) 43 cm (Depth) 22 cm
(Height) 24.4 in (Width) 16.9 in (Depth) 8.7 in
Price
sold
Signature
Claude Galle Rue Vivienne à Paris