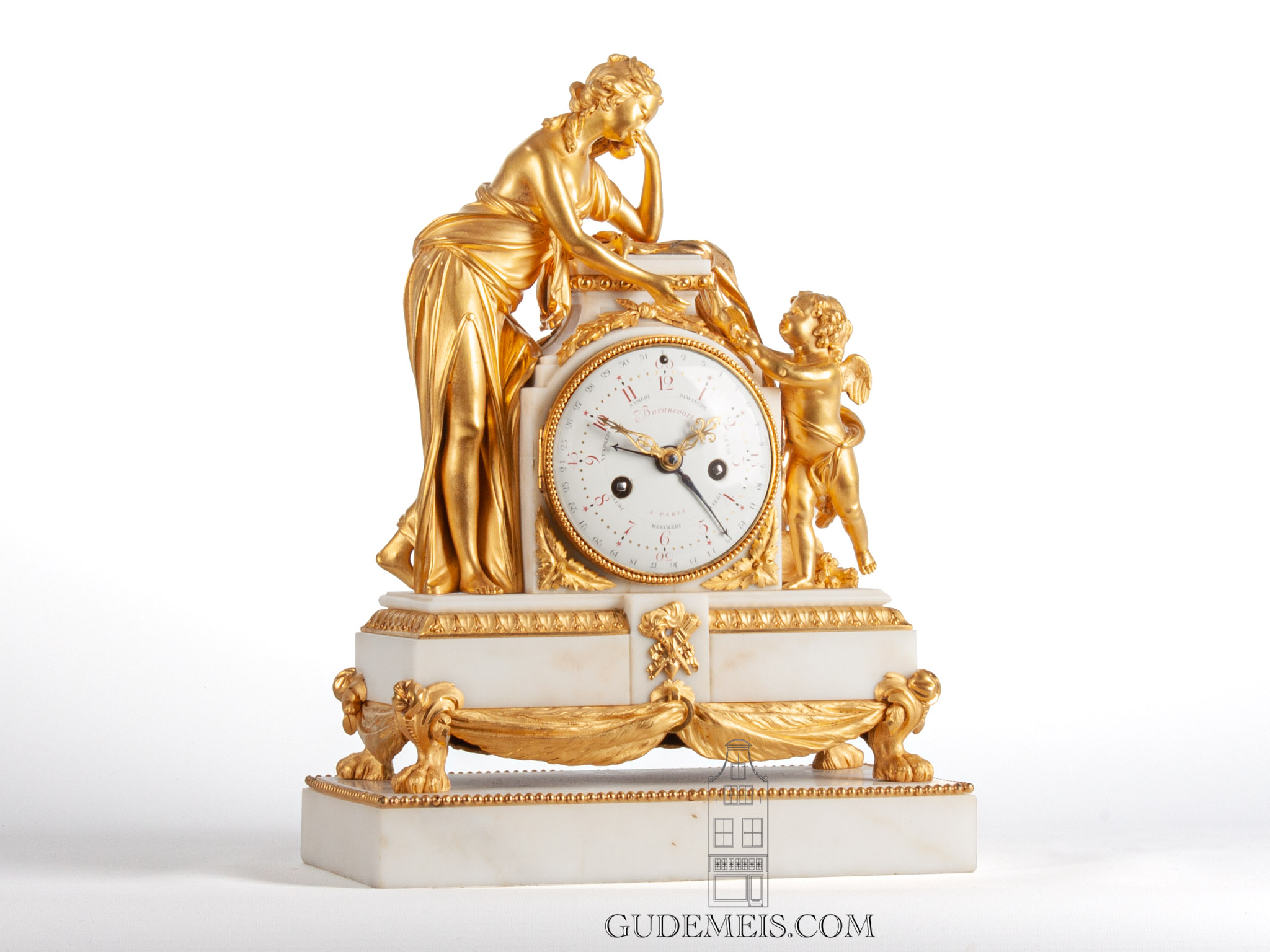 A fine French Louis XVI ormolu and marble mantel clock 'La Douleur', Barancourt circa 1781.
Description
François Vion – La Douleur –
An extra interesting aspect of this fine clock is the fact that the original design by the celebrated François Vion still exists. It is kept in the 'Bibliotheque Doucet' in Paris. The theme is 'La Douleur' which means 'Sorrow'. Sometimes the subject is also called 'the return of love'. With the lady mourning of a dead dove and Cupid bringing her a live dove. Vgl. Ottomeyer & Pröschel, Vergoldete Bronzen, Vol I pp. 247.
Calendar
The 10-cm enamel dial has red Arabic numerals and is signed Barancourt A Paris. The outer rim is calibrated 1-31 for date indication. The inner rim is marked for the days of the week. The calendar hands are made of blued steel. The foliate pierced engraved hands are made of gilt brass.
The movement
The typical French movement is driven by two spring barrels and has a duration of eight days. It is regulated by anchor escapement in combination with a silk suspended pendulum. The clock strikes the hours and half hours on a bell by means of a countwheel. One of the springs is dated 1781.
The case
The movement is placed in a white marble case draped with a cloth and trailing garlands. It is flanked on one side by an elegant lady reaching out to receive a dove from Cupid who is on the other side. The white marble plinth is lined with a fine acanthus moulding and has a central mount incorporating symbols of love. The lower part of the base is lined with an animal skin and hooves. The whole is raised on animal feet set on a rectangular plinth.
Sizes
(Height) 35.5 cm (Width) 26.5 cm (Depth) 12.5 cm
(Height) 14 in (Width) 10.4 in (Depth) 4.9 in
Price
€ 14.000
Signature
Barancourt A Paris