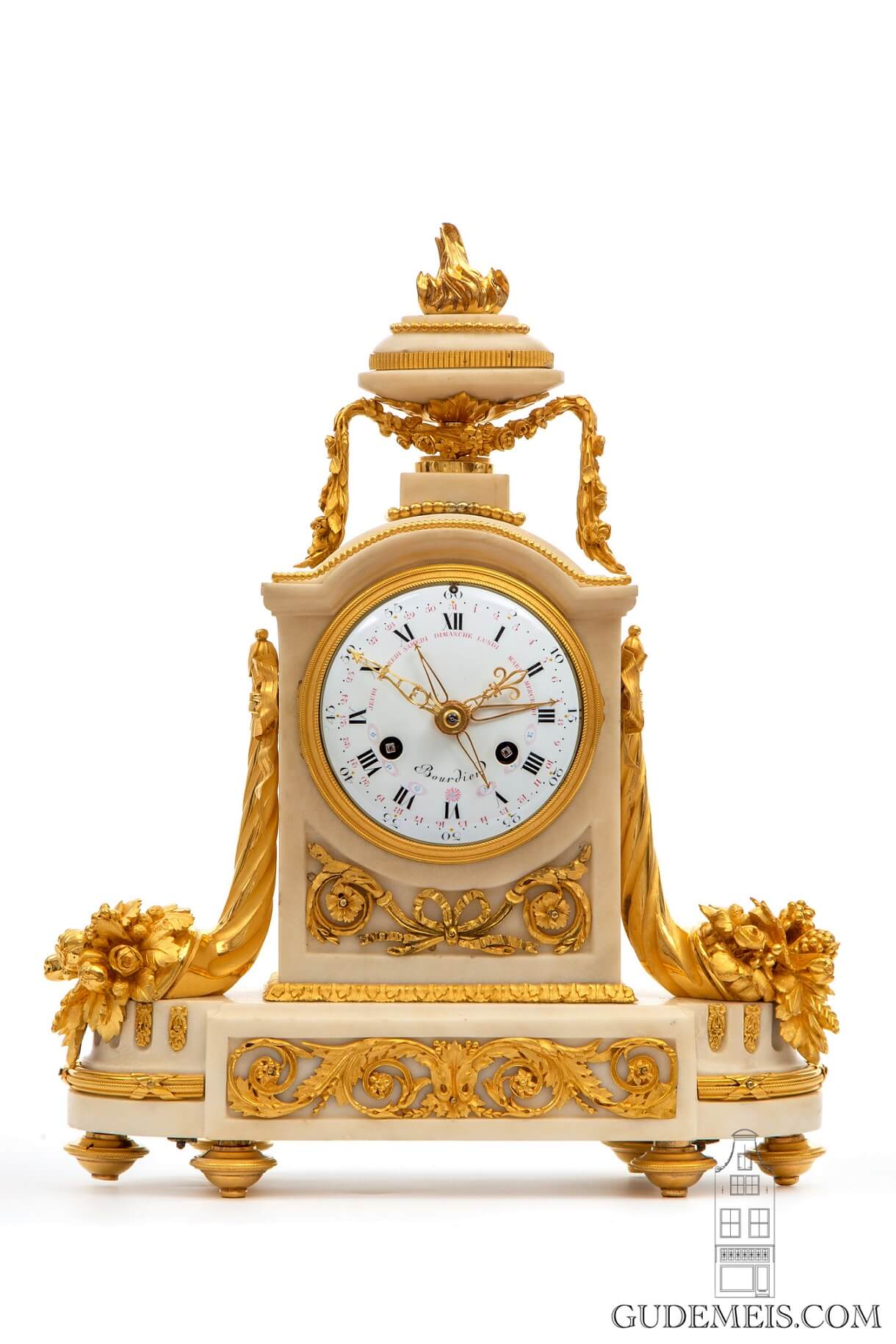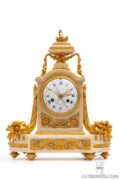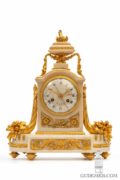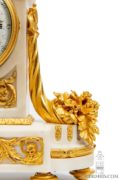 A fine French Louis XVI ormolu mounted mantel clock with calendar, Bourdier circa 1790.
Description
The dial
The 9-cm enamel dial has black Roman numerals for the hours and black Arabic numerals for the five minute indication. Between the hours and minute rings there are red Arabic numerals 1-31 for the date indication. The inner rim is callibrated in red for the day of the week and sign of the day. All the hands are pierced and made of engraved gilt brass. The centre of the dial is signed fro the maker Bourdier.
The movement
The movement is driven by two spring barrels and has a duration of eight days. It is regulated by anchor escapement and has now a spring suspended pendulum. It strikes the hours and half hours on a bell by means of countwheel.
The case
The arched white marble case is surmounted by an urn with an ormolu flame and trailing garlands. It is flanked on both sides by finely cast and chiseled ormolu 'Horns of plenty'. To the front there are foliate scrolling ormolu reliefs. The breack arch base has stop fluted semi circular sides. The whole raised on ormolu toupee feet.
Bourdier
Jean-Simon Bourdier became master clockmaker in 1787 and is mentioned several times in the archives working on different addresses. He was a maker of great repute of whom there are several precision clocks are known that have astronomical indications and long duration movements. Among others he supplied the King of Spain and several clocks of his hand are in Museums. (lit.; Tardy, Dictionnaire des Horlogers Français, pp. 74)
Sizes
(Height) 35 cm (Width) 28 cm (Depth) 11.5 cm
(Height) 13.8 in (Width) 11 in (Depth) 4.5 in
Price
sold
Signature
Bourdier