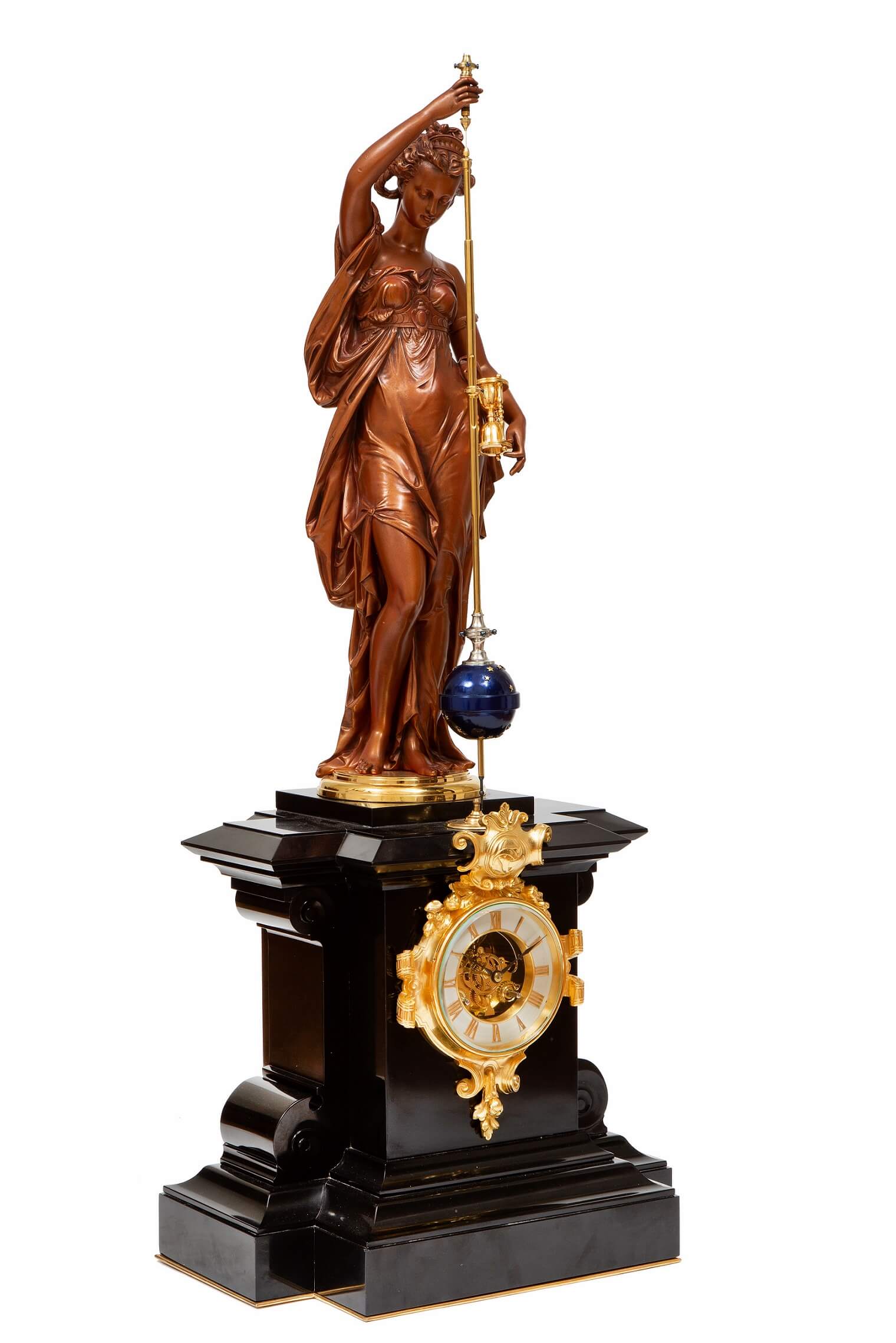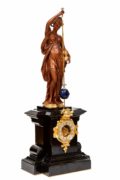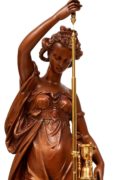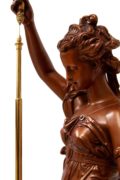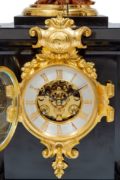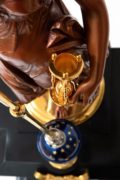 A fine French sculptural mantel clock with conical pendulum, Farcot and Laurent circa 1870
Description
The story
The rich bourgeoisie of France, England and the US were looking for beautiful objects to put in their lavish interiors. They wanted to surround themselves with objects that were not only beautiful but that would also impress visitors. Besides this, they wanted to be animated. There were mystery clocks, automated birdcages, music boxes and so on. These were all objects to entertain family and visitors, and awe them with technical marvels. A conical pendulum is a pendulum that makes circles instead of moving from side to side. In the sixteenth and seventeenth centuries famous inventors such as Bodeker and Huygens had already experimented with the conical pendulum, but these were abandoned since the results weren't satisfying. But in the nineteenth century the technique was picked up again and this time perfected to build these wonderful clocks with their mesmerizing circling pendulums. The patina of the female personification of time executed in finely cast and chiseled
bronze signed by Laurent contrasts nicely with the gilt parts on the black marble base. The size brings a monumentality that awes the beholder even more. An eye-catching piece both in appearance and motion.
The case
The break front black marble base has fine mouldings and scrolls to the sides. It is surmounted by a finely cast and chiseled sculpture of an elegant lady. The beautifully patinated bronze is signed Laurent on the gilt base. She is holding a gilt hour glass in the one hand. In the other raised hand she is holding the gilt conical pendulum with a blue bob adourned with gilt stars.
The movement
The movement is driven by spring barrels and has a duration of 8 days. It strikes the hours and half hours on a bell by means of rack striking. The front plate is partly skeletonized which shows the working of the movement through the center of the dial.
The dial
The silvered chapter ring is set in a gilt bronze cartouche and has gilt applied Roman numerals. The hands are made of blued steel.
The makers
E. Farcot was listed as clockmaker from 1858 on at the Rue des Trois Bornes. He took out several patents on clock making among which several on a conical pendulums between 1865 and 1872. He exhibited conical mantel clocks at the London exhibition of 1862 and the Paris exhibition of 1867. He worked until circa 1890. For the statues of his clocks he worked together with Eugéne Laurent (1832 – 1898).
Literature; Tardy, Dictionnaire des Horlogers Français, pp.220. Dereks Roberts, Mystery, Novelty & Fantasy clocks, pp. 123- 126.
Sizes
(Height) 94 cm (Width) 37 cm (Depth) 24 cm
(Height) 28.7 in (Width) 14.6 in (Depth) 9.4 in
Price
s
Signature
Farcot & Laurent