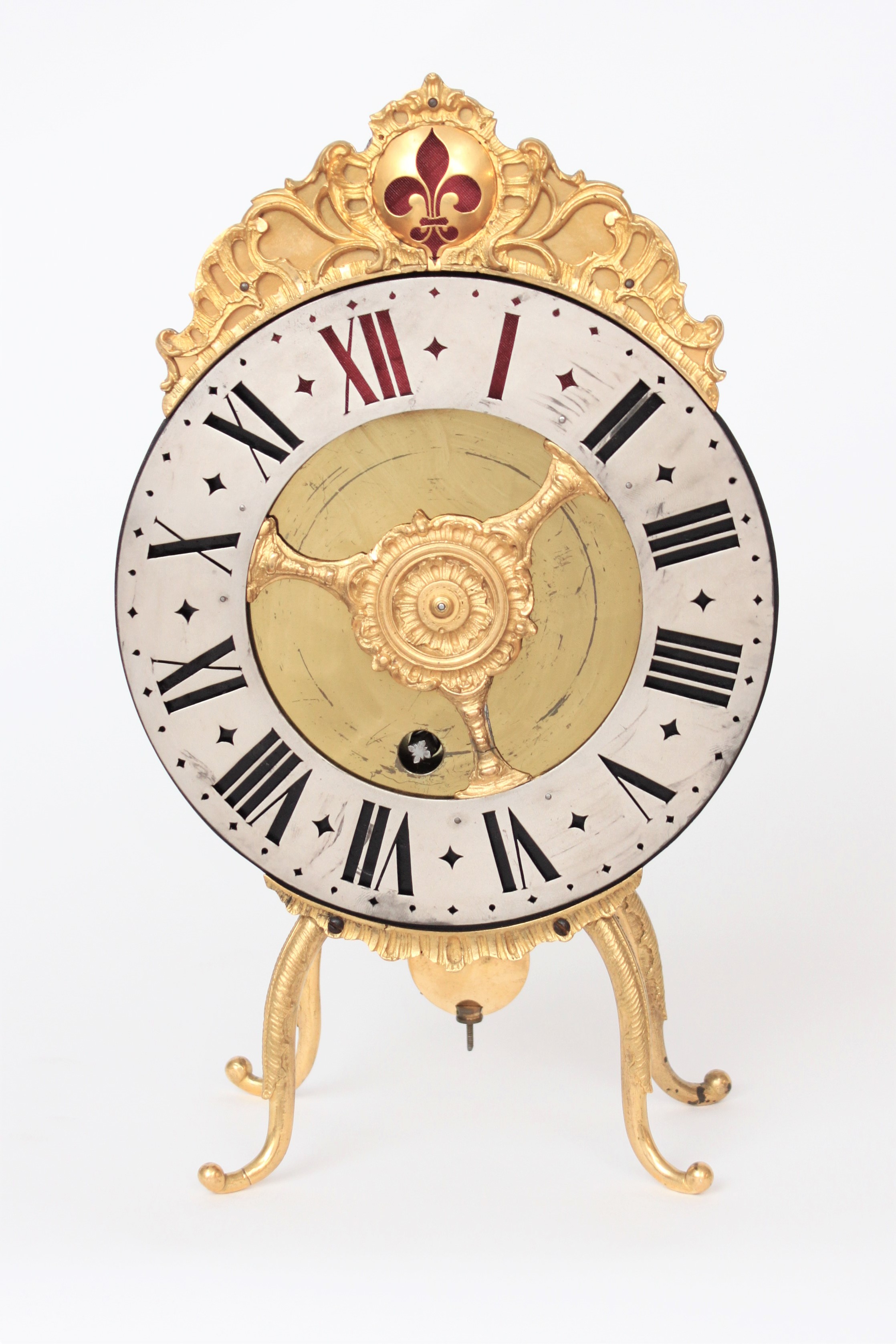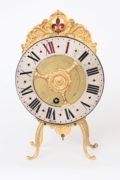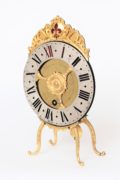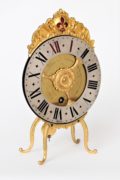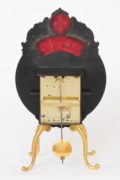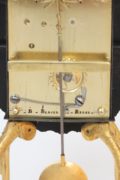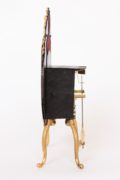 watch a video of the clock
A fine Swiss gilt brass night clock 'vielleuse' B. Blaser A Berne, circa 1750
Description
The dial
The silvered brass chapter ring has pierced Roman numerals. The centre with three ornamental spokes turning over a brass ground. The half hours are marked by diamond shaped holes. The minute rim is marked by alternating annular and diamond shaped holes. Above the chapter ring there is a cresting with a pierced fleur-de-lis ornament of which the lower point is the 'hand' along which the chapter ring turns. Both the pierced ornament as the upper part of the chapter ring has a red cloth back ground. When a light source is placed behind this, the time can be read in the dark.
The movement
The plated movement has fine baluster shaped pillars and is driven by a spring barrel. It has a duration of eight days. It is regulated by a verge escapement in combination with a silk suspended pendulum. The back plate is signed B. Blaser A Berne.
The case
The movement is housed in an iron case with a level top to accommodate the placing of a candle. The whole is raised on arched cast ornamental ormolu feet which can be partly folded in.
The signature B. Blaser refers to Bendicht Blaser son of Bern clockmaker Mathys Blaser. He was baptised in 1697 in Münsingen and got married in 1723. In that same year he became a member of the Bern clockmaker's Guild. From 1742 he became city clockmaker being responsible for the 'Zeitglockenturm' and the clocks of city hall. A year later he also did this for the Kefi-tower. Together with Daniel Funk he developed the typical Bern night clock. Daniel Funk was a case maker and he is responsible for the typical bronzes on these clocks.
Lit; Von Holthey, Bischof Scherer, Kagi, "Deutschschweizer Uhrmachermeister und ihre Werke vom 14. bis 19. Jahrhundert, pp. 65, 66, 69, 79,80, 82.
Sizes
(Height) 29 cm (Width) 17 cm (Depth) 8 cm
(Height) 11.4 in (Width) 6.7 in (Depth) 3.1 in
Price
Sold
Signature
B. Blaser Berne