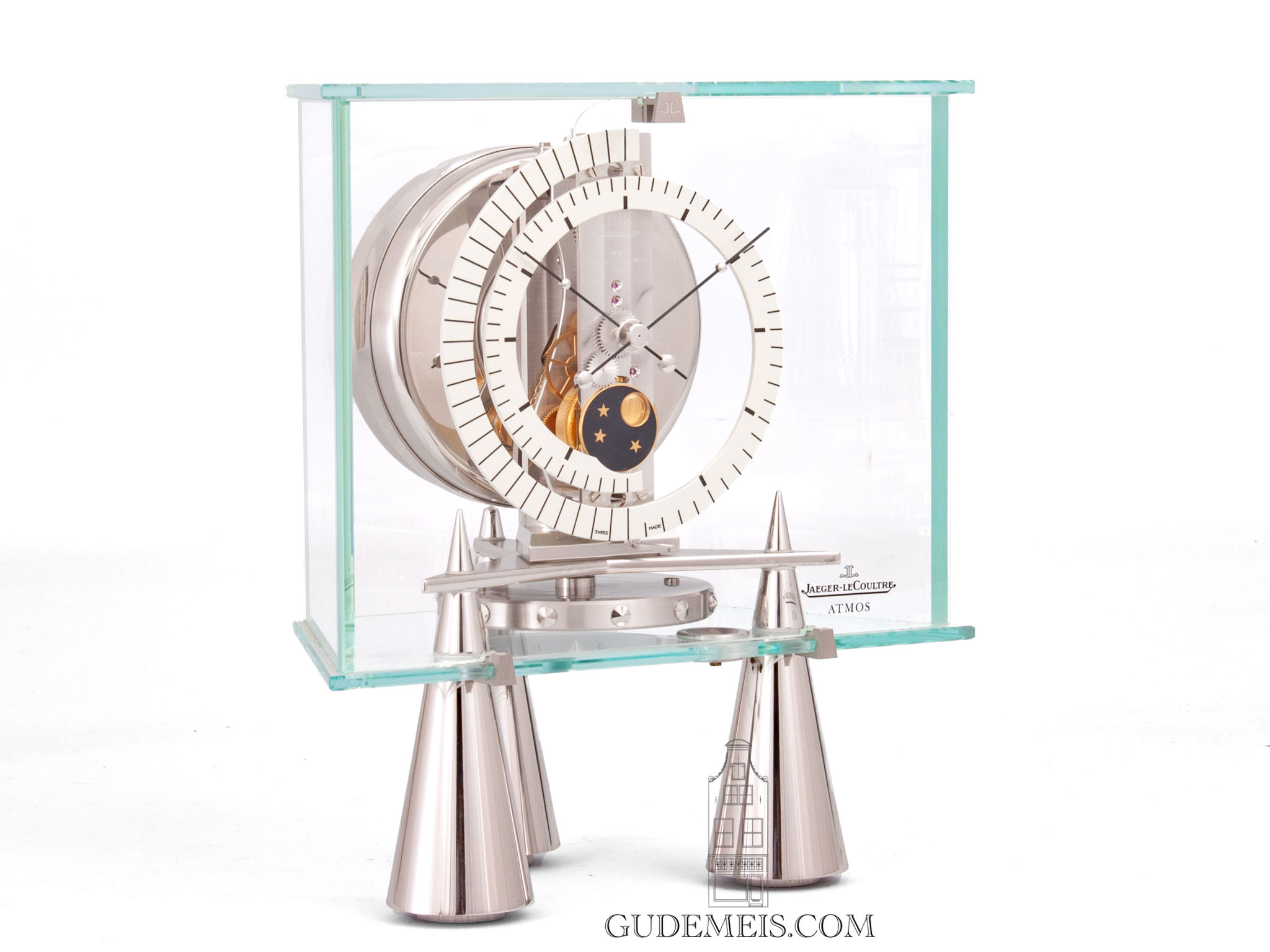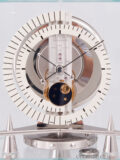 A fine Swiss rhodium and glass atmos atlantis, Jaeger-LeCoultre, circa 1995.
Omschrijving
Atmos Atlantis
The sixty year jubilee of the atmos clock was celebrated in 1988 since Jean-Léon Reutter had made the first atmos clock in 1928. Because of this memorable feat two Paris' artists Kohler and Rekow were asked to produce a new and futuristic design. These two concept designs are still on show in the Jaeger-LeCoultre museum. In 1995 the makers of Jaeger-LeCoultre were asked to develop a new atmos clock on the basis of these two designs. This became the Atmos Atlantis. Of this design only fifty were made annually between 1995 and 1999 of which a few with moonphase.
The chapter ring
The laquered spiral shaped chapter ring has batons for hours and minutes. The attractive straight blued steel hands are balanced with rhodium discs. The lower part of the chapter ring is inscribed Swis Made. In the open centre the moonphase is visible.
Atmos III
The atmos III type movement is powered by a spring barrel. The large drum at the back of the clock contracts and expands because of changes in temperature. This movement is transferred by a small chain and used to wind the spring barrel. The movement is regulated by a large balance with an oscillation time of thirty seconds. The rhodium front plate is engraved ATMOS Jaeger LeCoultre SWISS THIRTEEN (13) JEWELS 548.
Futuristic design
As stated above the futuristic design of this clock was based on the work of two artists. The movement is placed in a trapezoid glass case with a removable front panel which is signed Jaeger-LeCOultre Atmos. The movement is mounted on a triangular platform below which the large balance is turning. The platform is raised on three conical rhodium feet.
Afmetingen
(Height) 27.5 cm (Width) 25 cm (Depth) 15 cm
(Height) 10.8 in (Width) 9.8 in (Depth) 5.9 in
Prijs
€ 16.500
Signatuur
Jaeger-LeCoultre