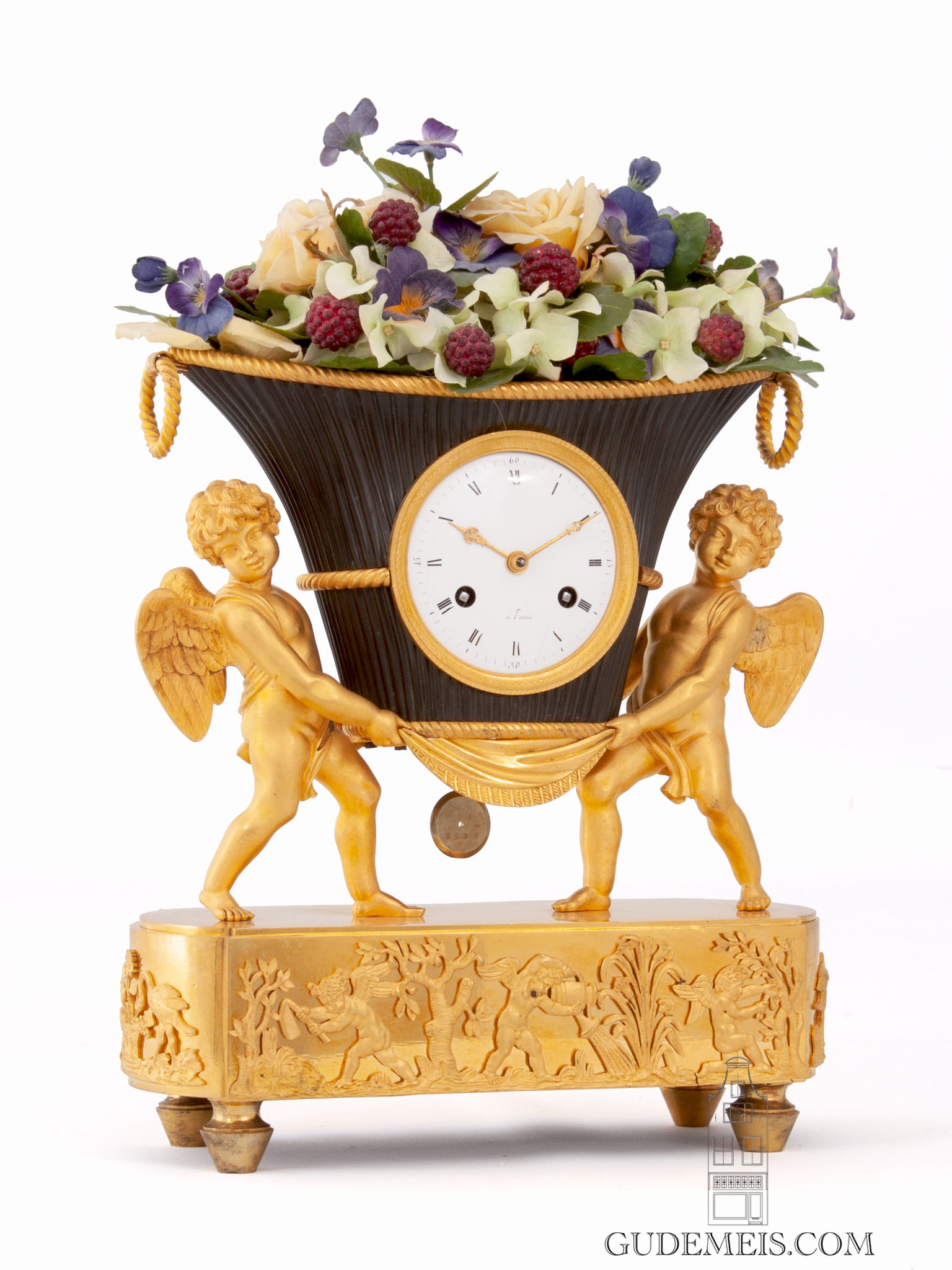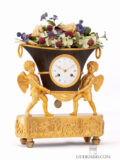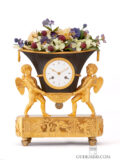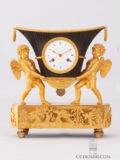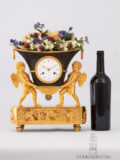 A French Empire sculptural urn mantel clock with putti, circa 1800
Description
Urn mantel clock
During the reign of both Louis XVI as Napoleon Bonaparte the art of the ancient Greeks and Romans was greatly admired. One of the most important sources for inspiration of this ancient art were ceramic objects found in excavations. One needs to think of objects like amphora, craters etcetera. Because of this the urn shape became typical for classicism just as garlands and columns. For the designers of mantel clocks the urn shape was a popular shape and many types of urn mantel clocks are known. This particular clock is somewhat unusual because the urn shape is carried by two putti.
Vuurverguld brons
Het uurwerk is geplaatst in de vaasvorm die gemaakt is van gepatineerd brons en afgezet met vuurverguld bronzen koordvormige monturen. De vaas wordt op een geplooide draperie gedragen door twee vuurverguld bronzen putti. Ze staan op een ovale basement waarop aan de voorzijde eeen hoogreliëf is aangebracht waarop andere putti te zien zijn die zich bezig houden met tuinieren. Het geheel staat op vier taps toelopende poten.
Het uurwerk
Het typische Franse uurwerk wordt aangedreven door twee veertonnen en heeft een gangduur van ten minste acht dagen. Dit betekent dat de klok eens per week opgedraaid moet worden. Het wordt gereguleerd door een ankergang in combinatie met een slinger die hangt aan een touwtje. De klok slaat de hele- en halve uren op een bel door middel van een sluischijf.
De wijzerplaat
De 8.5-cm doorsnee geëmailleerde wijzerplaat heeft Romeinse cijfers en is gemerkt à Paris. De fraai gegraveerde en ajour gezaagde wijzers zijn gemaakt van verguld messing.
Sizes
(Height) 31 cm (Width) 28 cm (Depth) 11 cm
(Height) 12,2 in (Width) 11 in (Depth) 4.3 in
Price
€ 9.500
Signature
à Paris