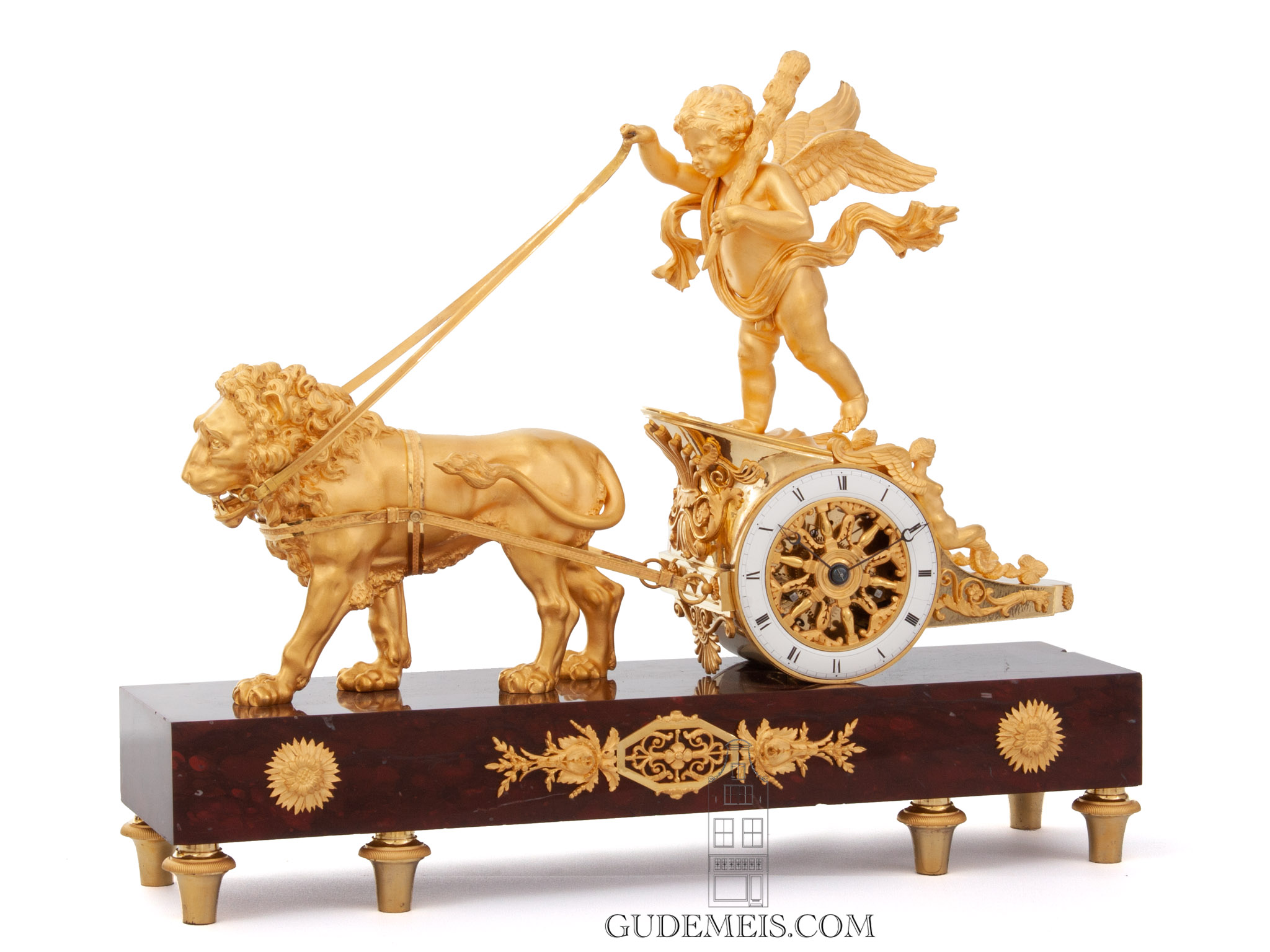 A French Empire ormolu and marble chariot mantel clock, circa 1800.
Omschrijving
symbolism
This attractive and unusual chariot mantel clock has a deeper subject to it which is revealed through the symbolism hidden in the presentation. Cupid is wearing not his bow and arrows but is carrying a club. The club is an object that belongs to the Hero Hercules known for his strength and courage. And Cupid is victorious steering the chariot pulled by lions. A French aristocrat schooled in literature and classical art would have instantly known the subject matter of this fine clock. With Cupid having rendered Hercules' attribute useless and being able to control the lion it is showing that love is stronger than physical strength. This deeper meaning makes this piece even more than a beautifully designed and executed clock. Not only an eye catcher but also a conversation piece all into one.
eight day duration
The movement is driven by two spring barrels and is of eight day duration. It is regulated by anchor escapement in combination with a silk suspended pendulum. The clock has half hour striking on a bell by means of a countwheel.
Breguet hands
The 9.2-cm enamel chapter ring has Roman numerals. The Breguet hands are made of blued steel.
Chariot
The enamel chapter ring has spoke centre and is the wheel of a beautifully cast and chiseled ormolu chariot. It is adourned with pierced mounts and sitting herms. The chariot is pulled by a lion and steered by Cupid holding a club. The whole is placed on a griotte rouge marble base raised on six toupee feet.
Afmetingen
(Height) 36 cm (Width) 44 cm (Depth) 11.5 cm
(Height) 14.2 in (Width) 17.3 in (Depth) 4.5 in
Prijs
sold