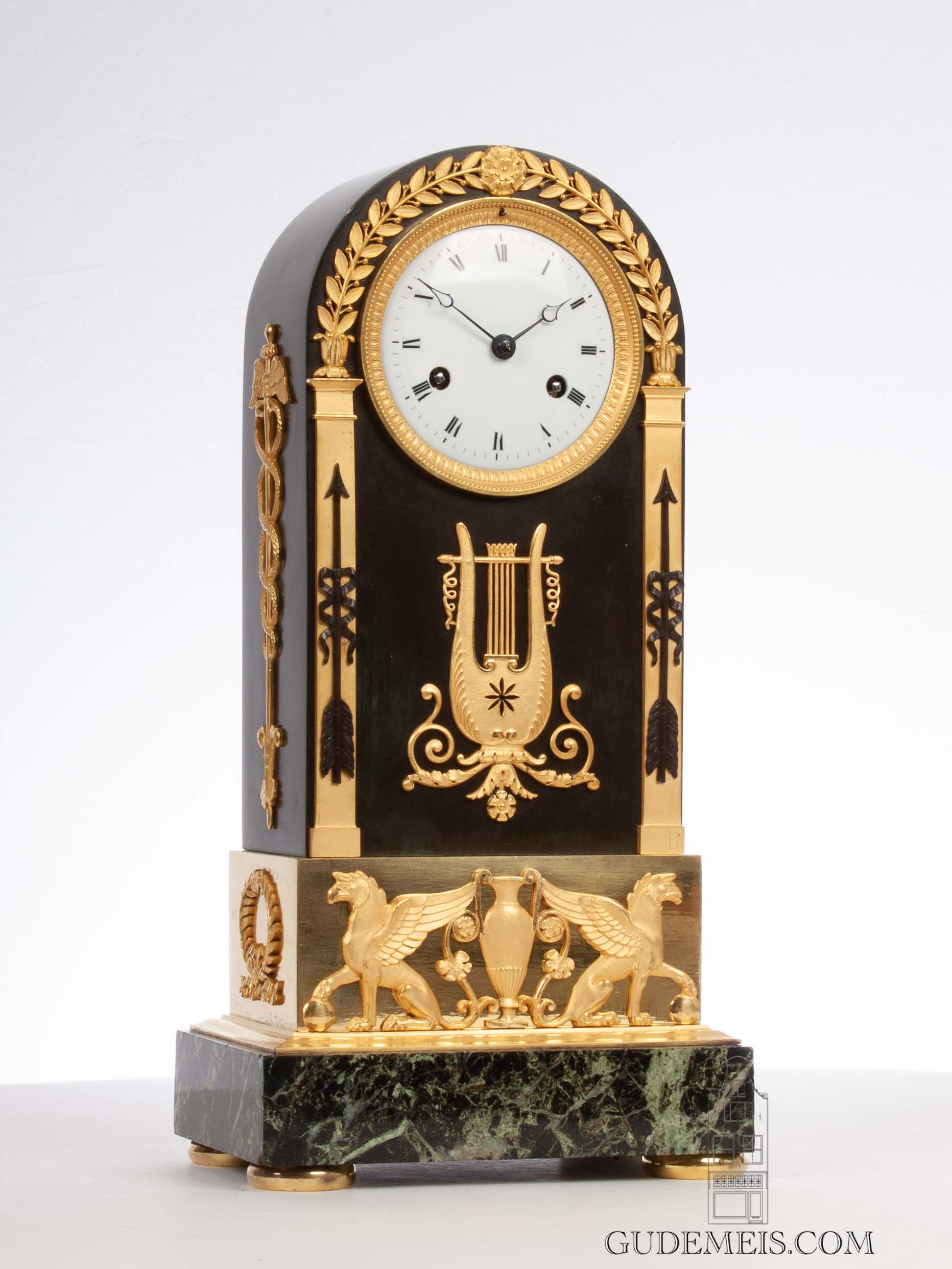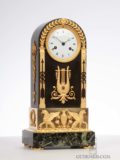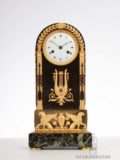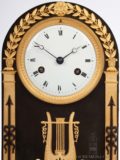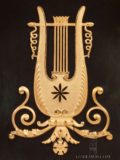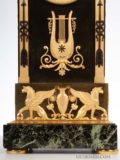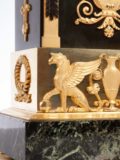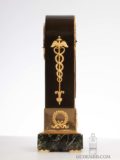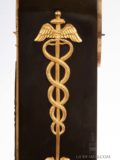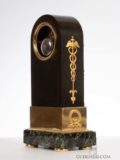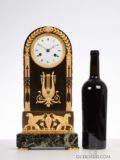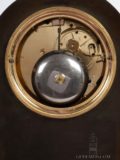 A French Empire patinated and gilt bronze 'borne' mantel clock, circa 1806.
Description
The symbolism
Offsetting the sleek design of this fine clock are the beautifully made ornate mounts. Nowadays a designer might choose his decoration just on the merit of beauty. But in the era this piece was made it was impossible to chose ornaments without a reason. There was almost always a deeper meaning in the symbolism of the ornaments. We can grasp this deeper meaning by trying to explain these symbols. The two griffins below guard an urn with apparently something valuable. They probably symbolize 'vigilance'. Above these there is a lyre which stands for 'harmony'. This harp is flanked by two arrows pointing upwards to a wreath of laurels, the symbol of victory. There is a Caduseus, the staff of Hermes, on both sides of the clock. The staff itself represents 'strength', the two serpents for 'prudence' and the wings for 'diligence'. Vigilance, harmony, strength, prudence and diligence are character trades needed to accomplish difficult tasks. The accomplishment symbolized by the arrows pointing to the wreath of laurels. A similar clock is in the 'Elysee Palace' the residence of the French President. He could use the qualities symbolized by the ornament of this clock very well. Clearly the embellishment of this clock doesn't only make it beautiful but give it an interesting story. (Lit.; Marie-France Dupuy-Baylet, Pendules du Mobilier National 1800 – 1870, pp. 119.)
The dial
The 8.5-cm enamel dial has Roman numerals and beautiful blued steel hands. The dial is fitted in a finely chiseled ormolu bezel.
The movement
The movement is driven by two spring barrels and has a duration of eight days. It is being regulated by anchor escapement in combination with a silk suspended pendulum. The clock strikes the hours and half hours on a bell by means of countwheel striking. The springs are dated 1806.
The case
The term 'borne' refers to the arched shape of the patinated bronze case. To the front it has a lyre-shaped ornament with foliate scrolls. These are flanked by flat pilasters with applied patinated arrows which are joined above by laurel leaves with a centre rosette. On both sides are applied Mercury staffs. On the wide gilt plinth, two griffins flank a classical urn are on the front. To the sides there are laurel wreaths. The whole is placed on a verde antico marble plinth raised on flat ormolu feet. The bronze work is of extraordinary quality.
Sizes
(Height) 36.5 cm (Width) 18 cm (Depth) 12 cm
(Height) 14.4 in (Width) 7.1 in (Depth) 4.7 in
Price
€ 8.750