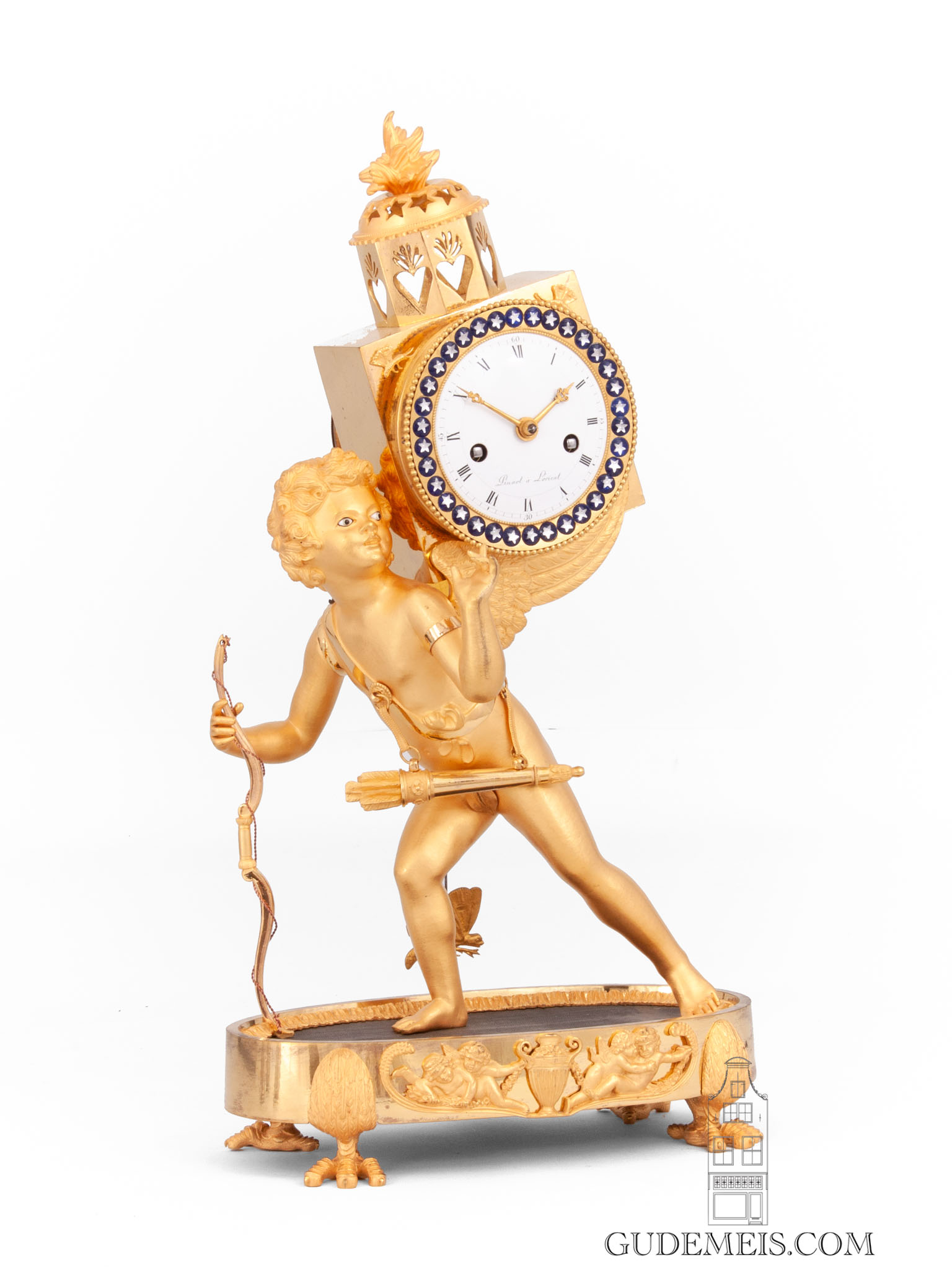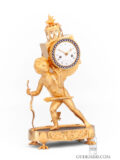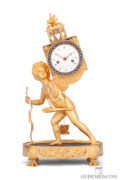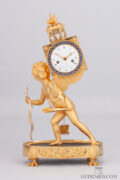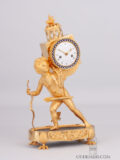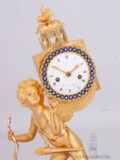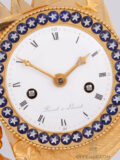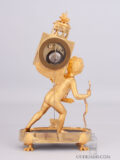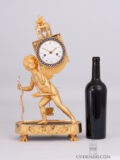 A French Empire sculptural ormolu mantel clock Amor with magic lantern, circa 1800
Description
Magic lantern or Laterna Magica
The magic lantern or laterna magica was problably invented by Christiaan huygens in the middle of the seventeenth Century. Is was a sort of early slide-projector with which pictures could be projected enlarged on a surface. This must have looked magical for the people of the time which would explain the term magical lantern. It was mostly used by 'story tellers' to illustrate their stories with it. With this fine mantel clock having Amor pointing to the laterna magica in a dynamic pose, the subject matter could well be 'the illusion of time'.
colourful bezel
The 8-cm enamel dial has roman numerals and is signed Pinart à L'orient. The finely pierced and engraved gilt hands are made of brass. The dial is fitted in a colourful bezel with circles with silver stars on a blue ground.
Movement
The typical French movement is driven by two spring barrels and has a duration of at least eight days. It strikes the hours and half hours by means of a countwheel on a bell. The clock is regulated by anchor escapement in combination with a silk suspended pendulum with butterfly bob.
Ormolu
The movement is fitted in an ormolu case shaped as a magical lantern with applied butterfly mounts. A butterfly represents 'psyche' the counterpart of 'amor' who represents the earthly and physical. The magic lantern rests on the finely cast and chiseled wings of Amor. He stands in a dynamic pose with bow and quiver on a patinated base lined with an acanthus moulding. The base is raised on bird feet and has high reliefs of putti at the front.
Sizes
(Height) 45 cm (Width) 24.5 cm (Depth) 12,5 cm
(Height) 17.7 in (Width) 9.6 in (Depth) 4.9 in
Price
€ 19.000
Signature
Pinart à L'Orient