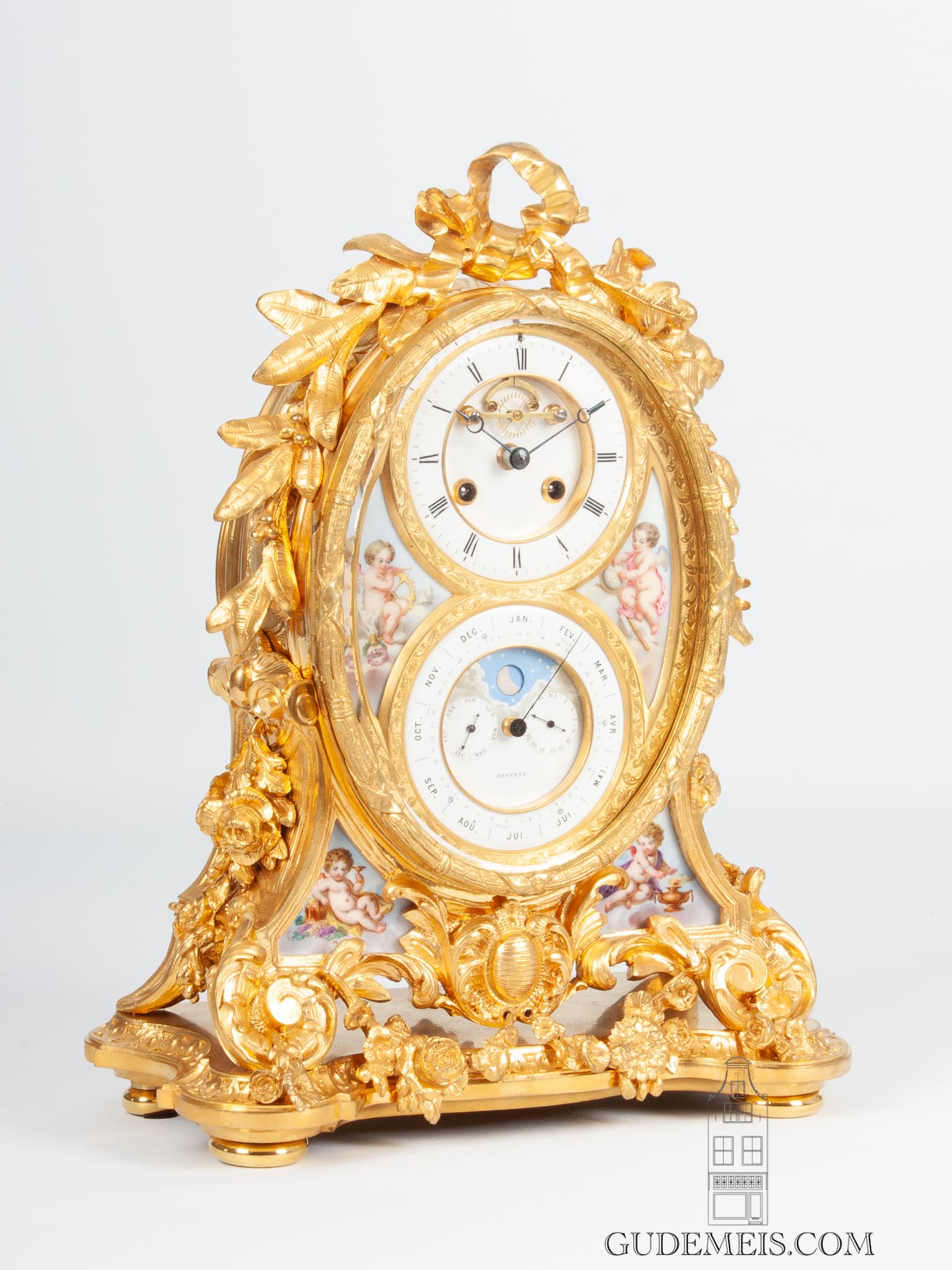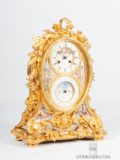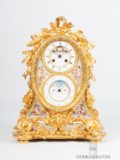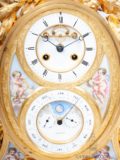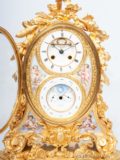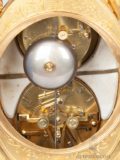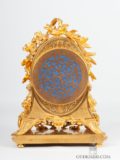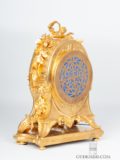 A French gilt bronze Sevres mounted mantel clock with perpetual calendar, Brocot & Delettrez, circa 1860
Description
The story
There is a lot going on when you look at this clock. First there is the waisted gilt bronze case adorned with scrolls, leaves and flowers in a Rococo style which typical for the early years of the Napoleon III era. Next to that there are the 'Sevres' porcelain panels showing putti personifying Summer and Winter below and flanking the dials are personifications of Industry and Science. All these things are beautifully made with great care and eye for detail. Since the clock is signed A. Brocot & Delettrez it is no surprise that it incorporates the three most known clock inventions that Brocot is famous for. First there is the mechanism to regulate the rate of the pendulum which became standard to most French movements after 1855. Secondly there is the well performing but also decorative Brocot escapement with its ruby pallets which is visible in the recessed centre of the dial, showing that the clock is running. Below the upper dial is a perpetual calendar mechanism which is a marvel of ingenuity. In the centre it shows the days of the week and the moon phase. It also shows the date corrected for each month and even leap years making it a perpetual calendar. The outer ring shows months and has inner calibration for the Equation of time. This is the difference between Mean Time and Solar Time. It is no wonder that the firm of Brocot & Delettrez received a Gold Medal at the 1857 World Exhibition for its patented Calendar mechanism. The combination of the visually attractive case with the technical calendar makes this a beautiful and interesting object d'art.
The dial
The 10-cm enamel chapter ring has Roman numerals. The Brocot hands are made of blued steel. In the recessed centre is the visible Brocot escapement. Below the dial is a polychrome enamel perpetual calendar. It has indications of date, day, moon phase, year calendar with month and equation of time.
The movement
The movement is driven by two spring barrels and a duration of two weeks. It is regulated by the visible Brocot escapement in combination with a pendulum. The clock strikes the hours and half hours by means of rack striking on a bell. The back plate is signed A. Brocot & Delettrez. The calendar is connected with the movement.
The case
The gilt bronze case is surmounted by a bow with trailing oak leaves. The oval surround of the dials has a beautifully engraved and chiseled border. Next to the dials are polychrome plaques with putti personifying 'Industry' and 'Science'. The base consists of two volutes with in between leaves and scrolls and two similar plaques with putti personifying 'Winter' and 'Summer'. The whole is placed on a shaped plinth raised on turned feet.
Sizes
(Height) 41 cm (Width) 31 cm (Depth) 16 cm
(Hoogte) 16.1 in (Breedte) 12.2 in (Diepte) 9.3 in
Price
€ 14.000
Signature
A. Brocot & Delettrez