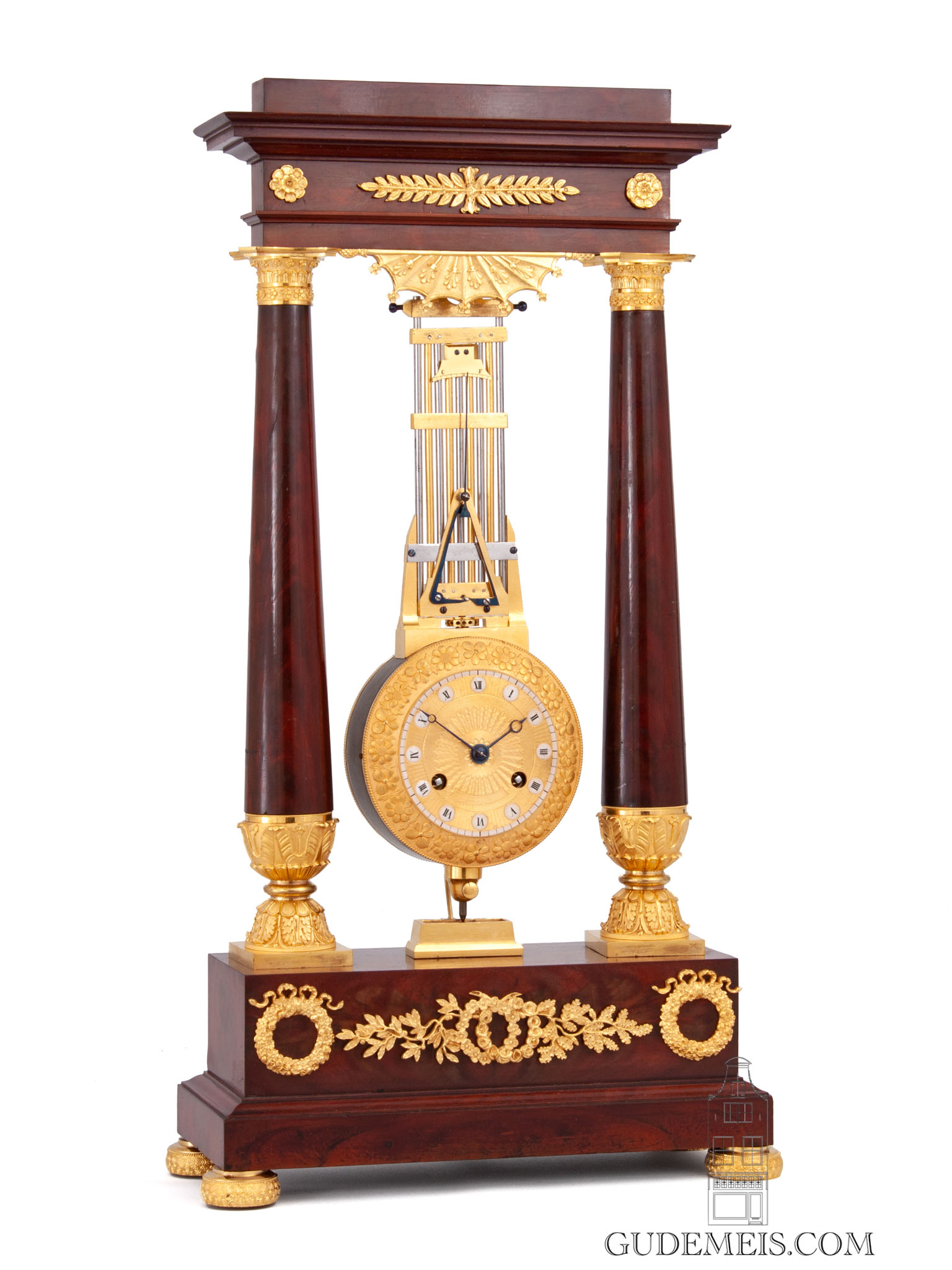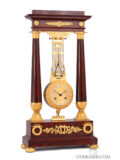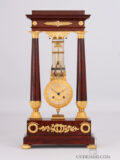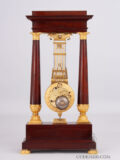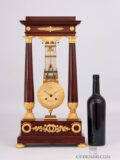 A French late Empire ormolu mounted portico mantel clock with oscillating movement, circa 1825.
Omschrijving
Oscillating movement
The elegant design with its conical shaped columns and fine ormolu mounts are not the only things that catch the eye. This fine clock has another interesting aspect. The movement is fitted in the bob of the pendulum and moves when the clock is running. This oscillating movement is an attractive feature that must have entertained the owner and his guests in earlier times. Gilt bronze or ormolu was desired because it en lighted the interior with its reflection of light. The large moving gilt surface of the pendulum must have given an attractive glimmering in the room.
Ormolu
The 8-cm dial is made of ormolu and has an engine turned center. Around the chapter ring with roman numerals is a decorative bezel with flowers. The Breguet hands are made of blued steel.
Pinwheel escapement
The French movement is driven by two spring barrels and has a duration of at least eight days. It is regulated by pinwheel escapement and has half hour striking on a bell by means of a countwheel. The movement is fitted in the bob of a temperature compensated gridiron pendulum with knife-edge suspension.
Architectural case
The architectural case with moulded stepped top is embellished with foliate ormolu mounts. It is supported by two conical columns with ormolu capitals and bases. These are placed on a rectangular moulded base with further ormolu mounts of wreaths raised on flat feet.
Afmetingen
(Height) 54 cm, (Width) 29 cm, (Depth) 13.5 cm.
(Hoogte) 21.3 in (Breedte) 11.4 in (Diepte) 5.3 in
Prijs
€ 16.000