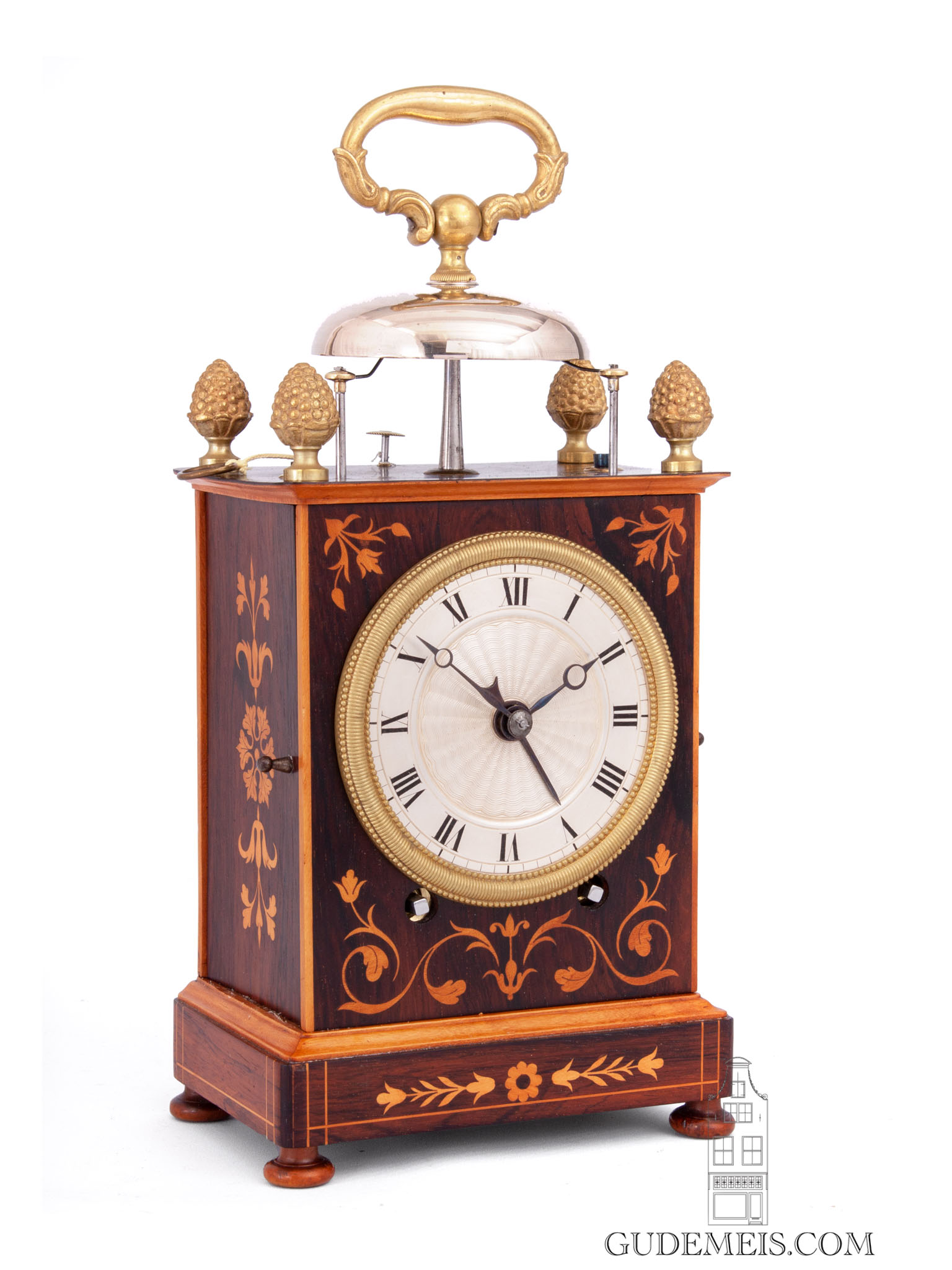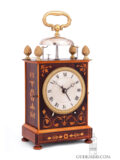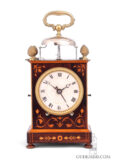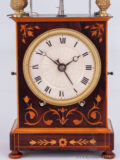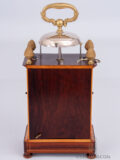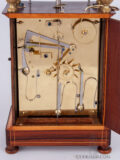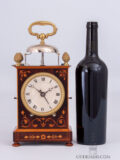 A French Swiss marquetry inlaid rosewood striking and alarm Capucine travel clock, circa 1840.
Description
Capucine
A Capucine is a type of travel clock. It is the more sober version of the luxurious 'Pendule d'officier' which were often executed with expensive gilt bronze cases. The term Capucine refers to the Capucine monks who had a very austere way of life, which could refer to the more sober execution characteristic for the Capucine clocks. Another explanation is that the surmounting bell resembles the hood of a habit of a Capucine monk. In the last quarter of the eighteenth Century a production evolved in the eastern part of France and the border area of Switzerland. Most clocks of the type are fitted with brass cases. This clock with its marquetry inlaid rosewood case was made in the second quarter of the nineteenth Century. The beautiful case made of expensive wood probably targeted potential clients looking for a decorative clock in their interior.
Engine turned
The 8.5-cm wide silvered dial has Roman numerals and has a recessed engine turned centre. The dial is fitted within a ornate brass bezel. The Breguet hands and alarm setting hand are made of blued steel.
Morbier striking
The movement has two spring barrels and a duration of at least eight days. It has anchor escapement in combination with a silk suspended pendulum which has a regulation knob. The clock has half hour striking by means of rack striking. About a minute after it has struck the hours, the clock will repeat those. This Morbier striking as it is called is useful because often one realizes too late that a clock has started striking. By repeating the hours after a minute the alerted listener can actively count the number of strikes. It is a feature seen on most Comtoise or Morbier clocks. The clock also has an alarm which has a small pull wind spring barrel. With both striking work and alarm this clock was useful in both the living- and bedroom.
Marquetry
The case of the clock has string inlaid banding and floral marquetry inlay to the front and sides of light colored fruit wood.
The whole is surmounted by a bell with a cast brass handle. There are four brass berry finials on the corners. There are doors to the back and sides giving access to the movement. The moulded plinth is raised on four turned feet.
Sizes
(Height) 30 cm (handle up) (Width) 14.5 cm (Depth) 9.5 cm
(Height) 11.8 in (handle up) (Width) 5.7 in (Depth) 3.7 in
Price
€ 8.000