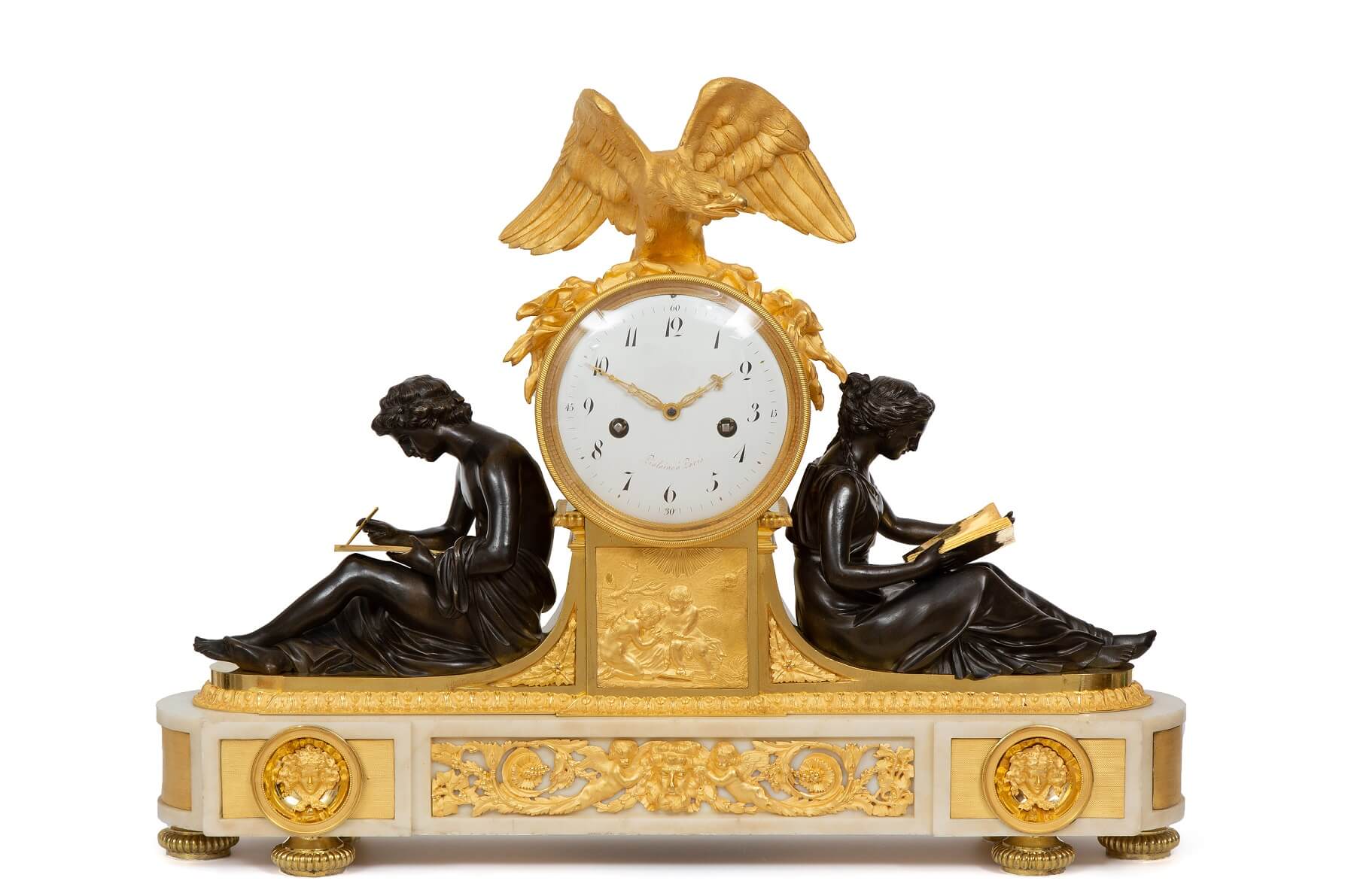 A large French ormolu and bronze Louis XVI mantel clock study, Piolaine circa 1790
Description
The case
The ormolu drum case is surmounted by a finely cast and chiseled ormolu eagle. Below a fine relief showing two putti holding a bird under a sunburst. The whole is flanked by two beautiful patinated bronze figures of a writing boy and a reading lady. Lined by a fine acanthus relief moulding. The white marble oval break front base incorporates a pierced mount with two further putti holding a mask among scrolling garlands and flanked by two medallions with female masks. The whole is raised on gadrooned feet.
The Dial
The 15-cm enamel dial has Arabic numerals and is signed in red Piolaine à Paris. The finely pierced and engraved hands are made of gilt brass.
The Movement
The spring driven movement has anchor escapement and a duration of two weeks. It strikes the hours and half hours on a bell.
The Maker
Michel-François Piolaine became master clockmaker in 1787. He was listed working at the Rue des Ecrivains in 1789. From 1793 until 1810 he worked at the Rue des Gravillers. Lit. Tardy, Dictionnaire des Horlogers Français, pp. 523.
The design of which the drawing still exists was made by François Remond (1747 – 1812) around 1785. In his design he incorporated the two figures which already had been designed by Louis-Simon Boizot (1743 – 1809) around 1780. The figures of a writing boy and reading lady were often used as pendants in various object d'art. Lit. Ottomeyer und Pröschel, Vergoldete Bronzen, Book I, pp. 294 – 295.
Sizes
(Height) 51 cm (Width) 67 cm (Depth) 15.5 cm
(Height) 20 in (Width) 26.4 in (Depth) 6.1 in
Price
sold
Signature
Piolaine à Paris