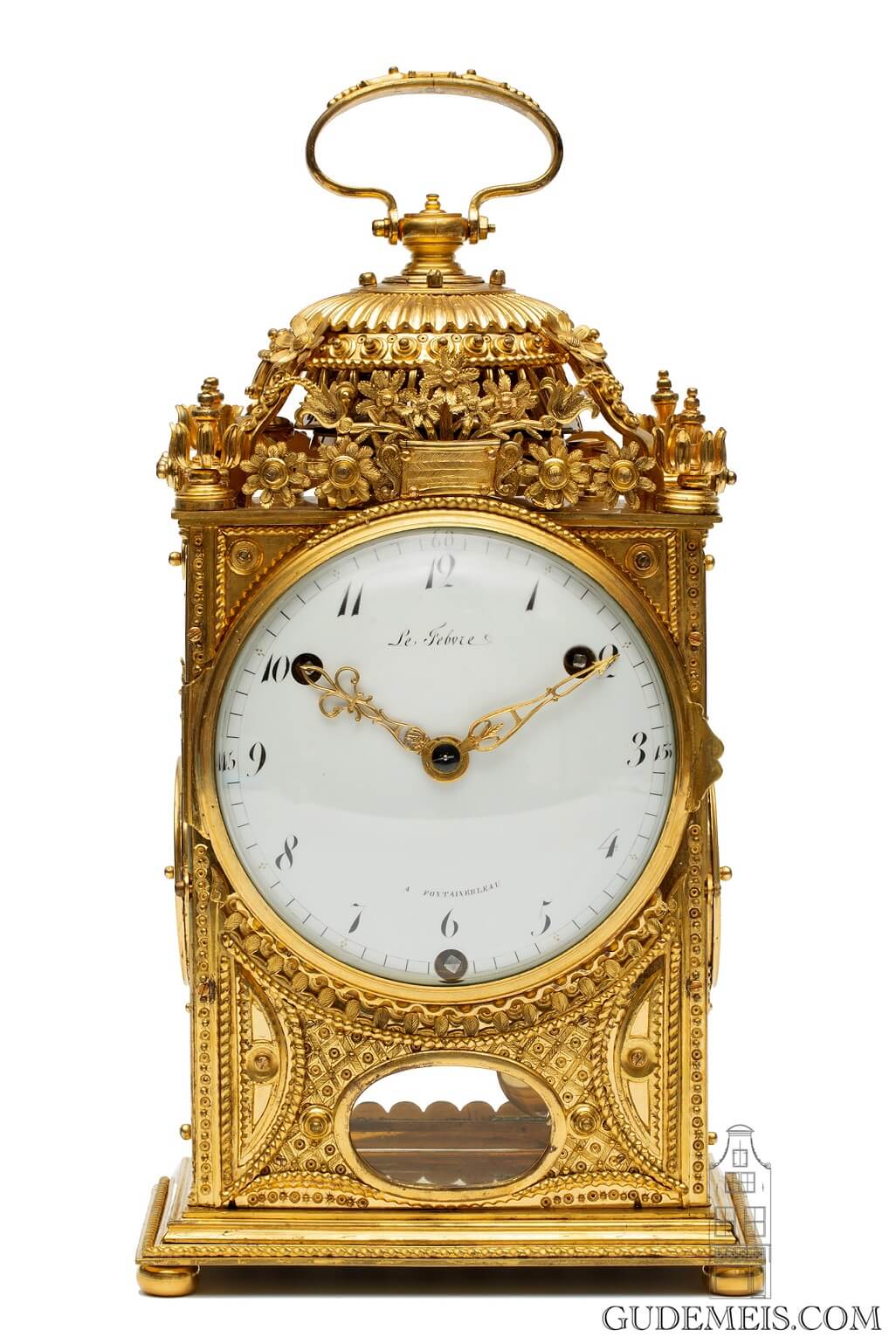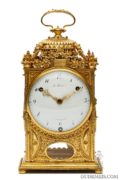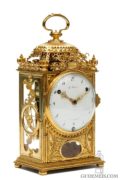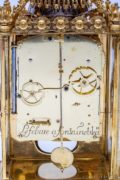 Watch the clock running and striking
A rare and early French Louis XVI gilt brass quarter striking 'pendule d'officier, LeFebvre, circa 1770
Description
The dial
The 13.5-cm enamel dial has Arabic numerals and is signed Le Febvre A Fontainebleau. The fleur-de-lis hands are made of pierced and engraved brass.
The movement
The movement is driven by three spring barrels and has a duration of twee weeks. It is regulated by anchor escapement in combination with a silk suspended pendulum. There is a clip to secure the pendulum for travelling on the identically signed back plate. The clock strikes the quarters on two bells and the hours on a third by means of two countwheels.
The case
The case was made in a very unusual way. Usually these cases are made of cast bronze which is after the casting chiseled before gilding. This case is made of cut, turned, engraved and hammered brass and fire gilt after that. This might have been done to evade the restrictions of the guilds. To produce cast gilt brass or bronze needed workmen of at least five guilds. Bronze casters, sculptors and gilders all were in seperate guilds. Only in the workshops at the court these restrictions didn't apply.
The rectangular case is surmounted by a cuppola topped by a handle. Beautiful finials are on the corners with galleries of flowers in between. At the sides there are turned circles with a pentagram and foliate ornament around. Below the dial is an oval lenticle in a geometrically decorated panel. The moulded plinth is raised on turned bun feet.
Provenance
The are only a few similar clocks known all by the same maker. This clock is the largest of those and is the only one with quarter striking. The signature probably refers to Jean LeFebvre who became master clockmaker in 1733. Besides Fontaibleau he was also working in Paris having the title 'clockmaker to the King'. Lit. Tardy, Dictionnaire des Horlorgers Français, pp. 362.
This fine clock remained in the Provôt family for about 200 years. The picture shows Mrs Provôt-Homberg in Chateau Maffliers in front of the clock. The Chateau was in the possession of the family bewteen 1906 and 1964. In the 19th Century a white marble base with cast bronze ornaments was added to the clock, this is visible on the picture. The springs of the clock are dated 1762.
Sizes
(Height) 35.5 cm (handle up) (Width) 18 cm (Depth) 13 cm
(Height) 14 in (Width) 7.1 in (Depth) 5.1 in
Price
Sold
Signature
LeFebvre A Fontainebleau