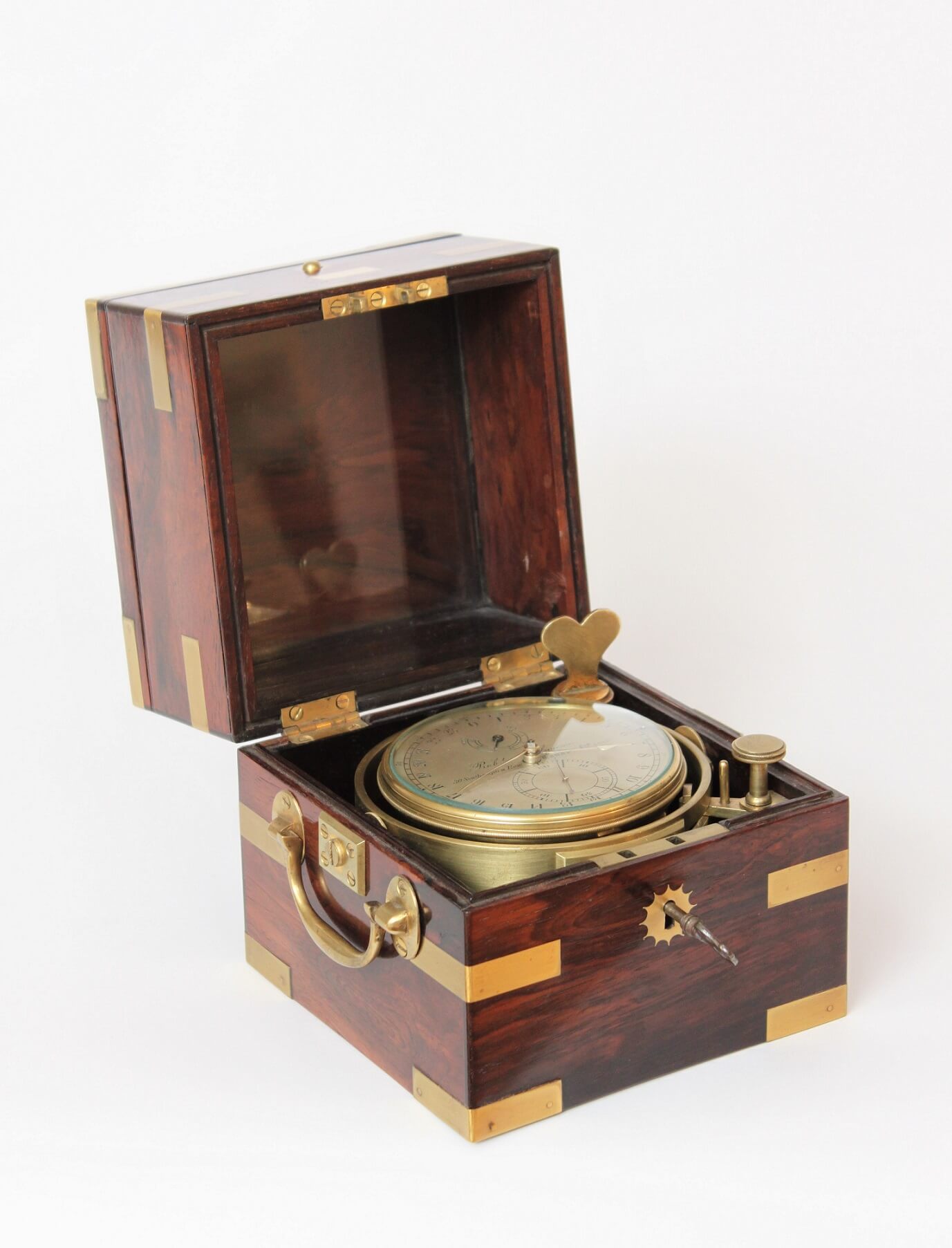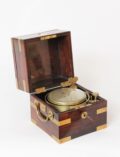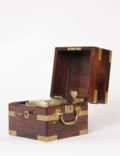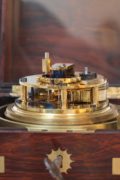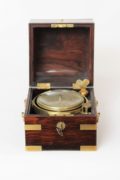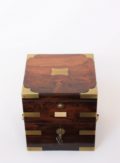 A rare English 2-day rosewood chronometer with 24-hour dial by Molyneux, circa 1840
Description
9-cm engraved silvered dial signed Robt. Molyneux, 30 Southampton Row London, No. 2495., calibrated 0-23 for the hours and the outer rim for every five minutes, silver hands and subsidiaries for power reserve and seconds, 48-hour fusee and chain movement with Harrison's maintaining power, Earnshaw's detent escapement, bi-metallic balance with ten adjustment screws and diamond end stone, spotted plates, brass bowl case fitted in gimbals, three tier rosewood case with brass mounts and handles.
It is not exactly known when Robert Molyneux moved to London but in his early years there he was apprenticed to the famous Thomas Earnshaw. Around 1800 he is known as maker of chronometer escapements and later as chronometer maker. Already in 1805 he is asked by    to explain the inventions of Earnshaw and Arnold. In 1829 he is allowed to submit chronometers in the Premium Trials held at the Greenwich Observatory. In these Trials chronometers were tested and judged. In 1832 Molyneux won the 200 pounds first prize of this prestigious event. In 1833 he won third prize and in the years 1840, 1842 and 1843 he won first prize again. Around 1830 his sons joined him in the company and in 1832 his shop moved from 44 Devonshire street London to 30 Southampton Row London. He patented a compensation balance with auxiliary compensation for middle temperature error.
A very similar chronometer with 24-hour dial numbered 2290 is in the collection of the MAAS (Museum of Applied Art & Sciences) which is affiliated to the Observatory Sydney Australia.
Sizes
(Height) 16 cm (Width) 16.5 cm (Depth) 15 cm
(Height) 6.3 in (Width) 6.5 in (Depth) 5.9 in
Price
sold
Signature
Robert Molyneux, London