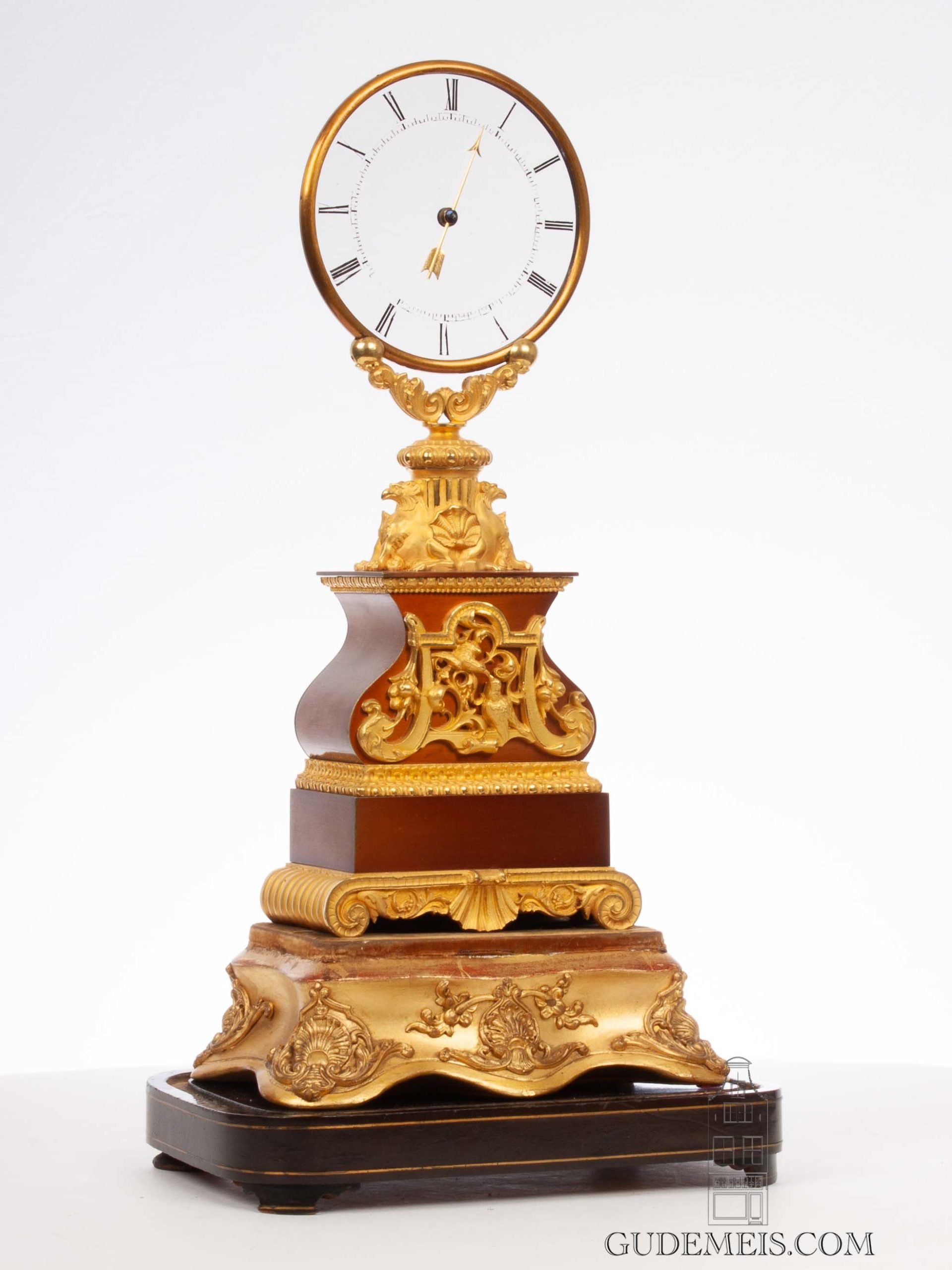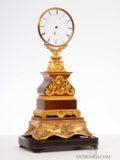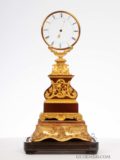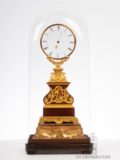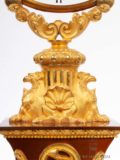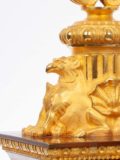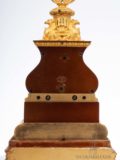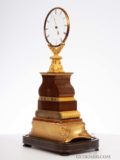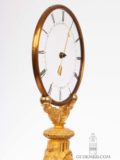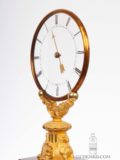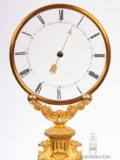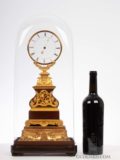 A rare French gilt and patinated bronze mystery clock by Robert Houdin, circa 1839.
Description
J.E. Robert-Houdin, a forgotten genius
The name Jean-Eugène Robert Houdin (1805-1871) is nowadays only known by some clock enthusiasts and illusionists. But it was a household name in the 19th Century throughout Europe. He was a famous illusionist who performed for Queen Victoria and King Louis Philippe. He even had his own theater and made frequent use of automatons of his own design and construction. He was one of the first to use electricity, then not known by many, in his shows to 'move' things on their own but also in clock making. Being the son of a clockmaker, he had already at a young age encountered movements and automatons like birdboxes and music boxes. His father had rather seen him becoming a lawyer but Jean-Eugène wasn't to be denied and he finally was allowed to be a clockmaker. But he didn't want to use his talent solely to make and repair clocks. He wanted to wonder and astonish people. Eventually this lead him to be an illusionist and maker of clocks and automatons. One of his creations was an alarm-lighter, a clock that lighted a candle when the alarm went off. Its patent and the great demand for this clock gave Robert Houdin the financial stability to pursue a career in both clock making and illusionism. He acquired great fame both in France and abroad. As was there a young American escapologist Ehrich Weiss who changed his name to Harry Houdini as a tribute to Robert Houdin. Besides all his innovations in the above named fields he even made great contributions in the field of ophthalmology.
The mystery clock
A mystery clock is a clock whose hands or pendulum is moved without any apparent connection to the movement. In case of this example the single hand appears to turn without any drive across the glass dial. The exact date of origin s unknown but a similar example is depicted and discussed in 'The Mechanic's Magazine' of November 3rd 1838. The article describes that 'great curiosity and excitement' had arose in the area near the Exchange in London after the clock had come on display in the shop window of a silver smith named Savory. In following issues of the magazine 'experts' tried to explain how the clock worked. This type of Houdin's mystery clock is the second in a series of five types, this being the first with a glass dial. It is remarkable that this clock even today arouses wonder and curiosity just as it did all those years ago. It is a testament of the genius of its maker Jean-Eugène Robert. (This clock and much information on the eventful life of Robert-Houdin is described in; Derek Roberts, Mystery, Novelty & Fantasy Clocks Chapter 19, pp. 218-232)
The dial
The glass dial with Roman numerals is fitted in a thin brass bezel. The gilt and engraved brass hand shaped as an arrow is fitted in the centre.
The movement
The movement is mounted in the base of the case and is driven by two spring barrels and has a duration of eight days. It is being regulated by anchor escapement in combination with a silk suspended pendulum. The clock strikes the hours and half hours on a bell by means of countwheel striking. One of the springs is dated 1839.
The case
On a shaped parcel gilt base is the gilt and patinated bronze case. To the front is an applied pierced ornament with birds between leaves and scrolls. On the case is a short column flanked by griffins surmounted by two scrolled supports holding the dial.
Sizes
(Height) 45 cm (including base of the dome) (Width) 23 cm (Depth) 15.2 cm
(Height) 17.7 in (including base of the dome) (Width) 9.1 in (Depth) 6 in
Price
Sold
Signature
Jean-Eugène Robert Houdin