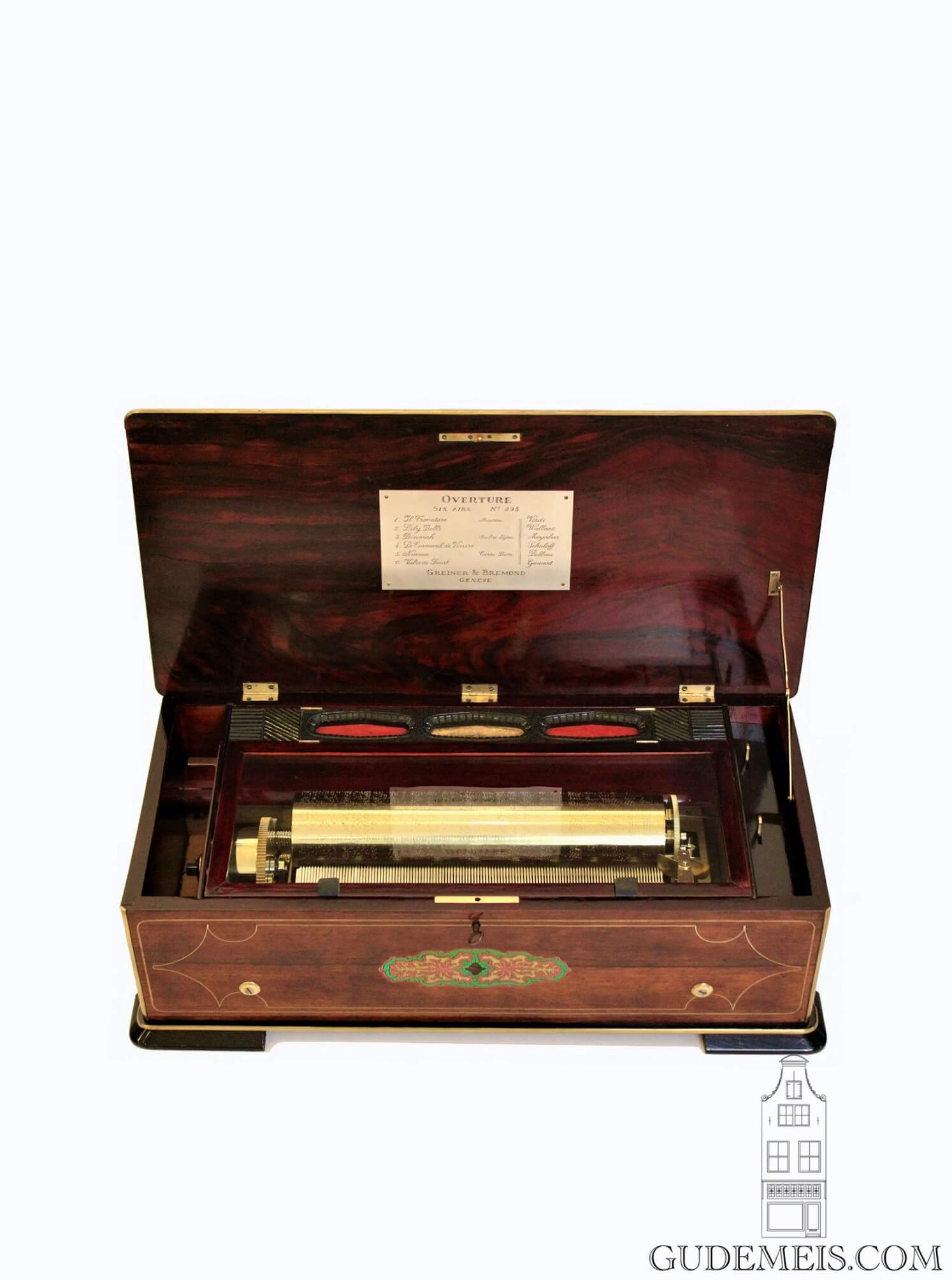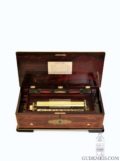 listen to the music box play
A rare Swiss Greiner & Bremond ouverture cylinder music box, circa 1860.
Description
The mechanism
The brass mechanism plays with an 8-cm diameter and 33.5-cm long cylinder, one of six well known melodies on a steel comb. It is powered by a spring barrel with fixed winding handle and is numbered 298. To the right there are two operating levers, one for play/stop and the other for change/repeat of the melody.
The case
The attractive case is veneered with rosewood. The lid has inlay of brass banding and an ornament of foliate cut brass with pseudo tortoise shell and lacquer. The front has similar inlaid banding and a central ornament. To the inside of the lid is the engraved silvered brass melody plaque. The whole is raised on wide canted feet.
The melodies
1. Il Trovatore Miserere Verdi
2. Lily Bells Wallace
3. Dinorah Ombre légère Meyerbeer
4. Le Carnaval de Venise Schuloff
5. Norma Casta Diva Bellini
6. Valse de Faust Gounod
Ouverture music box
The term 'ouverture music box' is reserved for a very small group of music boxes. The cylinder of the these has an extra large diameter causing the melody to last longer compaired with a music box with a smaller diameter cylinder. Because of this the maker can do much more with a melody or even combine several melodies as often is done in an ouverture of a symphony or opera. The comb has a very large number of teeth which enables the box to play many notes at the same moment and get more nuances in the music. Music boxes were very expensive and exclusive objects when produced, with the these 'ouverture boxes' belonging to the top segment.
Sizes
(Height) 18.5 cm (Width) 62 cm (Depth) 31 cm
(Height) 7.3 in (Width) 24.4 in (Depth) 12.2in
Price
sold
Signature
Greiner & Bremond