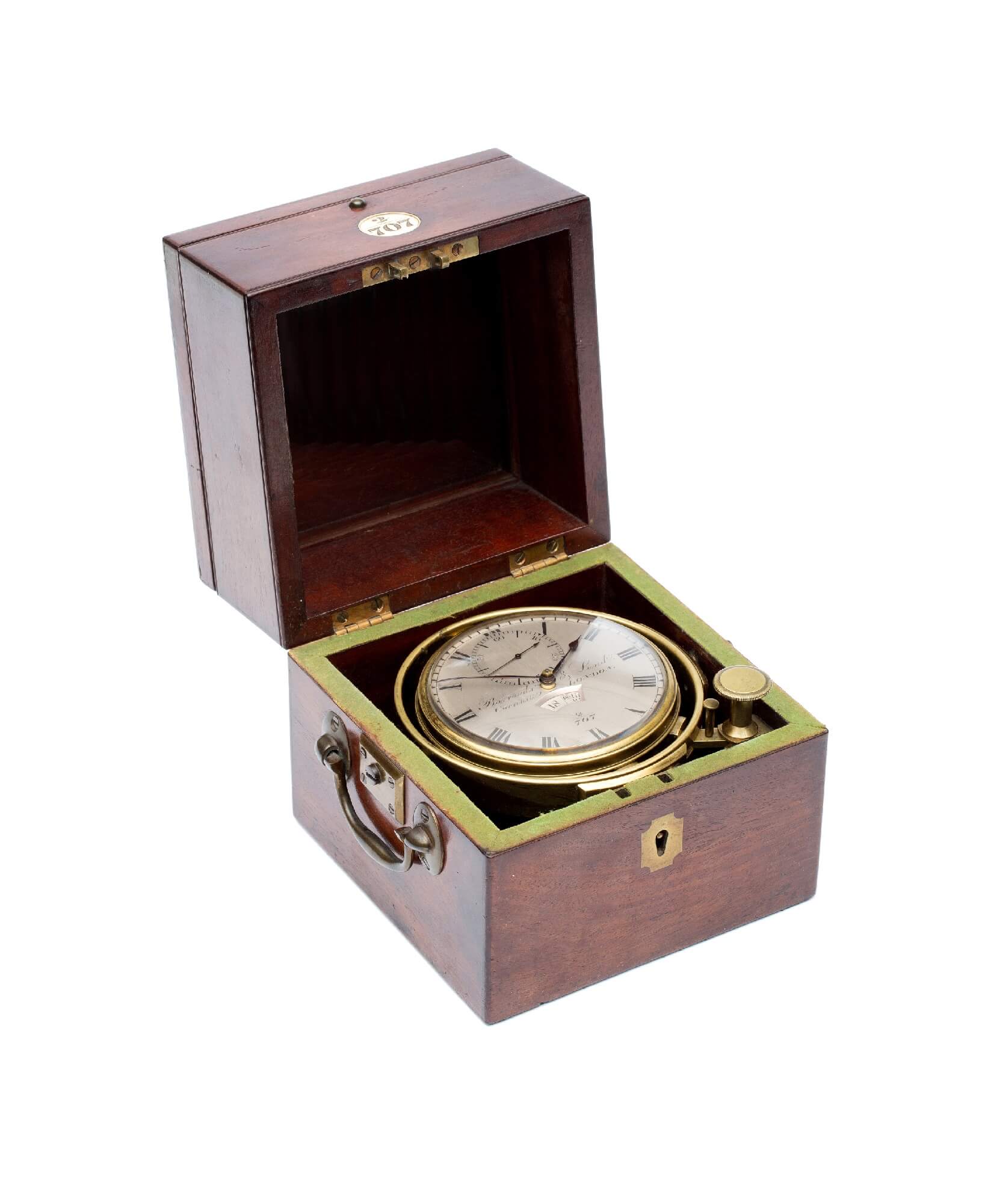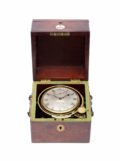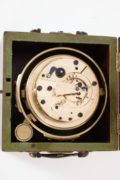 A small English mahogany two day chronometer, Barrauds & Lund London, circa 1840
Description
The dial
The 8.7-cm engraved and silvered brass dial has Roman numerals for the hours. Below XII there is a subsidiary seconds hand numbered for decimals. Above VI there is rare type of power reserve indication. An arched aperture shows a sector engraved with words and numbers; up, 6, 12, 18, 24, windup, 36, 42, nearly down, down. Usually power reserve is indicated by a hand. This aperture with words and numbers is unique for Barrand (& Lund). The dial is signed and numbered Barrauds & Lund, Cornhill London 2/707. The blued steel hands are of the spade type. The plain moulded brass bezel has convex glass with a beveled rim.
The movement
The relatively flat executed movement is driven by a spring barrel in combination with fusee and chain. There is also Harrison's maintaining power which ensures an auxiliary spring to drive the wheel train while the chronometer is wound. In this way the movement doesn't loose time because the driving power would fall away when the clock would be wound. The large split bi-metallic balance has ten adjustment screws and has a diamant end stone. The balance spring is of the helical type. The chronometer has fixed winding with fold out arches. This type of winding is often named 'Barraud's patent winding'. Although there is no patent known for this device.
The casing
The three-part mahogany wooden case has brass fittings and handles. An ivory plate with the number 2/707 is mounted on the front. The old patina of the wood and brass has been beautifully preserved.
Sizes
(Height) 15 cm (Width) 14.5 cm (Depth) 14.5 cm
(Height) 5.9 in (Width) 5.7 in (Depth) 5.7 in
Price
sold
Signature
Barrauds & Lund London