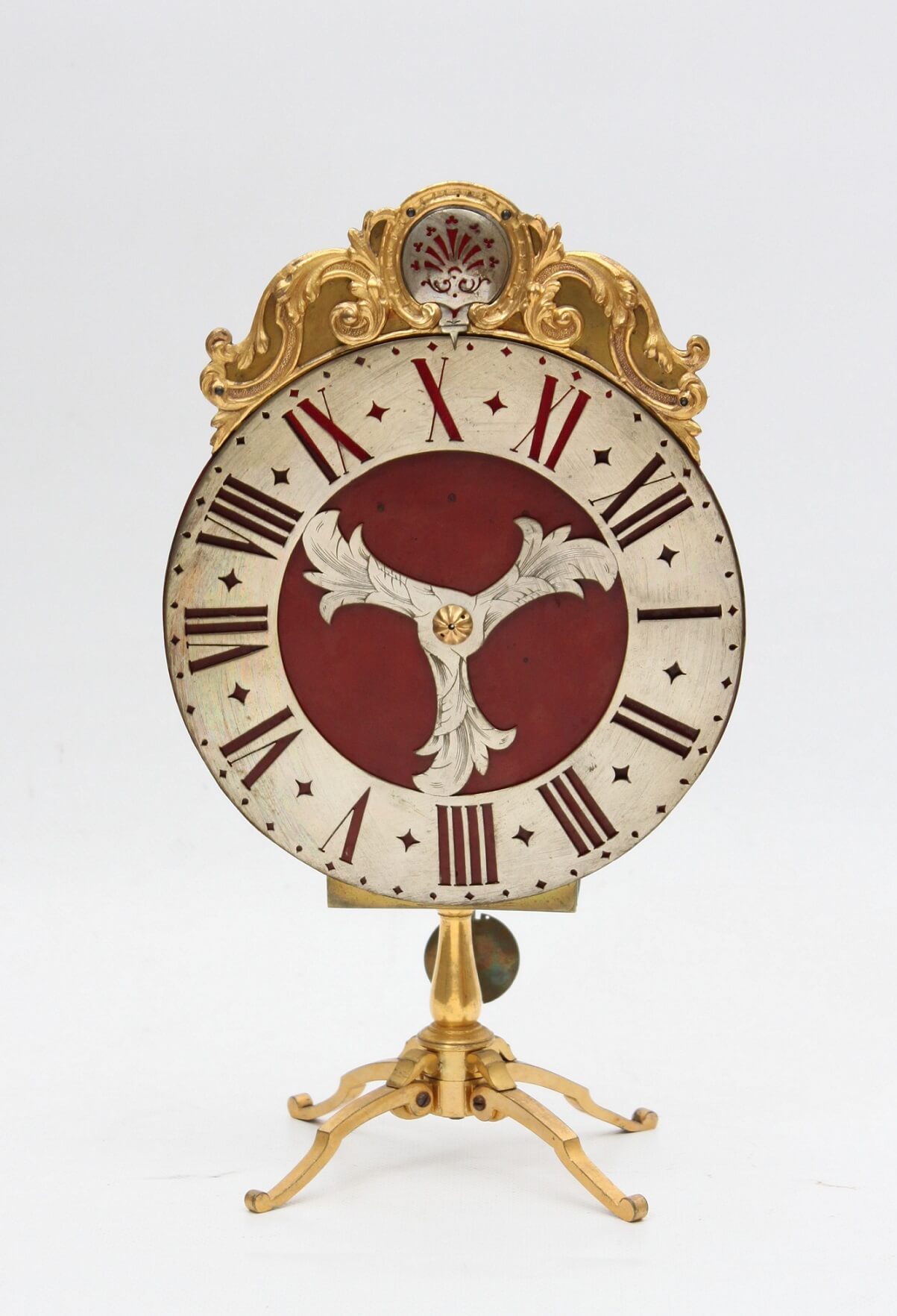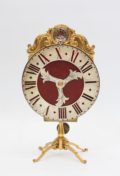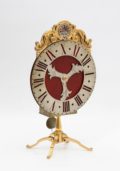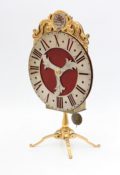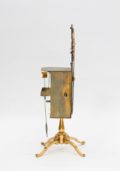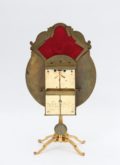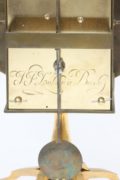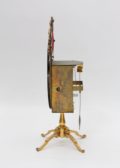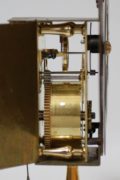 A Swiss gilt brass night timepiece, J.J. Zeller Basel, circa 1740.
Description
8-day spring driven movement with verge escapement and baluster pillars, silk suspended pendulum and cycloid cheeks, back plate signed J.J. Zeller à Basle, turning the silvered brass chapter ring with foliate engraved spokes along a fixed pointer, pierced Roman numerals and half hour and quarter markings, foliate cast and pierced gilt brass cresting, brass case to the movement with doors at the sides, mounted on a baluster shaped pillar on four feet.
A pierced sector at the top of the dial can be lit from behind by a candle placed on the movement case. In this way one can tell the time at night.
Johann Jacob Zeller was born in 1701. In 1727 he became master clockmaker, member of the guild and married. He was guild master from 1764 until 1769. He died in 1778. Four clocks of this good maker are in the collection of the 'Historisches Museum Basel'. Jürgen Abeler, Meister der Uhrmacherkunst, Wuppertal 2010, pp 615-616.
The problem to find out what time it is in the dark in earlier times was solved in several ways. There were some clocks that were fitted with small knobs on the dial so one could 'feel' the time by hand. There were of course the clocks with repeating work, a mechanism that would tell time by striking either the last hour, or the hours, quarters and sometimes even minutes. In the early 19th Century there were even clocks made that projected a dial on the wall. This timepiece has a pierced chapter ring that can be illuminated by a small light source from behind. Earlier clocks with this system from Italy and South Germany often had wooden cases which was dangerous of course because of the fire hazard. The compact and elegant design with folding feet suggests that these clocks were also used for travel. But the reality is that not many were made and not all that much is known about them. Usually when unsigned they are thought to be made in Bern. But this clock with its well shaped cresting and baluster stem is signed for Johann Jacob Zeller from Basel. His craftmanship is not only proved by the fine engraving and movement but also by the fact that at least four of his clocks are in the Basel Historic Museum.
Sizes
(Height) 29.8 cm (Width) 17 cm (Depth) 11 cm
(Height) 11.7 in (Width) 6.7 in (Depth) 4.3 in
Price
sold
Signature
Johann Jacob Zeller Basel