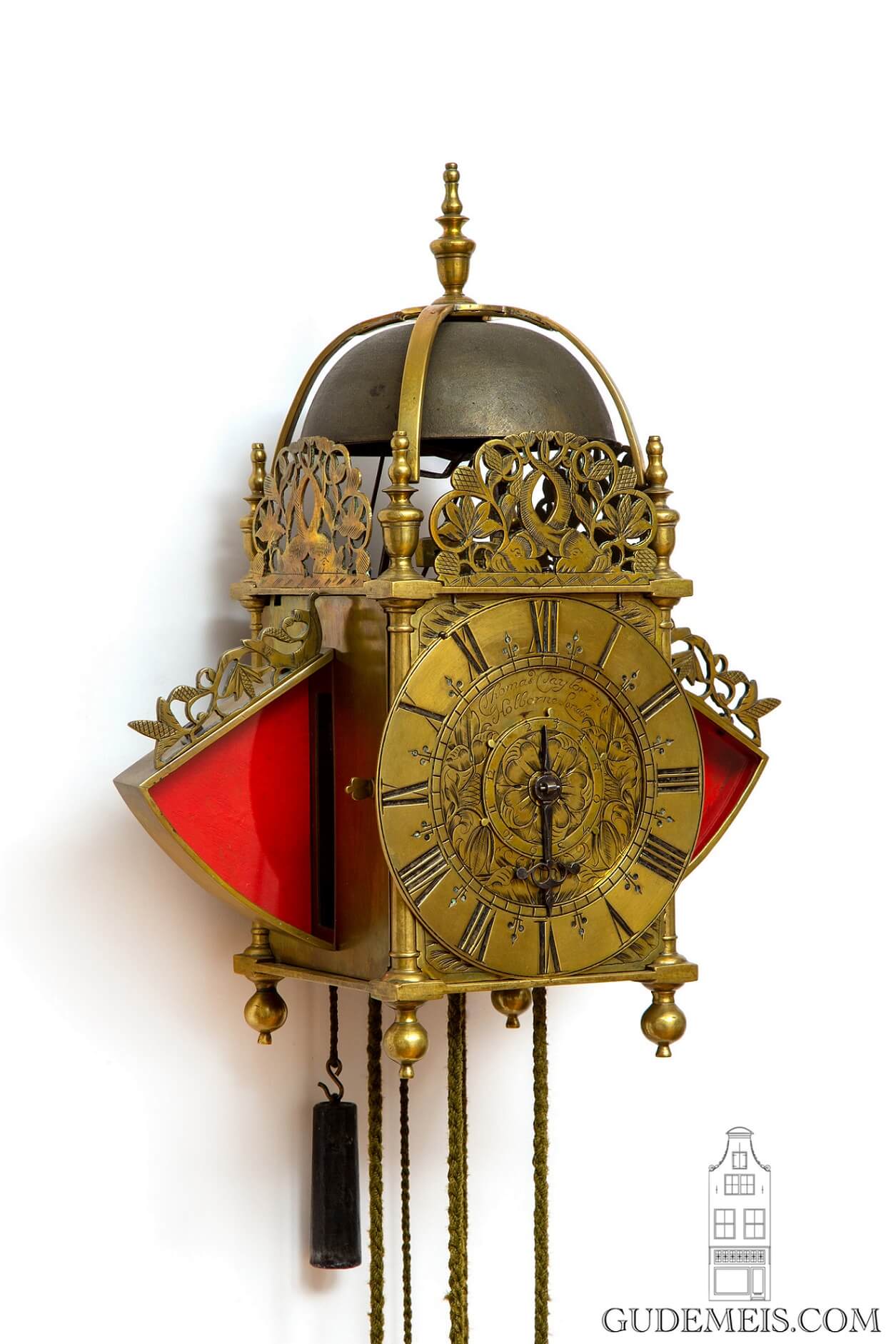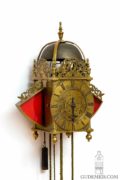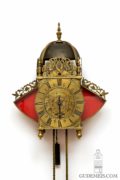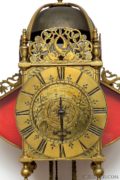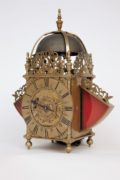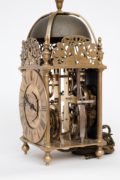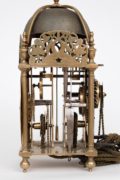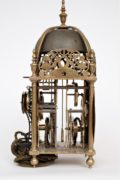 An English brass lantern clock with wings, Thomas Taylor Holborne London, circa 1680
Description
The dial
The 16-cm applied engraved brass chapter ring has Roman numerals and the engraved alarm disc has Arabic numerals. This fine clock has a single iron hour hand.
The movement
This 17th Century English lantern clock has a day-going movement with verge escapement and a pendulum swinging in between the two trains. The clock strikes the hours on a bell by means of count wheel striking. The pendulum has an anchor shaped bob.
The case
The centre of the chapter ring is finely engraved with tulips, flowers that were highly appreciated in the time. It was in these years that there was even a tulip mania. On top of the case is the bell which is surmounted by an urn finial and hung from a bell cross placed on four further urn finials. At the front and sides there are engraved frets adorned with Dolphins.
The clockmaker
The clock was made and signed by Thomas Taylor Holborne London an area where many clockmakers resided. He was a maker of repute and registered working from 1654 and 1690.
stylistic features
This clock is a fine example of the so-called third period, 1660 – 1700. The typical frets incorporating 'Dolphins'. These dolphins that look more like wild whales are probably inspired by an engraving by Gesner from the 15th Century. The floral motive of the tulip is also typical for the third period. King Charles II had lived in exile in Holland at his sister Mary during the Commonwealth. The restoration of the crown coincided with a renewed appreciation of tulips, as we can see on this clock.
The lantern clock with wings
Wing lantern clocks are sought after because of the visible motion of the pendulum swinging in between the plates of the going- and striking trains. Apparently not all lantern clocks with such a pendulum had 'wings' but just slots in the doors through which a normal pendulum could swing. Because of popularity of the attractive doors and pendulum bob some of these clocks were provided with 'wings' and an anchor pendulum. Some authors of books on lantern clocks even state that all 'wings' were made at a later date. But an engraving of Jan Luyken from the 17th Century shows a lantern clock with wings, thus proving that wings lantern clocks did exist in the 17th Century.
zien
Sizes
(Height) 38 cm (Width) 30 cm (Depth) 15 cm
(Height) 15 in (Width) 12 in (Depth) 5.9 in
Price
Sold
Signature
Thomas Taylor Holborne London