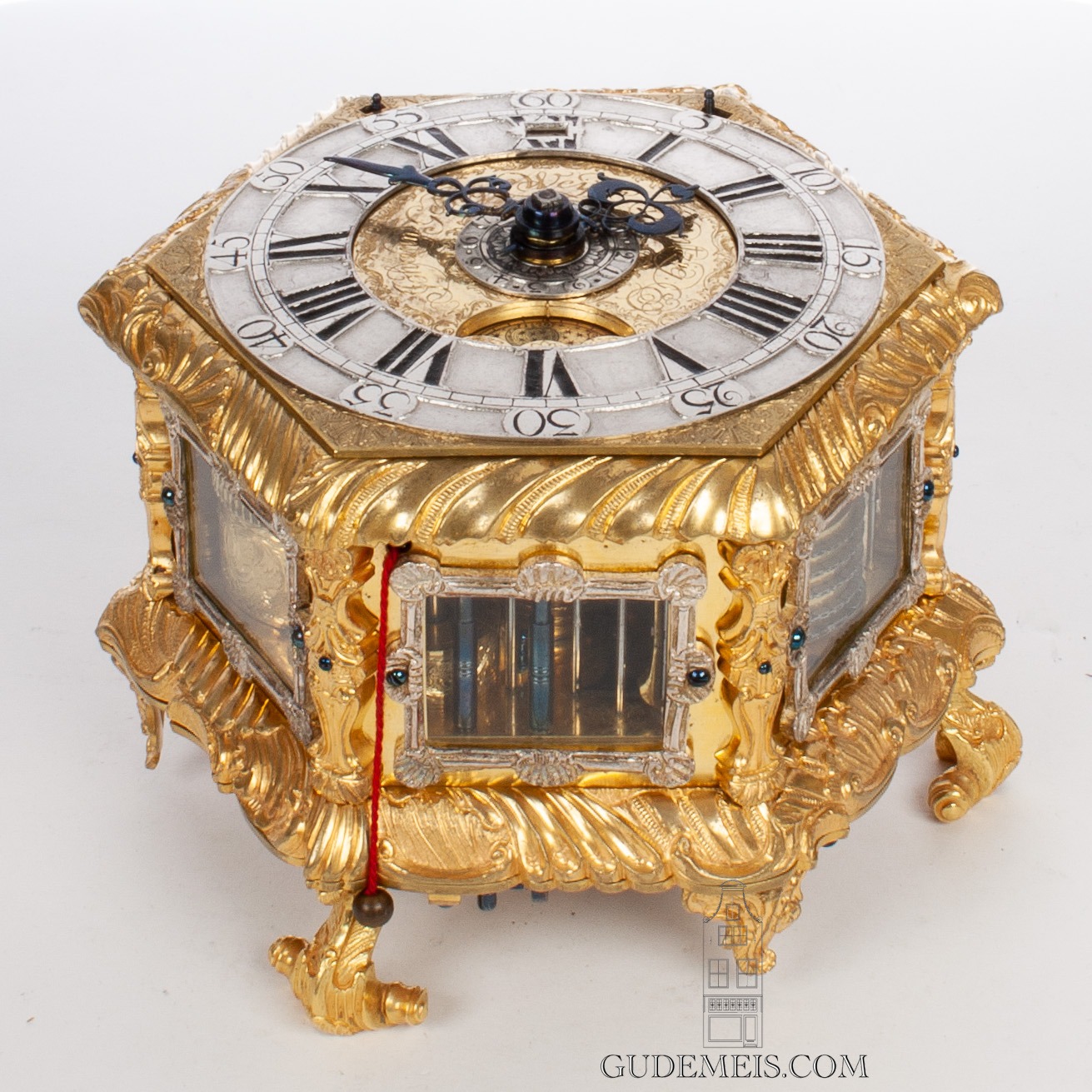 An important German gilt brass horizontal table clock, Johann George Weijer Dantzig, circa 1760.
Description
The chapter ring
The 12.5-cm silver champleve chapter ring has Roman numerals for the hours and an outer ring with Arabic five minute marking. In the XII is an aperture for the date indication. The beautiful pierced hands are made of blued steel and the alarm disc of silver. The gilt centre has foliate engraved border bordering the signature Johann George Weijer Dantzig. There is also an aperture for moonphase indication. In the spandrels are engraved shells and to levers for striking/silent and quarter repeating /hour repeating.
The movement
The beautifully made movement is driven by three spring barrels of which the going train has fusee and chain. It has thirty hour duration and is regulated by verge escapement in combination with a balance under a foliate pierced and engraved cock. The two spring barrels of the striking work are screwed down and beautifully engraved. The movement strikes the quarters and hours by means of rack striking on two bells and has repetition on demand. The alarm strikes on a single bell. Both the hammers for the striking work and the alarm are adorned with well made hammer heads with masks. The beautifully engraved back plate is identically signed.
The case
The hexagonal gilt brass case has mouldings adorned with scrolls and shell shapes, with the lower moulding running over into the bottom. On the sides there are glass panels fitted in silver surrounds. The bottom lid with the two bells is on the inside engraved with two magnificent eagles in between foliate scrolls. The outside of the lid is also well adorned with birds in between scrolling branches. The whole is supported by three scroll feet alternating with rococo finals.
The maker
Johann George Weijer was born around 1729. He was apprenticed to Johann Heinrich Wiegensdorff in 1749. He became a citizen of Dantzig in 1759 and worked as a master clockmaker from 1756 until 1782. There are several important clocks known made by him. The execution of the movement and the beautiful engraving are testament of his extraordinary skills.
Abeler, Meister der Uhrmacherkunst, pp. 595.
Sizes
(Height) 13 cm (Diameter) 18 cm
(Height) 5.1 in (Diameter) 7 in
Price
sold
Signature
Johann George Weijer Dantzig